Is there anything better than creamy, crispy, baked mac and cheese? It's the ultimate comfort food, but it's certainly not short on steps. Classic mac and cheese casseroles require cooking pasta, making a roux, turning that roux into a cheese sauce and then combining it all and baking until bubbly. It's a project, which is why it's often reserved for special occasions or weekend cooking.
This sheet pan mac and cheese changes that. It uses a smart shortcut of cooking the noodles directly in the cheese sauce, then cuts down the cook time by baking everything in a single layer in a hot oven. Even better, it boasts the best ratio of creamy noodles to crispy topping. Just wait until you dig into those ultra-crispy corners!
This fun twist on mac and cheese is an absolute game changer, busting you out of your boxed mac and cheese rut with minimal effort and maximum flavor. Plus, you can make this cheesy sheet pan dinner from kitchen staples, and you can serve it as either a cozy main dish or superb side. These tips will set you up for success.
Quick Tips
1. Use a hearty, tubular pasta. A sturdy pasta shape, such as cavatappi (my personal favorite) or elbows, will hold up best in this dish. Skip mini shells and other small, delicate shapes.
2. Don't drain the pasta! Cooking the pasta for just six minutes in a combination of dairy and water releases the pasta's starches into the cooking liquid and thickens it right up. This is your sauce, so don't drain it! All you have to do is fold in the cheese.
3. Pair sharp cheddar and Parmesan for maximum cheesy flavor. Speaking of cheese, a sharp cheddar for the cheese sauce and Parmesan for the crisp topping yields the best cheesy flavor.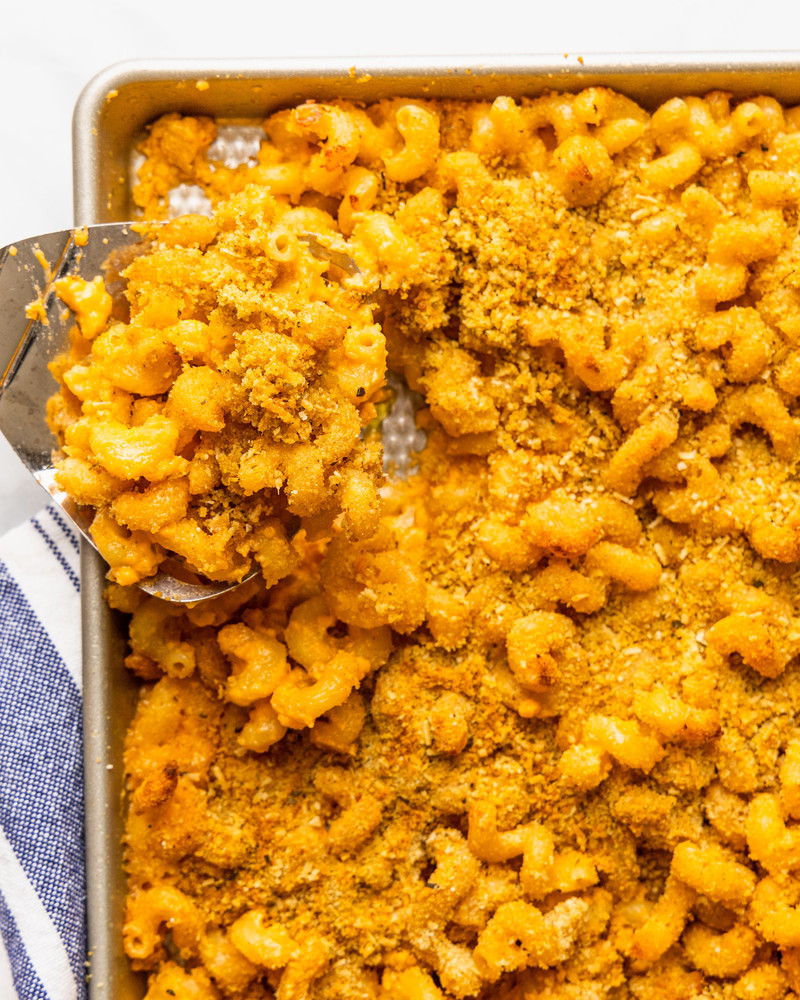 Crispy Sheet Pan Mac and Cheese
Serves 4 to 6
Cooking spray
2 cups half-and-half
1 cup water
1/2 teaspoon kosher salt
1 pound sharp cheddar cheese
1 ounce Parmesan cheese
1 cup dry, fine breadcrumbs
1 pound dried cavatappi or tube pasta
1 tablespoon Dijon mustard
1 teaspoon onion powder
1/2 teaspoon garlic powder
1. Arrange a rack in the middle of the oven and heat the oven to 375 F. Coat a rimmed baking sheet with cooking spray.
2. Place 2 cups half-and-half, 1 cup water and 1/2 teaspoon kosher salt in a medium saucepan. Bring to a boil over medium-high heat. Meanwhile, shred 1 pound sharp cheddar cheese (you'll need about 4 cups total) and grate 1 ounce Parmesan cheese (about 1/2 cup). Combine the Parmesan with 1 cup breadcrumbs in a small bowl and set aside.
3. Once the liquid is boiling, reduce the heat to medium and add 1 pound dried cavatappi or tube pasta. Simmer, stirring occasionally, for 6 minutes.
4. Remove the pot from the heat. Add the cheddar cheese, 1 tablespoon Dijon mustard, 1 teaspoon onion powder and 1/2 teaspoon garlic powder, and stir until the cheese is melted. Pour the pasta mixture onto the rimmed baking sheet and spread into a thin, even layer. Sprinkle with the breadcrumb mixture.
5. Bake until the edges are browned and the sauce is bubbling, about 15 minutes. Let cool for 5 minutes before serving.
Recipe notes: Leftovers can be refrigerated in an airtight container for up to four days.
This article is written by Meghan Splawn from The Kitchn and was legally licensed via the Tribune Content Agency through the NewsCred publisher network. Please direct all licensing questions to legal@newscred.com.