Whether you celebrate Easter as a religious holiday or simply love egg decorating with your family, Easter weekend is a great excuse to celebrate with your loved ones – and eat plenty of delicious food! And while every family celebration is unique, many of our Easter staples in the U.S. are steeped in thousands of years of tradition, with some even predating written history. Read on to learn the surprising history behind some of your favorite Easter dishes and check out our top-rated Easter recipes - perfect for brunches, appetizers, traditional Easter dinners and desserts!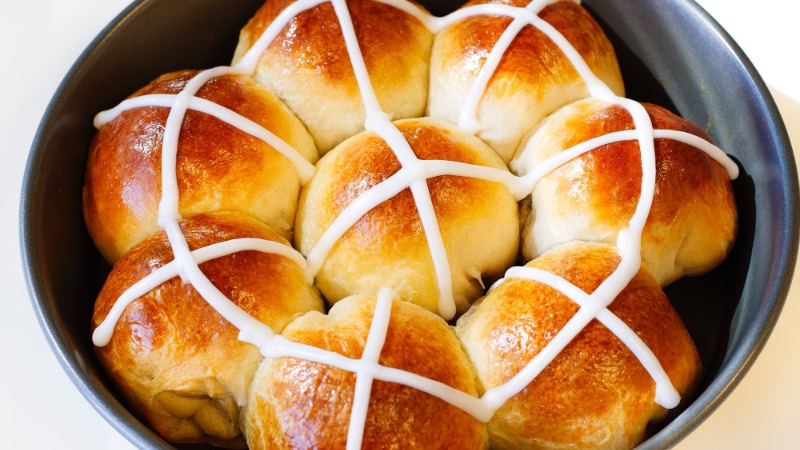 HOT CROSS BUNS
Origin
As Easter approaches, you're likely to see hot cross buns pop up at the grocery store. This Easter tradition originates from medieval England, when buns were adorned with a cross to honor the holiday's religious significance. While the original crosses were made with a flour paste, modern-day versions of the buns use much yummier icing, instead.
Recipe
Whip up your own batch with our easy hot cross buns recipe. They'll come together in under an hour, so they're the perfect Easter appetizer for low-stress entertaining (or just feeding last-minute guests!).
Learn how to make hot cross buns with this quick and easy recipe.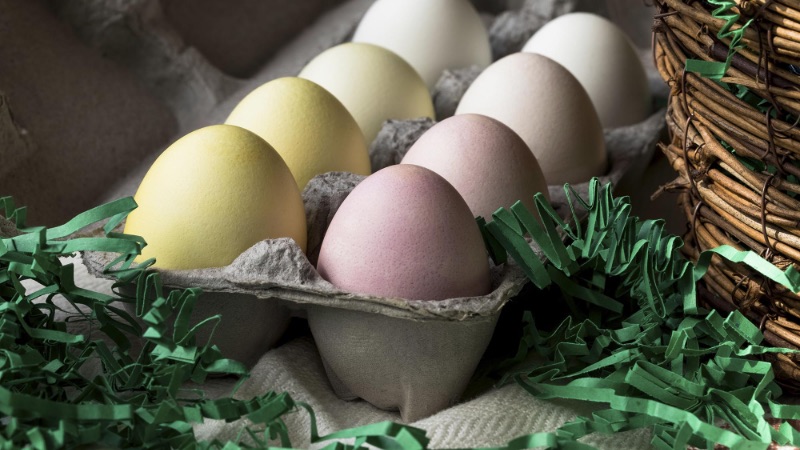 EASTER EGGS
Origin
Beautifully decorated hard-boiled Easter eggs are arguably the most iconic tradition, and their origins can be traced back to before written history. Ancient Egyptians and Pagans both decorated eggs, and Christians adopted the tradition for Easter.
Recipe
Today, egg decorating has little religious significance, but it's a great way to celebrate the holiday with friends and family. Use food coloring to make gorgeous patterned eggs – whether you prefer marbleized, striped, two-tone, polka dot patterns or even ombre ones. 
Check out our how to dye Easter eggs guide to learn more! 

EASTER HAM
Origin
Putting together an Easter brunch menu? Chances are that baked ham has worked its way into your family-favorite Easter recipes. Ham as a main course has a long history, dating all the way back to the 6th century in Germany. Pork was abundant in Northern Europe at the time, making ham a natural choice for springtime celebrations.
Recipe
Make carving easy by picking up a spiral cut ham and use seasonings – like an orange glazed ham or this lemon and rosemary recipe – to customize your Easter brunch. Need to free up your oven for other dishes? Try this slow cooker ham recipe to make feast prep a breeze. 
Learn how to make Easter ham with this delicious orange glazed make-ahead brunch recipe!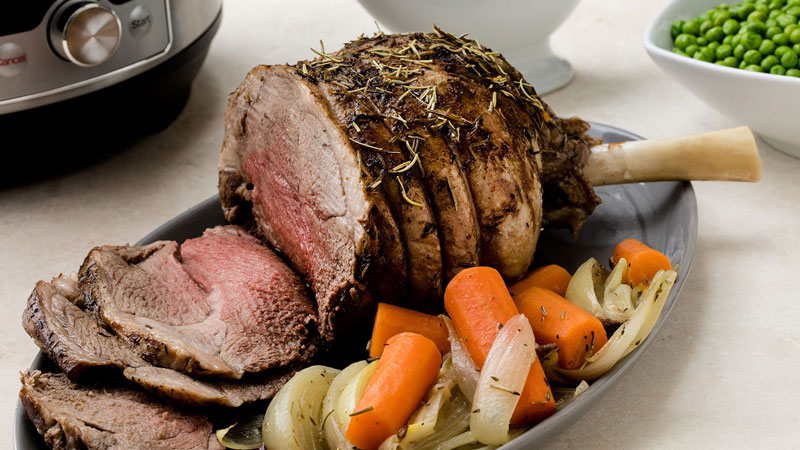 EASTER LAMB
Origin
If you're looking for a luxe alternative to ham, try serving lamb for Easter dinner. From a practical standpoint, lamb was among one of the first meats available in the spring, making it the perfect match for Easter celebrations.
Recipe
Take part in this Easter tradition by impressing your guests with braised lamb shanks or grilled lamb chops recipes like these Mediterranean and balsamic herb versions. And if you're short on time, speed up the cooking process by making your lamb in an electric pressure cooker.
Try this pressure cooker lamb shank recipe loaded with savory carrots and onions for Easter dinner today!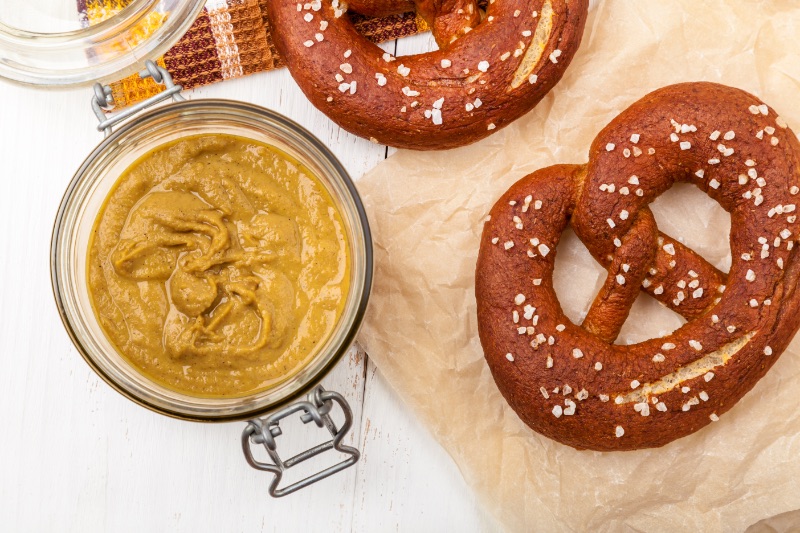 EASTER PRETZELS
Origin
It's just not a feast without bread, and pretzels have long been a part of Easter celebrations. Christians in ancient Rome ate pretzels during Lenten fasting, when many other foods, including any food containing butter, cheese, eggs, cream or meat, were not allowed.
Recipe
Take part in this tradition by serving soft pretzels as the perfect side dish, or incorporate pretzels into your Easter dessert, like in our Easter bunny butt pretzel snaps.
Try your hand at Easter bread with this 5 minute pretzel snap recipe now!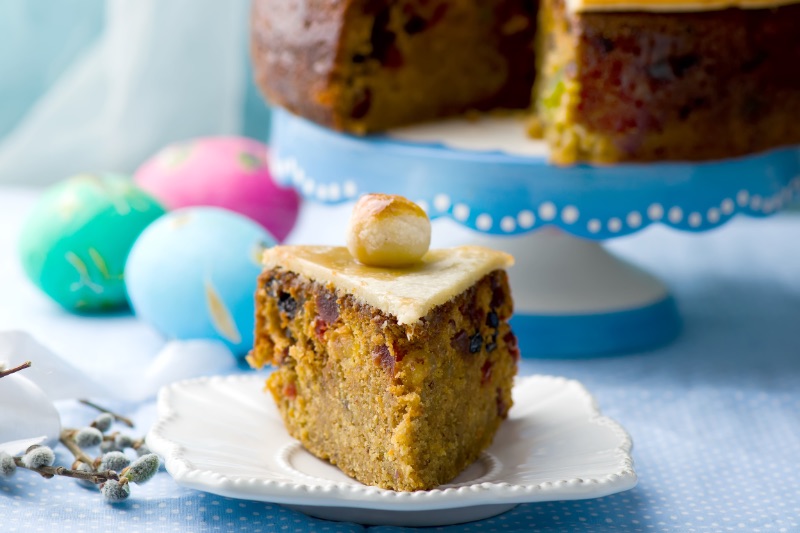 SIMNEL CAKE
Origin
If you're looking for a dessert steeped in Easter tradition, look no farther than Simnel cake: a fruit and nut cake that's similar to a lighter fruitcake. Simnel dates back to Easter celebrations during Tudor times in England as a dish to commemorate the end of Lent.
Recipe
Traditional Simnel can be time-intensive to cook, since it needs to bake for nearly two hours, but you can whip up an easier alternative with this spiced date cake recipe topped with caramel sauce and whipped cream (yum!). Fruit-based cakes not your thing? Celebrate with other Easter dessert recipes like this simple carrot cake recipe or a lemon citrus cake.
Wondering how to make Easter cake? Follow this colorful egg surprise inside cake recipe for the perfect Easter dessert!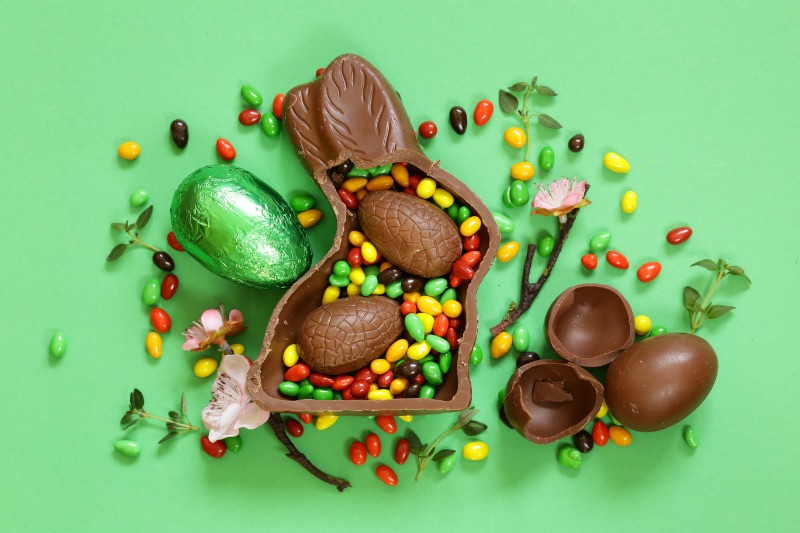 CHOCOLATE EGGS
Origin
Chocolate has a special place in Easter history (and in our hearts!). The first Easter chocolate eggs were made in the early 19th century in Europe, where chocolate was already considered a delicacy. While the earliest eggs were solid, advances in chocolate-making eventually allowed chocolatiers to make hollow versions with fillings.
Recipe
These chocolate coconut eggs work perfectly as a homemade treat — or you can get store-bought versions to decorate yummy Easter desserts, like these Easter cupcakes and Easter "baskets."
Learn how to make chocolate coconut eggs for Easter dessert with this fun recipe!