Many of the world's most vibrant cuisines were created by an eclectic cross-mix of cultures. One of the best examples in the books is Moroccan. Indeed, Morocco is located on the tip of Africa, with coastlines spanning the Atlantic Ocean and Mediterranean Sea, and proximity, trade and conquest contributing to Berber, Arabic, Andalusian and European influences.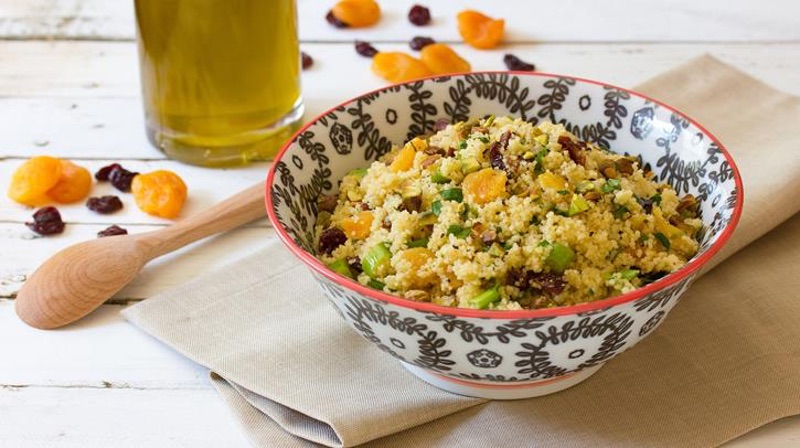 Characteristics of Moroccan Cuisine
That expanse of waterfront means that seafood is a common ingredient in Moroccan food, though equally popular proteins include beef, chicken, goat and lamb.
There's also a great deal of sweet and savory interplay, owing to the widespread use of honey, nuts and dried and fresh fruits, such as almonds, pistachios, apricots and dates, along with preserved lemons—a go-to condiment.
Moroccan Spices
The rich wealth of earthy, aromatic Moroccan spices is undoubtedly characteristic of the cuisine. Think:
• Cumin
• Cardamom
• Cinnamon
• Ginger
• Red Pepper
• Along with precious, golden tendrils of perfumed saffron
Along with precious, golden tendrils of perfumed saffron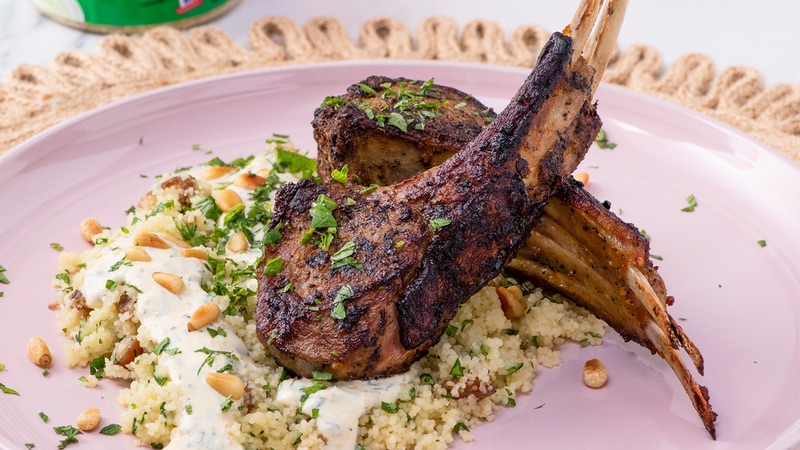 Moroccan Recipes
As for Moroccan recipes, couscous is generally considered to be the national dish. Comprised of tiny, fluffy balls of steamed semolina, it can be:
• Stirred into salads - try Couscous with Tart Cherries and Lemon
• Enjoyed as a side dish, such as Preserved Lemon Couscous
• Used as a starchy base for grilled meats like Lamb Chops or tagine
Tagine
So what is tagine (alternately spelled as tajine)?
It's both the name of a succulent and a slow-simmered stew made with meat, vegetables, olives, nuts and/or fruit and plenty of warming spices, as well as the earthenware pot with conical lid, in which its traditionally cooked.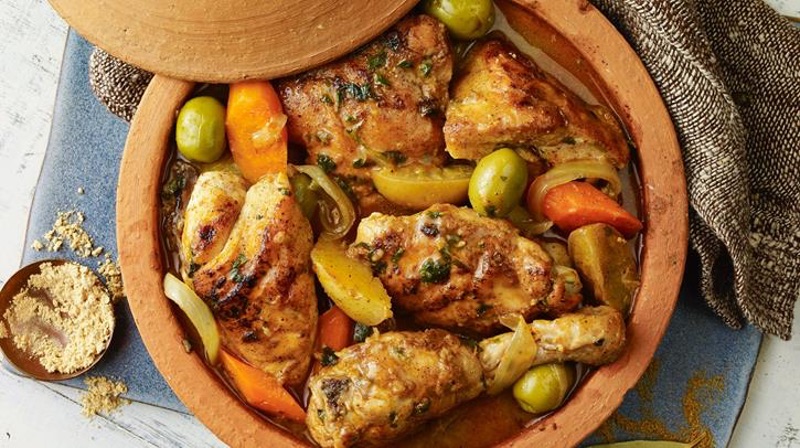 How to Use a Tagine
Like cast iron pans, tagine vessels need to be seasoned, by rubbing them with oil and baking them in an oven.
When ready to use—if you don't have access to a classic charcoal pit—you can place your tagine in a low oven or on the stovetop, using a circle of aluminum called a diffuser, to keep it separated from its heat source.
Tagine Recipes
As far as tagine recipes are concerned, it's a great way to infuse tons of flavor into otherwise hum-drum chicken. That's because the top of the vessel seals moisture inside the dish while cooking, and allows all of the ingredients and spices to really meld and infuse. Try:
• Bone-in thighs in a Moroccan Chicken Tajine, coated with cinnamon, tomatoes, honey and raisins
• Boneless thighs paired with turmeric, cumin, chickpeas, olives and carrots in a Spiced Chicken Tagine
• Cut up pieces of poultry in a pepper and paprika-spiked, potato-thickened Spiced Chicken Tagine with Preserved Lemons and Olives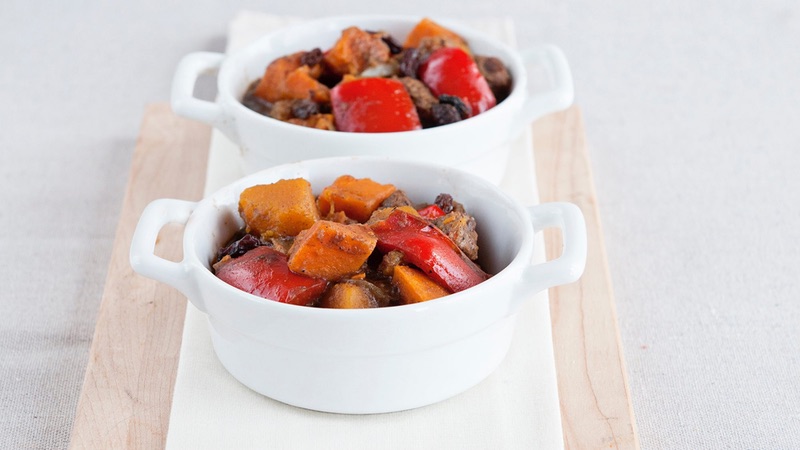 Craving red meat? We've got a terrific recipe for Cinnamon Beef Tagine too, bulked out with veggies like sweet potato, bell pepper and butternut squash, with a full complement of intoxicating Moroccan spices of course!
Want to learn more about other cuisines? Check out our guides to  Korean, Indian, African, Cajun & Creole, Filipino, and more.