There's a reason France is often thought of as the food capital of the world. Written recipes date all the way back to medieval times.
In fact, you'll find an entire collection in Le Viandier, created by the court chef for Charles V. And instead of merely showcasing food as sustenance, the book focuses on the development of flavor and the importance of presentation.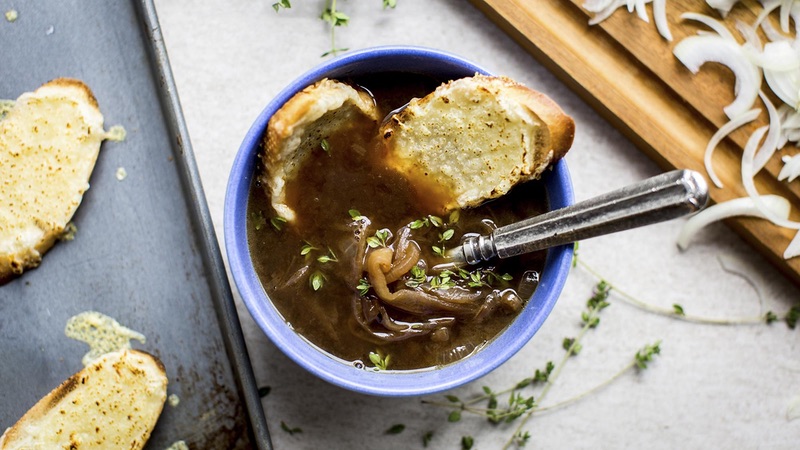 In the 20th century, the chef and writer August Escoffier ushered in the age of haute cuisine, establishing cooking as an art and a skill, involving elaborate, multi-step, in-depth preparation. He also stressed the importance of the five mother sauces, sauce as béarnaise and hollandaise, as building blocks for classic French dishes going forward.
Yet it's not only the most refined side of the cuisine, that's long since been elevated and celebrated.
After catching the attention of gastronomically-inclined visitors from around the world, chefs turned their attention to French cooking at home, giving the dishes they grew up with their due.
Especially rustic, peasant creations from the countryside, leading to menu staples such as Onion Soup (which hearkens back to Roman times), Coq au Vin (a slow-braised stew, which uses wine as a medium for tenderizing tough poultry), and Cassoulet, a sustaining, cold weather assemblage of white beans and whatever meat happened to be on hand, simmered together in a ceramic crock.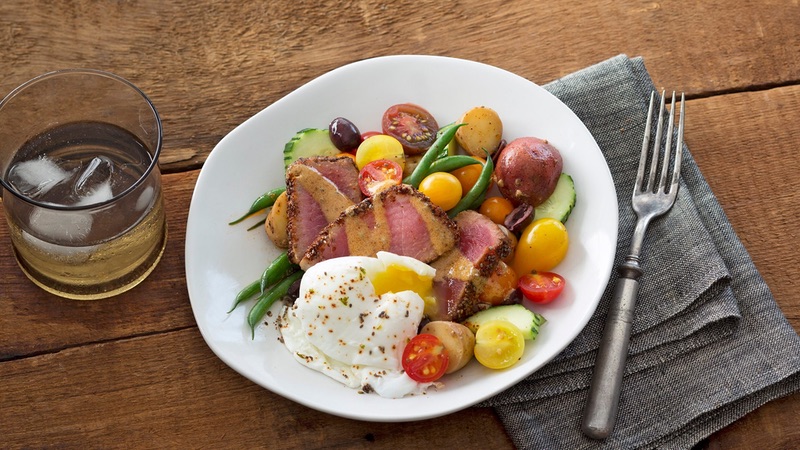 And these are only a few examples of famous French dishes with humble origins.
Take the Nicoise Salad, from the city of Nice. Emerging in the 19th century as a simple, inexpensive provision for the poor (being comprised of little more than tomatoes, anchovies and olive oil), the salad has since expanded to include the famous olives of the region, along with lettuce, tuna, string beans and eggs.
And that's just a jumping off point…check out our version with chia seeds, citrus, and chile-crusted fish!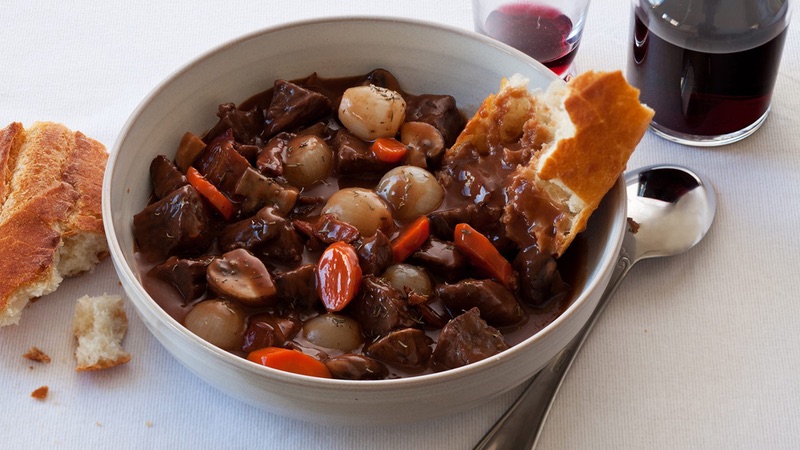 Although she was an American, Julia Child made one of the strongest cases towards cooking French food at home, in her groundbreaking book, Mastering the Art of French Cooking.
While there's a bit of dabbling in haute cuisine, her primary goal was to make classic French recipes accessible.
That's how the larger world got introduced to timeless dishes like Beef Bourguignon.
Similar to coq au vin, it uses wine (preferably Burgundy, the region from which it's from) to cook down tough cuts of meat. In this case, beef, together with mushrooms and pearl onions.
In search of a few more dishes, that pay delicious homage to the culinary legacy of France?
Sweet and savory triangles of Fig Brie Grilled Cheese are totally chic.
And while we may refer to it as French Toast, natives know this brunch staple as pain perdu (we hope they'll appreciate our addition of spiced syrup).
If you keep a supply of herbes de provence on hand, you'll always feel like you're dining in the French countryside. We use the blend of marjoram, savory, rosemary and thyme to add a certain je ne sais quoi to everything, from Roasted Chicken to Lamb Chops.
Here's a fully French meal from start to finish:
Start with an hors d'oeuvres of Garden Ratatouille with Crispy Rosemary Polenta, followed by a full-on bistro supper of Steak au Poivre, Creamy Thyme Potato Gratin and Vanilla Green Beans Amandine.
Ready for dessert? Homey Clafouti couldn't be easier. Essentially, it's fruit topped with a thick, pancake-like batter and baked. Consider adding a sprinkle of Blueberry Vanilla Sugar and Spice Blend to our version, for a concentrated berry kick! That said, it's hard to say no to flaky Apple Tart, Spiced Chocolate Macarons or Vanilla Crème Brulee.
So whether you take your cue from celebrated chefs in Paris, or the talented home cooks of the countryside, you'll be the king or queen of your kitchen when you master the art of French cooking!