What is haute cuisine? The term might sound intimidating, but if you're hungry for fine French food, it's well worth discovering how you can make magnificent dishes inspired by the haute cuisine tradition in your own kitchen.
Historically, haute cuisine represents the pinnacle of high-end French cooking. Haute cuisine recipes are prepared and presented with impeccable care and served at gourmet restaurants such as Paris's Pavillon Ledoyen and New York's Le Bernardin.
The Origins Of Haute Cuisine In France
Emerging from French food traditions dating back to the Middle Ages, haute cuisine was pioneered and codified by 19th-century French chefs like Marie-Antoine Carême and Auguste Escoffier.
Escoffier outlined the classical 17-course haute cuisine dinner: authentic haute cuisine examples could include exquisitely prepared truffles, escargots, and puff pastry. He also developed the five "mother sauces": Hollandaise, Béchamel, Velouté, Espagnole, and tomato.
Haute Cuisine Today
Today, the definition of haute cuisine – also known as grande cuisine – has diversified. Chef Julia Child helped to popularize French cooking at home. The advent of nouvelle cuisine in the 1960's and subsequent fusion techniques also changed the haute cuisine scene. With chefs taking versatile, inclusive approaches, dishes with humble or rustic origins can be transformed into haute cuisine.
Do you frequently dine at luxury hotels in Paris like the Ritz Paris and Le Meurice or mainly contemplate haute cuisine via movies like Haute Cuisine and Ratatouille? Either way, you can save money and enhance your cooking skills when you create high-end French dishes at home. With wonderful spices and sauces, you can set your sights as high as the Eiffel Tower! It's time to check out some great haute cuisine recipes.
Haute Cuisine-Inspired Dinners and Desserts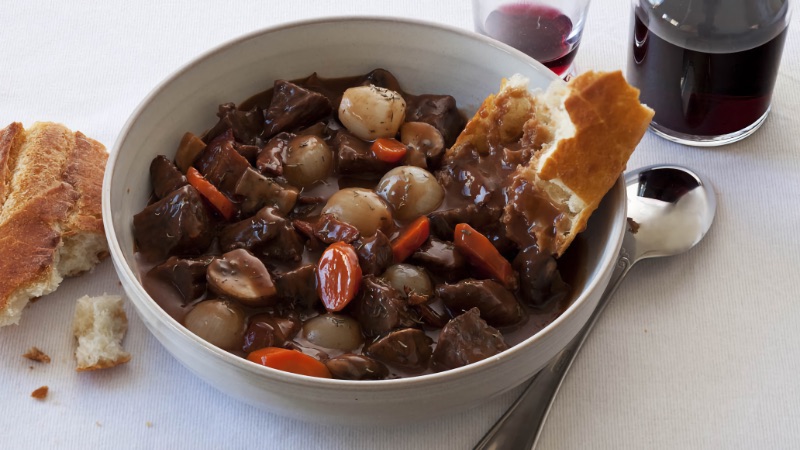 Beef bourguignon, once considered peasant food, is featured as an haute cuisine recipe in Escoffier's landmark 1903 cookbook Le Guide Culinaire. Our beef bourguignon recipe – a superb stew with carrots, mushrooms, and onions complementing tender chunks of beef – is beautifully seasoned with Organic Thyme Leaves and Turkish Bay Leaves. If you don't have a cup of red Burgundy wine at hand, Cabernet Sauvignon is a fine alternative.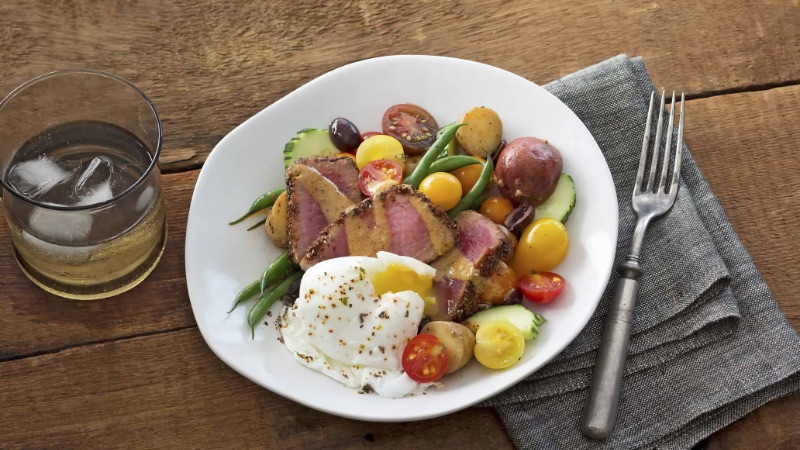 The evolution of the classic Niçoise salad is a story in itself. It's come a long way since its 19th-century genesis as working-class food in the Mediterranean city of Nice. This innovative take on Niçoise salad includes seared ahi tuna and poached eggs atop green beans, olives, new potatoes, and tomatoes, among other ingredients. Enjoy with a Dijon vinaigrette and Organic Coarse Ground Black Pepper.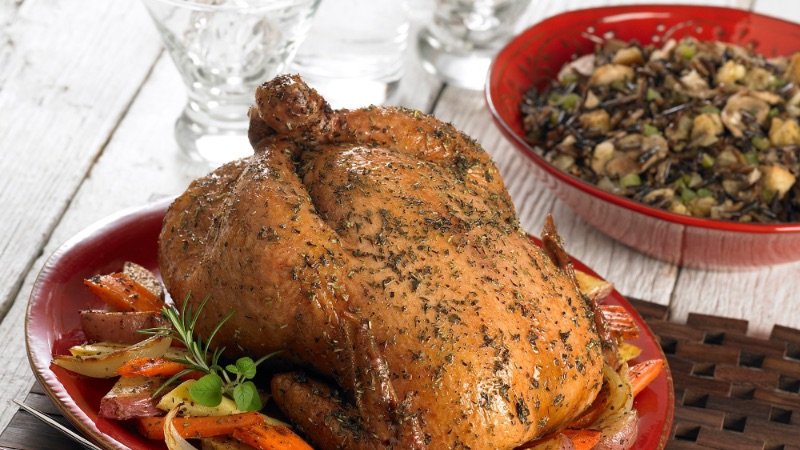 Our simple, elegant roast chicken recipe incorporates Organic Herbes de Provence and Organic Garlic Powder. Hot tip: if you're making a multi-course meal inspired by haute cuisine, Goat Cheese with Herbes de Provence is a can't-miss appetizer.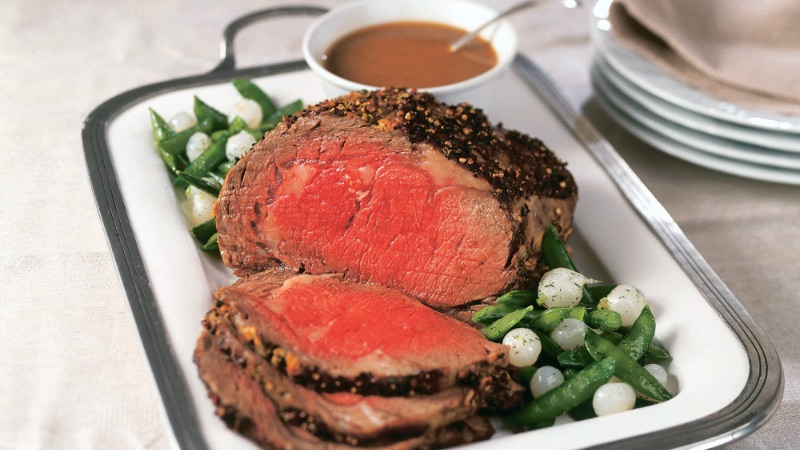 To truly put on the ritz, serve this prime rib au poivre. This haute cuisine recipe is crusted with Organic Peppercorn Melange, the hearty steak will get meat-loving diners exclaiming: "Oh là là!" Make it the centerpiece of a feast including dishes like French Onion Soup and Baked Brie.
Escoffier said: "Good food is the foundation of genuine happiness." Grilled to perfection, these scallops au vin – seasoned with white wine, Organic Onion Powder, and All Natural Taragon – will make gourmet seafood lovers happy.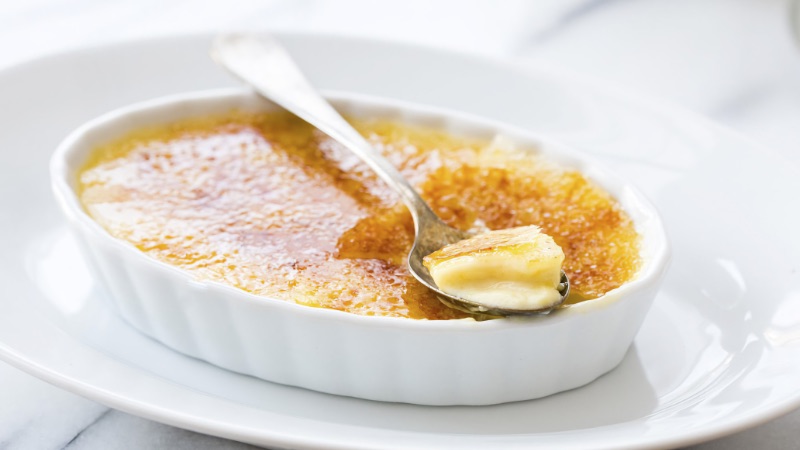 Delicious French Desserts
The French view eating as a pleasure to be savored. Whether you call it haute food or haute cooking, chic dining should certainly include dessert.
Indulge your sweet tooth with Blueberry Clafouti or Vanilla Crème Brûlée. Fig Brie Grilled Cheese sandwiches – incorporating crushed Rosemary Leaves – are another taste treat. Making Spiced Chocolate Macarons can be your gateway to baking sophisticated French pastry.
Nowadays, you don't need to utilize an army of cooks like Auguste Escoffier did – you can enjoy food inspired by haute cuisine any day at home!
More French Recipes To Try At Home
Learn More About Cooking French Cuisine 
Save all of your favorite haute cuisine recipes and ingredients with our online meal planner.  You can also make meal prep simple by creating a Flavor Profile, so you can store your favorite recipes and create grocery lists for easy shopping.