Omelettes are a surefire way to make breakfast or brunch feel special. Whether it's a hefty Denver omelette bursting with ham, cheese and bell peppers, a Greek-inspired version bright with spinach, garlic, and feta, or a fabulous French-style cylinder, garnished with little more than chives. But there's a bit of an intimidation factor surrounding the folding and rolling. So much so, that we often save omelettes as a special treat when dining out, rather than regularly tackling them at home.
French Omelette vs. American Omelette 
There's no good excuse to deny yourself the pleasure of an everyday omelette! The first step is to understand the primary differences between American and French versions. The former is folded in half, generally crammed full of fillings, and has a golden brown exterior, while the latter is delicate, custardy, and rolled into an oval, with little to no browning (and often no fillings either). 
Want some more tips and tricks on how to make an omelette easy? Follow our fail-safe methods below!
Steps To Making An Omelette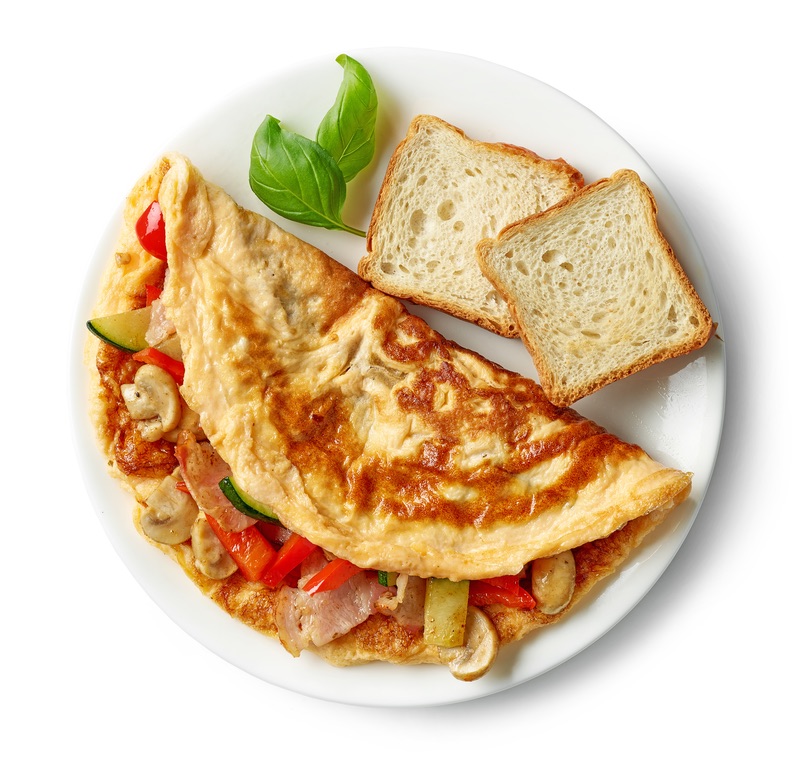 How To Make An American Omelette
Heat butter in a 7 to 10-inch non-stick skillet over medium-high heat. Tilt the pan to coat the bottom completely. 
Add beaten eggs (2 eggs per omelette is standard) that have been seasoned with salt and pepper. When they set at the edges—which should be almost immediately—use your spatula to push the eggs towards the center of the pan. 
Continue cooking, stirring the eggs and shaking the pan so the eggs don't settle in one place, occasionally scraping down the sides of the pan as needed.
When there's no visible liquid remaining at the top of your omelette, add your fillings on one side. Using your spatula, gently fold over the un-filled side, then slide the omelette onto your plate to serve.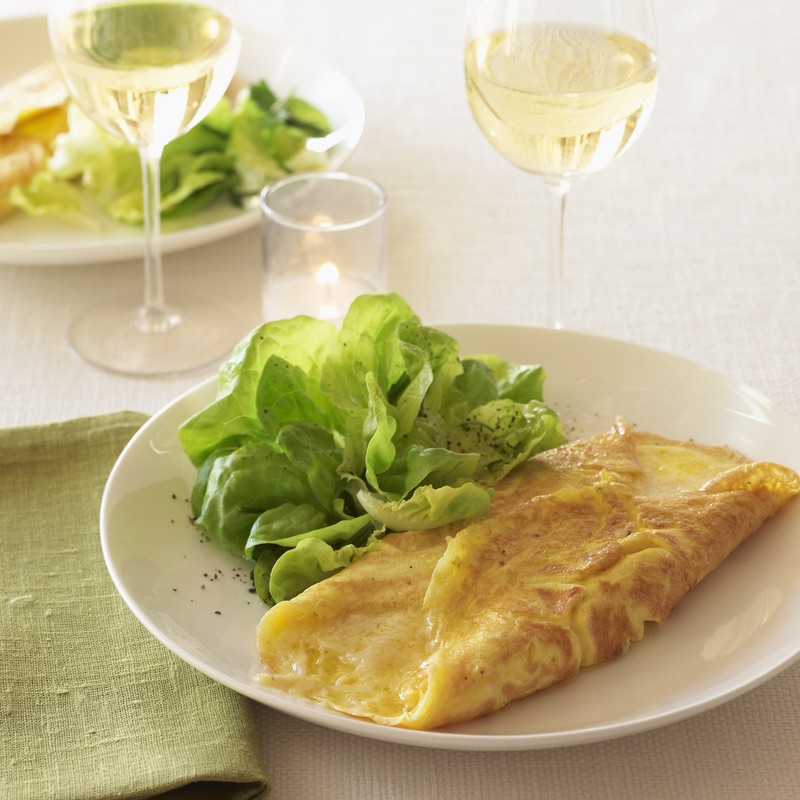 How To Make A French Omelette
Heat butter in a 7 to 10-inch non-stick skillet over medium-low heat, so the butter melts gently instead of sizzles. Tilt the pan to coat the bottom completely. 
When bubbling, add beaten eggs seasoned with salt and black pepper.
Start stirring as soon as eggs hit the pan, shaking the pan as you stir so the eggs don't settle in one place. Occasionally scrape down the sides of the pan. 
When the top is almost set but still silky, remove the pan from the heat and let sit for one minute to help firm up the bottom. 
Holding the skillet in your non-dominant hand at a slight angle, tilt the pan away from you and nudge the omelet over on its self with your spatula, so it forms a loose roll. You can add more butter to the skillet if it begins to stick. 
Once rolled, tilt the omelette onto your plate seam-side down, then finish with a bit more butter, some good salt, and chopped fresh herbs like chervil, tarragon, or chives.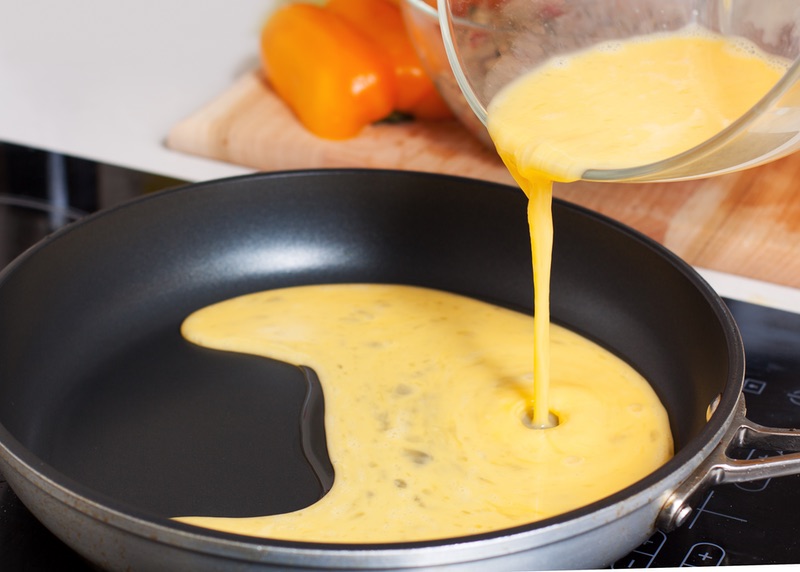 Omelette Tips
You don't need an actual omelette pan, but you'll definitely want to use a shallow, nonstick pan with sloping sides.
Cook, warm, and/or chop your fillings before adding them to the omelette.
Always cook omelettes one at a time.
If you're finding it difficult to flip a 2 egg omelette with a standard ½ cup of filling, put less on the inside, and spoon extras over the top when you plate. 
Want to add cheese? Whether you go for American cheese, brie, cheddar, gruyere, or what have you, make sure it's shredded, thinly sliced, or cut into small pieces, so it melts quickly and evenly.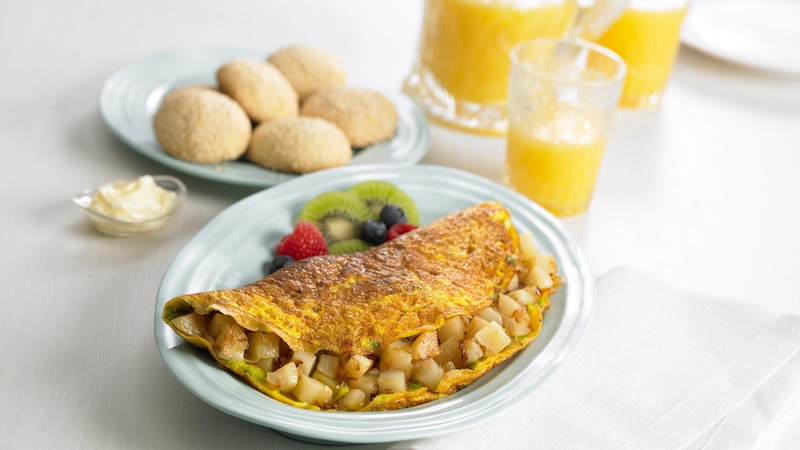 How to Make a Dinner Omelettes
Who says omelets need to be saved for breakfast or brunch? The following savory and substantial recipes will make you crave omelets for supper.
Other Egg Recipes To Try 
See all of our favorite egg recipes
Learn More About Cooking Omelettes And Other Egg Favorites
Save your favorite omelette recipes and organize your ingredients with our online meal planner.  You can also make meal prep simple by creating a Flavor Profile, so you can store your favorite recipes and create grocery lists for easy shopping.