One of the downsides to moving away for college is relying on your campus dining hall for dinner. But with limited space and cooking equipment available, chances are cooking in your dorm room is even less appealing. 
Living entirely on protein bars and trail mix is possible, but gets boring after a while. There's just something about a hot meal cooked at home, even if home is a dorm room, that can bring you comfort. 
Thankfully, it's possible to make delicious meals even if you don't have access to full-sized appliances. Access to a toaster oven, microwave, Instant Pot, or hot plate opens you up to a wide variety of cheap and easy meals. 
Toaster Oven Pizza 
If you lack access to a real oven, investing in a toaster oven for your dorm room or studio apartment will enhance your ability to cook homemade meals. Or at least give you the ability to make pizza. 
According to one Redditor, slices of garlic bread (or bagels) make for a great toaster oven pizza base. From there, add sauce, cheese, and whatever other toppings you'd like. You can cook your pizza at 375 degrees Fahrenheit for about 8 minutes, or until your cheese has melted and the bread has toasted. 
If you're looking for a slightly elevated toaster oven pizza experience, the Food Network recommends using pitas as your base. Just be sure to keep an eye on your pizzas; a pita pizza will cook faster than garlic bread. 
Instant Pot Egg Bites
If you want to save money and skip the Starbucks line without giving up their sous vide egg bites, an instant pot can solve all of your breakfast problems. 
To make Instant Pot egg bites, the first thing you're going to need is a silicone baby food tray or individual silicone cups. Other than eggs and milk, the other ingredients you put in your egg bites are up to you. Fill your tray or cup halfway with your egg mixture and add cheese or other ingredients on top. Pressure Cooking Today recommends cooking your egg bites on High Pressure for 11 minutes. 
Let your eggs sit for five minutes before switching your Instant Pot to Venting to quickly release the residual pressure. Just be careful; steam will come out of the pressure release valve. 
Finally, let your eggs cool on a wire rack or something similar for about five minutes. 
Microwave Rice Bowl
Access to a microwave doesn't mean you're relegated to pre-packaged, frozen meals if you don't want take-out our dining hall food. With cheap ingredients, you can make "fried" rice right from the comfort of your dorm room.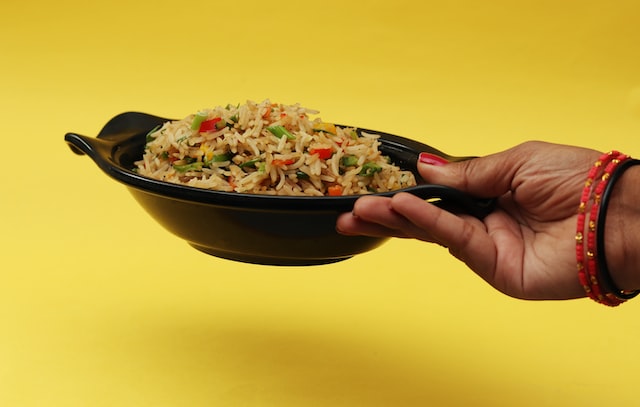 Photo by Pixzolo Photography
Following Tasty's recipe, all you need to buy to make 1 serving is rice, soy sauce, sesame oil, eggs, and whatever frozen vegetables you'd like to add to your dish. Their recipe calls for peas and carrots, the way you'd find fried rice traditionally cooked. 
The total cook time for this dish is about 10 minutes since you have to microwave the rice, vegetables, and egg separately to start. Short on time? Use Instant Rice instead of regular rice and skip the egg. 
Ramen
Ramen doesn't always have to be the salty soup in a styrofoam cup. Instead, you can follow easy instant pot or microwave recipes to get more taste and nutrition out of your meal.
For instance, one user on Reddit takes a package of instant Ramen and, instead of using the flavor packet, adds spinach and green onions, which they suggest cutting with scissors instead of a knife. They also add an egg, soy sauce, and sriracha for a extra flavor kick. 
Another great Ramen hack is to turn your instant noodles into Pad Thai. After you're doing cooking your Instant Ramen like normal, add 1 teaspoon of peanut butter. Mix until the peanut butter has melted. While you're mixing, microwave your choice frozen vegetables to stir into the Ramen when they're done cooking. Finally, add 1 tablespoon of Pad Thai sauce, crushed peanuts, and lime to taste. 
Vegetarian Chili
If you have access to a hot plate or Instant Pot, it's super easy to make meatless chili. Whether or not you're vegetarian, using meatless ground beef instead of real ground beef is cheaper and easier to cook and store in a dorm room. 
Besides your ground beef substitute, other common ingredients are different types of beans, crushed tomatoes, carrots, celery, peppers, and onions to the mix. In terms of spices, chili is generally made with chili powder, ground cumin, and paprika. But, if you don't have the space for or access to a spice rack, you can grab a packet of pre-mixed chili or taco seasoning from the grocery store. 
If you're cooking your chili in an Instant Pot, you'll want to set your timer for 10 minutes after you've chosen the "sealed" option on your valve. This dish requires a quick release for the steam when it's finished. 
For slow cookers and hot plates or stove tops, your cook time is going to be 2–4 hours, or until the beans are tender. 
This article was written by Nicole Tommasulo from Wealth of Geeks and was legally licensed through the Industry Dive Content Marketplace. Please direct all licensing questions to legal@industrydive.com.