Who said homework is the most demanding part of the school year? Whether you're a parent, tasked with feeding a household of picky eaters, or a cash-strapped college student attempting to do it alone, there's a lot of effort involved in daily lunch assembly. Mid-day meals need to be portable, storable, and relatively simple to cook or construct. But most importantly, packed lunches need to contain things that kids actually want to eat.

So what can parents make that's both healthy and tasty, that their youngsters won't end up bartering, or chucking into a bin? And what should students consider when it comes to crafting dishes that will see them through studying, classes, and exams? We've got a series of A+ ideas for school lunches, snacks for school, and easy college meals, sure to add serious spice to your back-to-school routine.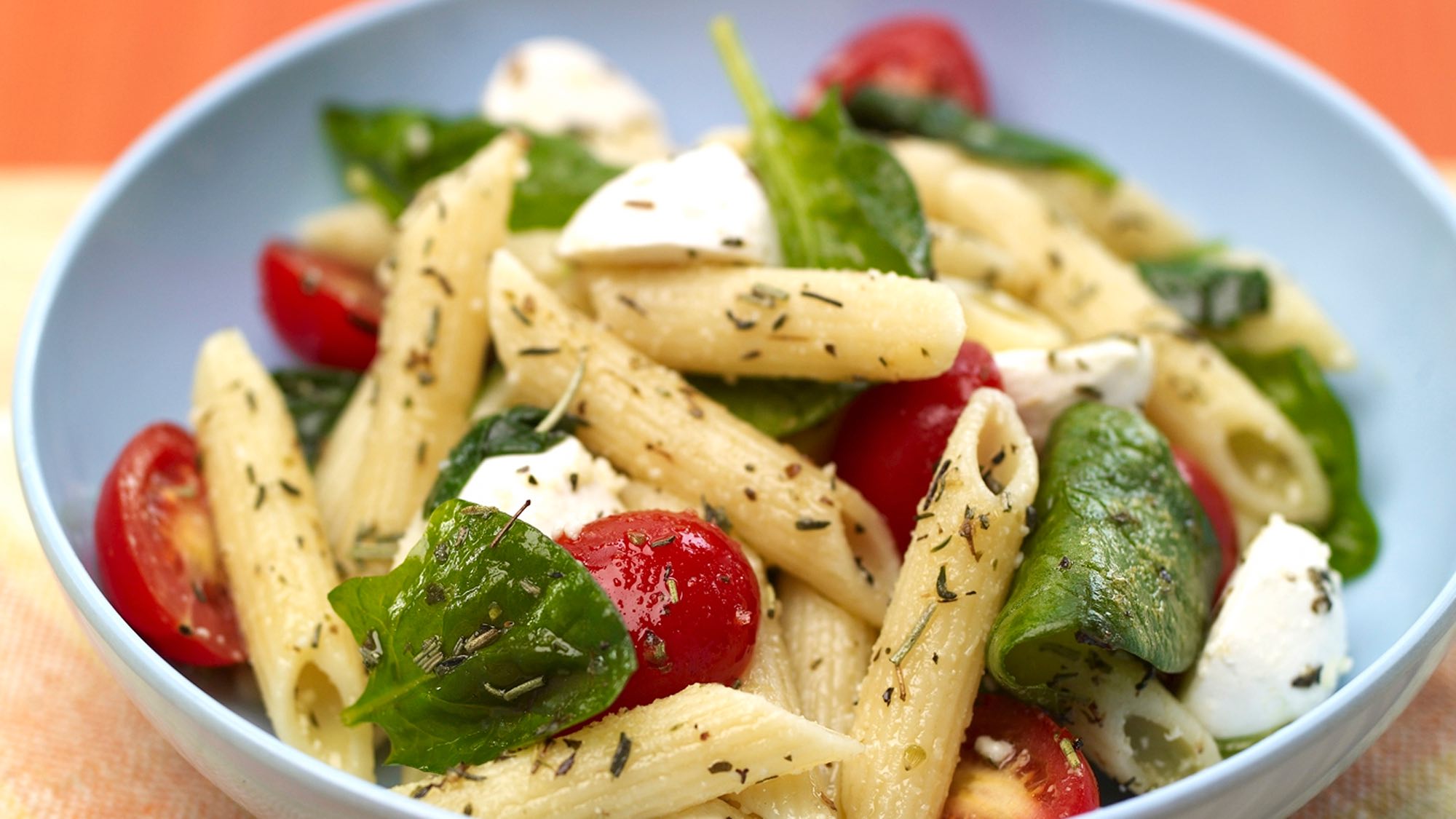 Bypass the Bread for Low-Carb Recipes
While they've long been lunchbox go-to's, there's nothing less appealing than squished and soggy sandwiches. Who said you need to default to ham and cheese on white bread? Salads make delightful stand-ins, especially if you use grains or pasta instead of lettuce. Unlike lettuce, these grains won't wilt when combined with dressings and other fun additions. In fact, kids will flip over Penne Pasta Salad with Spinach and Tomatoes, tossed with bouncy, bite-sized mozzarella balls, and flavored with olive oil, oregano, and thyme.

You can even put your slow cooker to work overnight (note to college students, they're an ideal cooking vessels for your dorm), and have something hot and hearty to store in your thermos for the next day. We're especially fond of this Chicken and Bean Chili — sure you can pack a spoon, but chips make scooping a lot more fun. You can even check out our full collection slow cooker recipes for more easy recipes.

Looking for another way to sideline bread, especially if you or your kids have gluten allergies and want gluten-free recipes? How about using Cinnamon Apple Rounds as an open-faced sandwich base? The sweet-tart rings pair perfectly with peanut butter and jelly — or chewy dried cranberries — but the sky is the limit. Try crowning them with tuna or chicken salad instead if you want a savory option!
Don't Forget to Pack these Easy Chicken Recipes
Besides having real "kid-appeal," chicken is an ideal protein when it comes to brown bagging, especially if you're looking to expand beyond cold cuts. It's quick-cooking, versatile, inexpensive, and tastes great hot or cold. And if you're hoping to avoid those greasy, preservative-laden nuggets at the cafeteria or dining hall, Gluten Free Oven Fried Chicken and Crispy Chicken Tenders are awesome alternatives. They can be enjoyed as is, teamed with a zesty dip, or sliced and folded into wraps.

What kind of wrap, you ask? Didn't think we'd leave you hanging, did you? Crispy Chicken Caesar Wraps have all the flavor of your favorite salad, but the hand-held appeal of a sandwich, perfect for on-the-go meals. Use either of the above recipes, and tuck that crunchy poultry into a flour tortilla, along with romaine lettuce, Parmesan cheese, and plenty of creamy dressing. You can also spice things up by using these Buffalo Chicken Tenders to make your own buffalo chicken wrap.

Want to take meal-prep to the next level? College kids, we're talking to you! Check out our video below that'll show you how to make easy chicken recipes. That's a week's worth of meals done in minutes!
Pack Savvy Homemade Snacks
If you want to ensure your kids sidestep the vending machine, you'll have to be pretty clever when it comes to selecting snacks. We suggest combining peanut butter, confectioners' sugar, and Greek yogurt into a sweet, smooth spread. Spiced with cinnamon, Peanut Butter Yogurt Dip makes a great companion for fruit slices, pretzels, and celery.

Ah, tacos…they have just as much kid-appeal as skewers. But tacos aren't the easiest items to keep fresh in a lunchbox. Get your hands on some of our classic taco seasoning and whip up an addictive Taco Snack Mix that has all of the flavor without any of the mess! Our Super Snack Mix and Caramel Cinnamon Popcorn are also sure to please.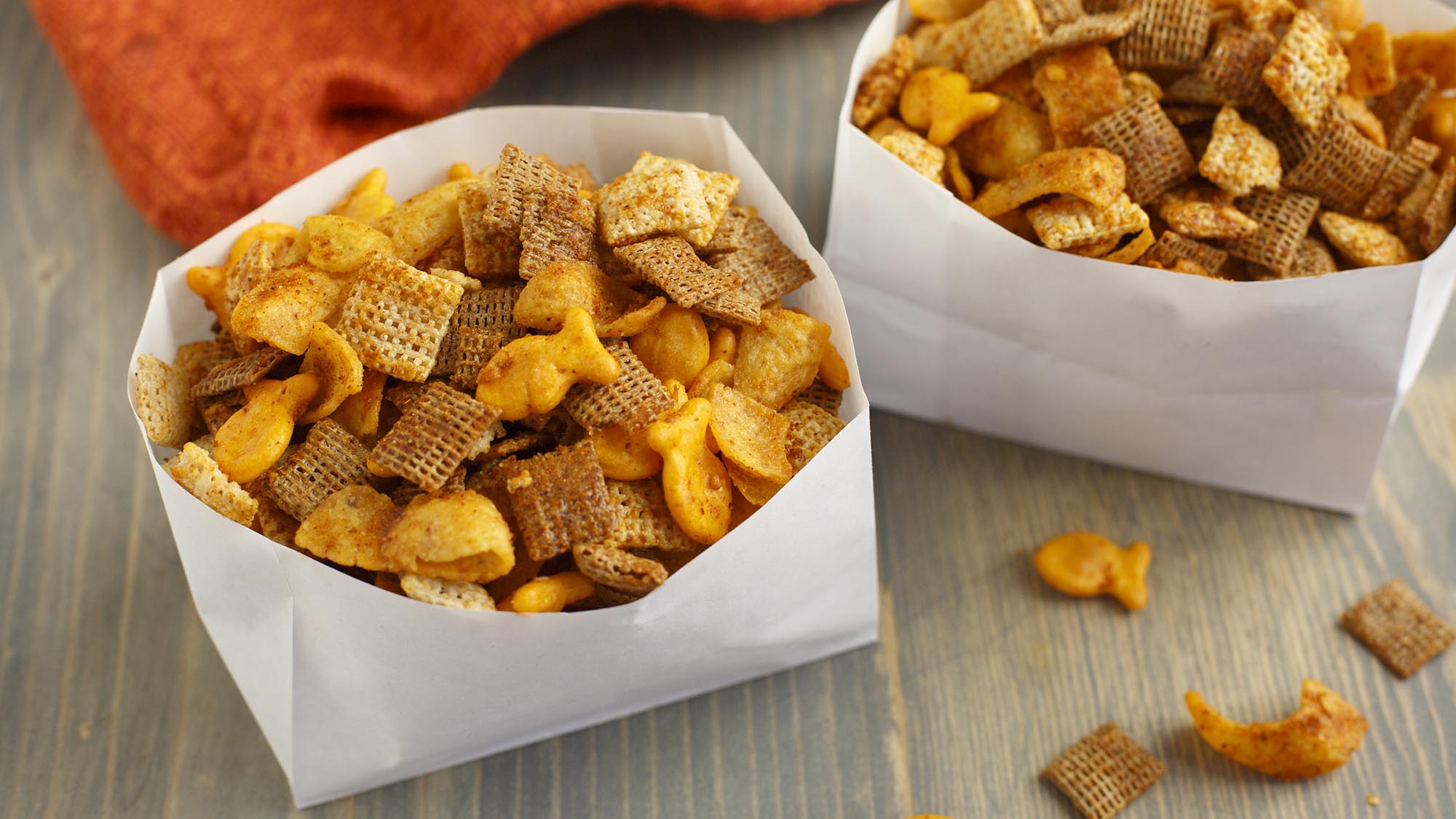 Score with Easy Homemade Sweets
What school lunch is complete without a treat? And no, we're not talking candy. These Nutty Oatmeal Ginger Cookie Sandwiches are utterly indulgent, made from all-natural ingredients, and make for a wonderful alternative to candy and other sugary snacks.

If you can't decide between a cupcake or a brownie, have them both! These Cinnamon Brownie Cupcakes are chewy and chocolatey.

Cinnamon Applesauce Bread can provide another (comparatively virtuous) sugar fix, and is a packable option that's perfect for anytime of the day.