It's fast, easy, and delicious.
I'm far from the first person to suggest a quick pasta dinner for busy weeknights, but our Skillet-Toasted Gnocchi with Peas is the recipe I turn to when I'm too tired to cook, and too impatient to order takeout.
I typically keep packs of fresh pasta frozen in my freezer, including gnocchi, for last-minute dinner emergencies, but you can make this recipe with shelf-stable gnocchi, too. Pantry pastas are always my lazy cooking go-to, as they often come together in under 30 minutes.
The great thing about gnocchi is that you can toss the little potato dumplings straight into the pan without boiling them first. That means no large pasta pot to clean, only one skillet. Plus, gnocchi actually benefit from pan-frying, getting crispy on the outside while staying pillowy on the inside. 
What You Need 
Aside from gnocchi, everything else you need to make this dish is a pantry staple, from chicken broth to garlic. It also features another freezer staple: frozen peas. Although any frozen vegetable would work here, from broccoli florets to spinach.
Frozen corn would also add a delightful sweetness to this pasta dish, even if it won't give you the same pop of green color, and would be great with some added bacon (which is a kitchen staple in my house).
If you don't have fresh thyme or parsley on hand, dried will do, but use half as much. I've also subbed in whatever fresh herbs I have on hand, including dill and mint. While I always have Parmesan in the fridge, any hard cheese, like Pecorino Romano or Grana Padano, will work well in this recipe.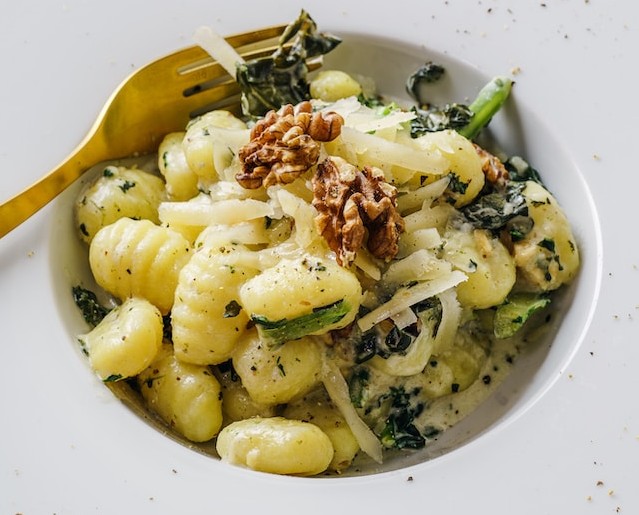 Fun Additions
I keep returning to this recipe because I find new ways to mix it up. Adding protein is a great way to bulk up the meal, and rotisserie or leftover chicken tossed in at the end of the cooking is an easy way to do it. I've also added leftover salmon into the mix.
For a vegetarian addition, fry up assorted wild mushrooms while browning the gnocchi for meaty texture without using any meat.
Another way to change up the dish is with finishing touches. A decadent way to top this pasta is with dollops of fresh ricotta that pair well with the lemon in the sauce.
For crunch, I've topped the dish with toasted pine nuts, but your favorite nut will work, too. A sprinkle of sumac, a lemony Middle Eastern spice, plays off of the lemon in the sauce the same way the fresh thyme does, so I like to add a little for both flavor and its vibrant purple hue.
All this is to say: The possibilities with the dish are basically endless. 
This article was written by Alana Al-Hatlani from Southern Living and was legally licensed through the Industry Dive Content Marketplace. Please direct all licensing questions to legal@industrydive.com.