When you're trying to trim your grocery bill, pricey meats and proteins are often first on the chopping block. The good news is that less expensive cuts of meat sometimes have even more flavor than their pricier counterparts.
Case in point: chicken thighs.
Their darker, slightly fattier meat adds richness to your meals and keeps your chicken juicy and tender through long cooking times with (virtually) no chance of drying out. They're also just as adaptable as chicken breasts, so you can let your creativity run wild. Get inspired with these easy chicken thigh recipes that run the gamut from classic meat n' potatoes to upscale-inspired feasts.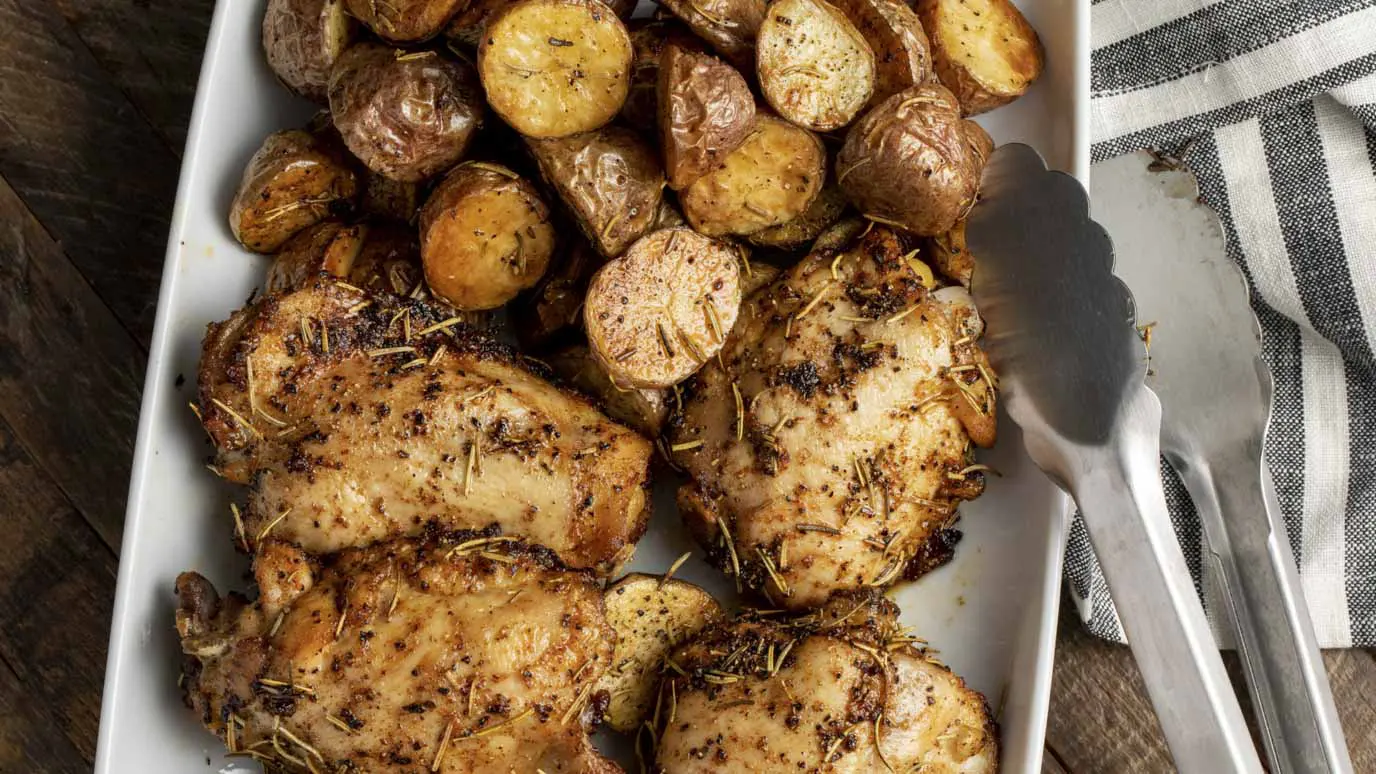 When you're meal prepping on a budget, chicken and potato recipes are your best friends. And this herb-infused recipe is sure to please. Rosemary-, paprika- and garlic-rubbed chicken thighs get crisp and juicy in the oven, while roasted potatoes add "comfort food" vibes to your meal.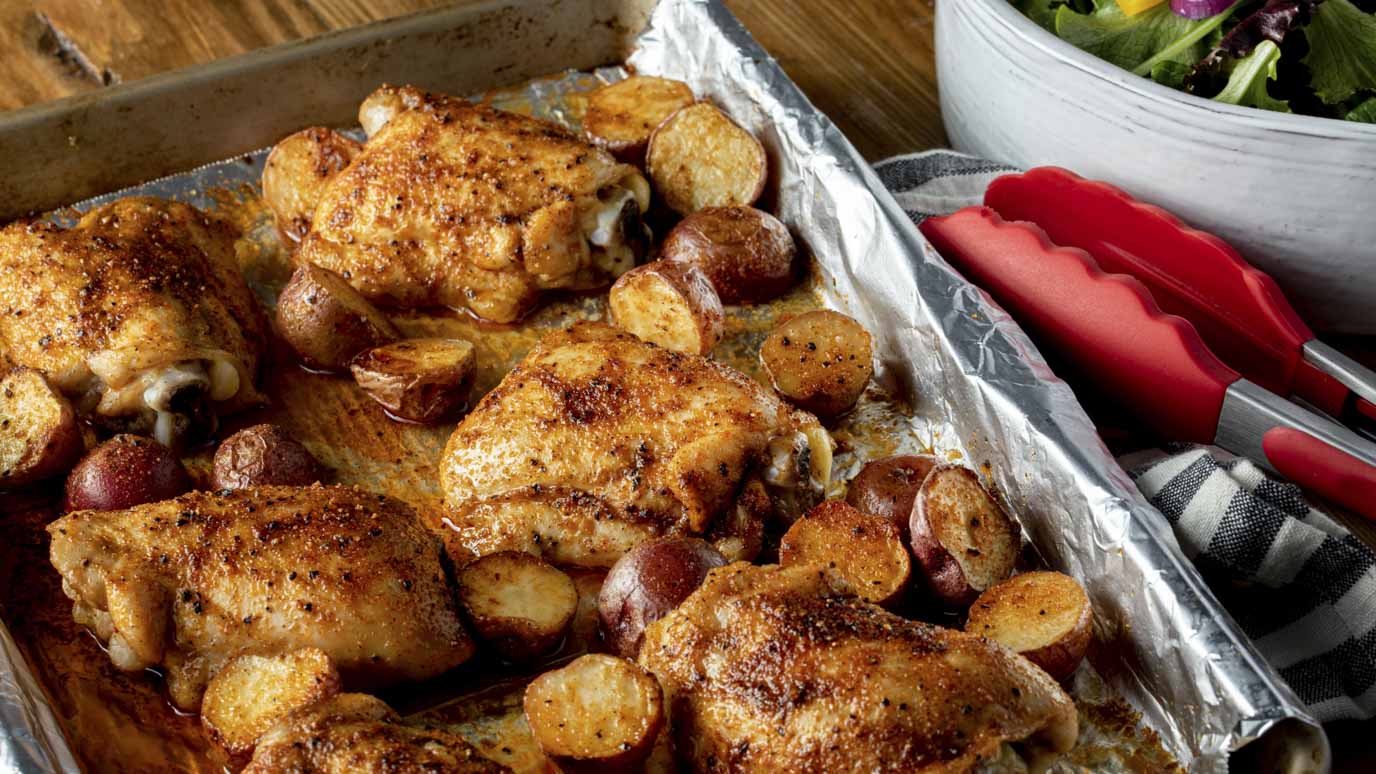 Need an easy-but-flavorful dinner that tastes better than takeout? We've got you covered. A pinch of McCormick Perfect Pinch Rotisserie Chicken Seasoning brings the flavor of your fave store-bought rotisserie chicken home. And, bonus, it tastes just as delicious on crispy, oven-roasted potatoes. Serve with a vegetable side, like this simple Three Cheese Broccoli, for an irresistible meal.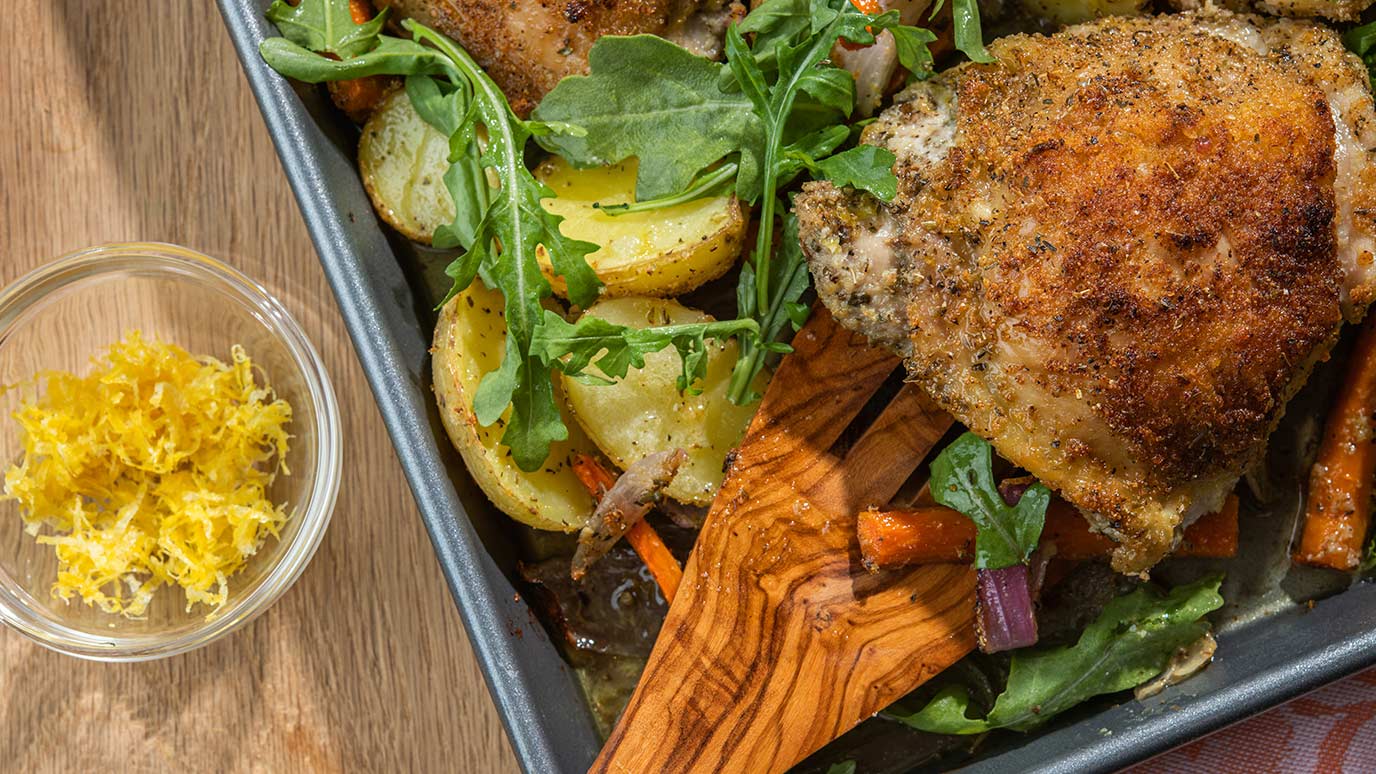 We can't resist the ease and convenience of a one-pan meal, and this lemon garlic chicken will become a new weeknight favorite. It's grounded in the classic savory flavors of garlic and pepper, with a little lemon zest for a shot of citrus. A handful of arugula, added after baking, adds peppery flavor and makes this easy chicken thigh recipe feel like the most delicious warm salad.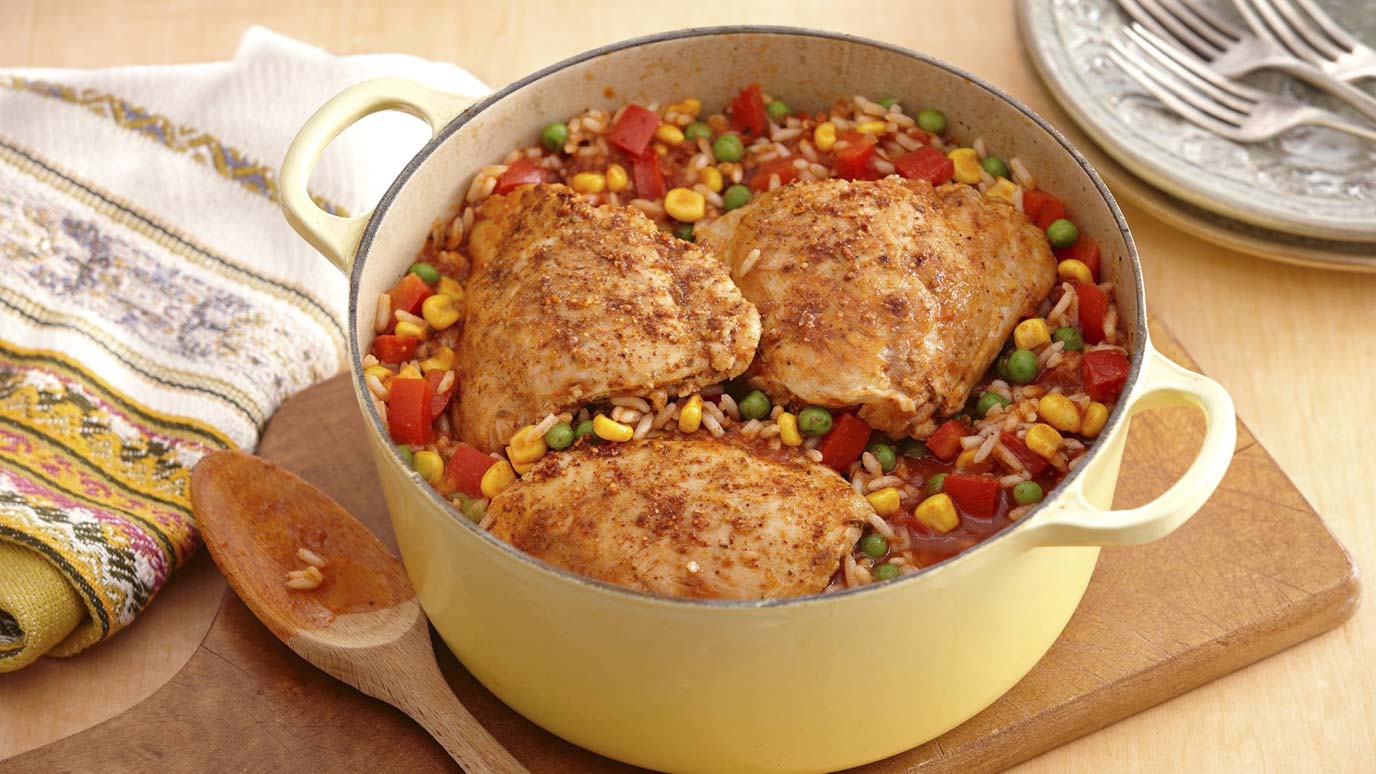 Speaking of one-pan meals, this Southwestern-inspired dish is ideal for cozy nights in. The prep couldn't be simpler — just add rice, veggies, chicken thighs and aromatics to a pot and simmer — but it tastes like it took you hours. Enjoy this recipe on its own, or shred the chicken thighs into the rice and use it as a filling for burritos. 
Trimming your grocery bill doesn't mean skimping on flavor, and this slow cooker chicken thighs and sausage dish proves your dinner can be affordable, easy and delicious. Hours in the slower cooker allow classic Cajun flavor to infuse into every bite. Prep it in the morning for a no-effort dinner that night, or serve it to guests for easy entertaining.
Grilled chicken thighs are the ideal way to usher in BBQ season, and this recipe, inspired by a classic starter, is one of our favorite warm-weather treats. Herb and wine-marinated chicken thighs taste even better topped with melted mozzarella, while grilled tomatoes add a pop of sweetness.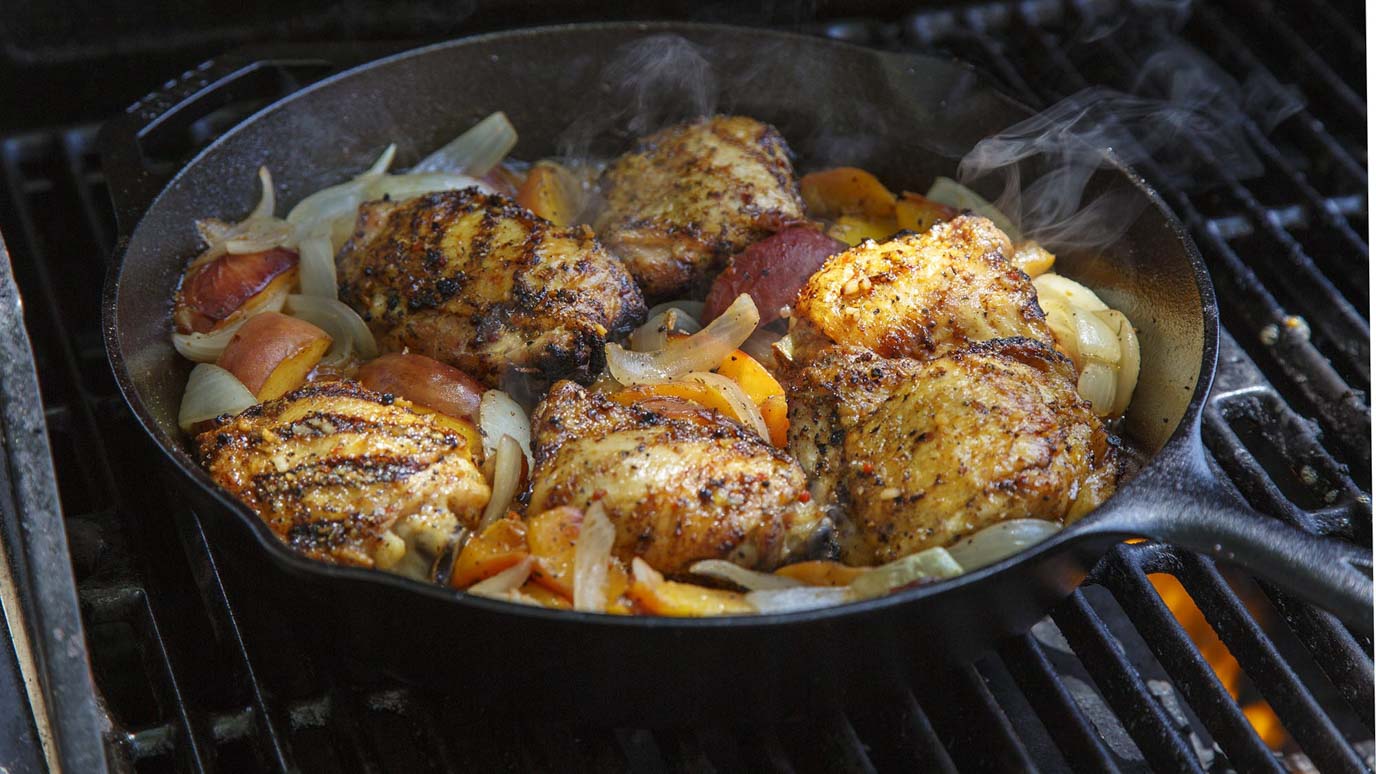 If you're craving southern-inspired flavor, this brown sugar bourbon easy chicken thigh recipe is just what you need. The boldness of the seasoning plays perfectly off the sweetness of the peaches and onion, and cooking this dish in a skillet helps caramelize your meal to bring out the delicious roasted flavor. It's sure to become a staple during peach season.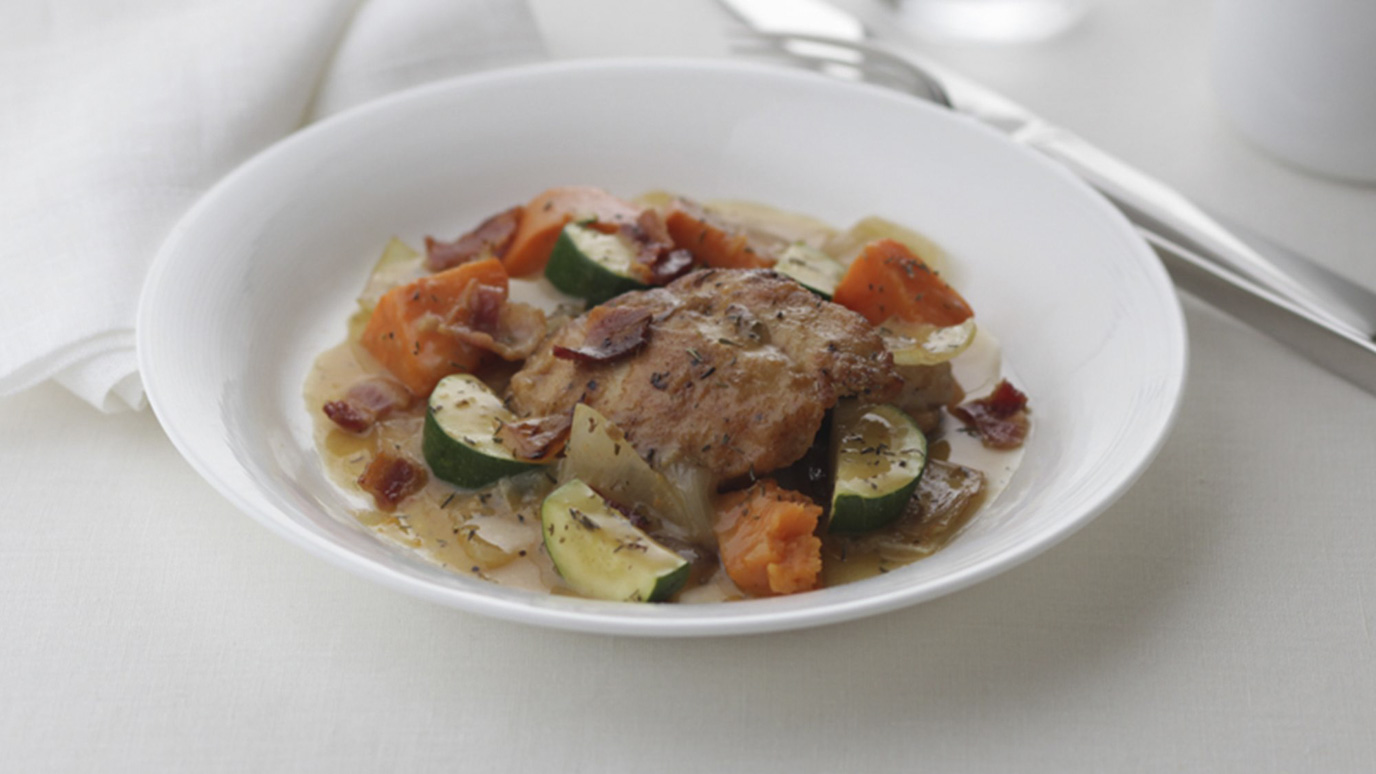 Dinners don't need to be expensive to taste luxurious, and this easy spiced chicken thigh recipe embodies "upscale on a budget." Humble ingredients like bacon and sweet potatoes add sweet and smoky notes to your dish, while roasted coriander warms things up for a comforting meal. Best of all, you can get this delicious Sunday dinner on the table in less than an hour.
More Easy Chicken Thigh Recipes To Try At Home
Ready To Make Your Own Easy Chicken Thigh Recipes? 
Save your favorite chicken thigh recipes and organize your ingredients with our online meal planner.  You can also make meal prep simple by creating a Flavor Profile, so you can store your favorite recipes and create grocery lists for easy shopping.