Lately, many restaurants have taken the French fry to new level of tastiness by substituting sweet potatoes for the usual russet baking potatoes. I have enjoyed them immensely, but I also feel a bit guilty knowing how much oil is used to fry them.
Indeed, if most people knew how french fries are made, they might think twice about ordering them. The traditional method requires frying the potatoes twice. The first round of cooking sets the potatoes and cooks them inside. The second round finishes cooking the potatoes and makes them crisp and golden brown. We are talking lots of oil here.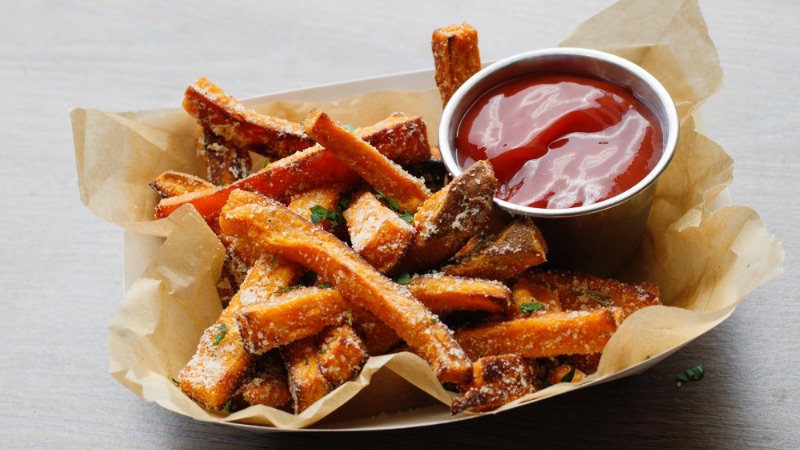 A healthier alternative is to roast the fries in the oven with just oil coating the potatoes. When I came across this recipe from Anna Getty in her "Easy Green Organic" cookbook I couldn't wait to try it. Sweet potato fries are a great alternative to regular potato fries because they are packed with vitamins and minerals. Use garnet yams for this dish for their vibrant orange color. They are sliced thickly, like steak-cut fries, and are coated with a lively herb and spice olive oil mixture. You can't miss with maple syrup-enhanced barbecue sauce for dipping.
Often cooks are confused by the difference between sweet potatoes and what American markets call yams. Most markets sell two sweet potato varieties: moist and dry. The moist sweet potato variety, a reddish brown sweet potato, is often labeled a yam. While it isn't truly a yam, the flesh is bright orange and sweeter than the lighter colored sweet potato. I prefer this to the drier, brown-yellow skin and pale flesh sweet potato that is decidedly less sweet.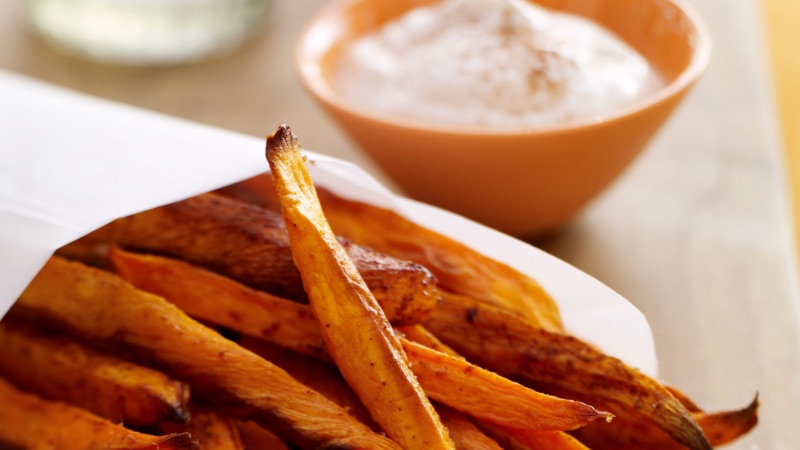 Sweet Potato Fries with Maple Barbecue Sauce
Serves 4 to 6.
4 medium garnet yams, peeled and cut into 1/2-inch-thick strips
2 teaspoons ground cumin
2 teaspoons ground coriander
2 teaspoons garlic powder
2 teaspoons sweet paprika
1/2 cup olive oil
1 1/2 teaspoons salt
2 tablespoons minced fresh flat-leaf parsley
Sea salt for sprinkling
Maple Barbecue Sauce
3/4 cup barbecue sauce
3 tablespoons maple syrup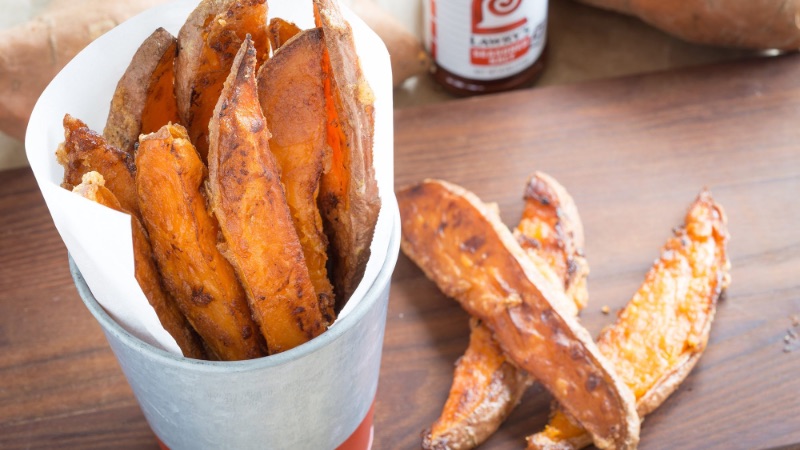 1. Preheat the oven to 400 F.
2. Put the yams in a large bowl. In a small bowl, mix together the cumin, coriander, garlic powder, paprika, olive oil and salt. Pour the mixture over the yams. Using your hands, toss thoroughly until the yams are evenly coated. Add the parsley and mix well.
3. Arrange the yams in a single layer on a large baking sheet and bake, stirring occasionally, for about 30 minutes, or until the edges are brown and potatoes are cooked through.
4. To make the sauce, mix the maple syrup and barbecue sauce together in a small bowl.
5. Sprinkle the fries with sea salt and serve immediately with the sauce.
(Diane Rossen Worthington is an authority on new American cooking. She is the author of 18 cookbooks, including "Seriously Simple Holidays," and also a James Beard award-winning radio show host. You can contact her at www.seriouslysimple.com.)
This article is written by Diane Rossen Worthington from Seriously Simple and was legally licensed via the Tribune Content Agency through the NewsCred publisher network. Please direct all licensing questions to legal@newscred.com.