Delight Visitors with Delicious Deviled Egg Recipes
Is there anything the humble egg can't do? If frying, poaching, or scrambling eggs isn't your thing, then you can boil them and get creative. Deviled eggs are a simple, protein-rich starter for a dinner that also makes a nice finger-food option at parties.
This dish dates back to Roman times, and we've been making it across the world ever since, although we only started using the term 'deviled' in the 18th century to highlight the recipe's spicy nature. It's a simple dish at its heart. Simply hard-boil eggs and then cut them in two length-ways, taking the yolk and mixing it with something a little tangy. Then put the yolk mix back in each half-egg and serve. Even though it's easy to make a deviled eggs recipe and most of us know how to hard-boil eggs, there are plenty of variations to keep people coming back for more.
Let's start with the classic, no-frills deviled eggs recipe. This ten-minute, six-ingredient Deviled Eggs recipe is a basic exercise in making this dish. Mustard is the key ingredient to tantalize your taste buds. If you'd like to add an extra layer of flavor, then check out this Easy Deviled Eggs's recipe, which includes garlic powder in the yummy yolk mixture.
Classic Deviled eggs, Montreal-style
What only has three ingredients but tastes fabulous? The answer is our Montreal Deviled Eggs recipe. We like to experiment at McCormick, and we wanted to pare the classic recipe down even further for an easier meal that didn't sacrifice flavor. This dish just needs eggs, mayo and our secret ingredient — McCormick Grill Mates Montreal Steak Seasoning. This super seasoning includes some of the spices that make classic deviled eggs so delicious, including paprika, along with others like red pepper.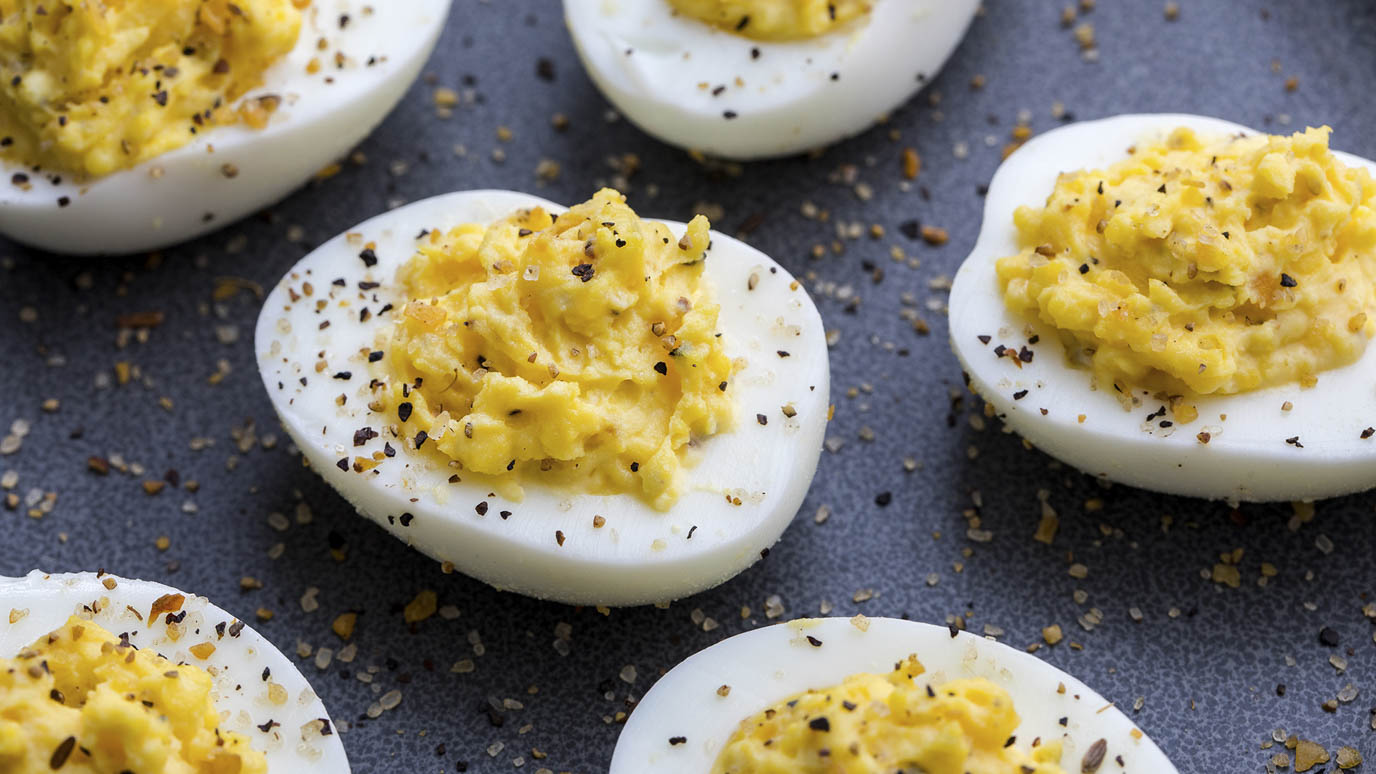 Seafood deviled eggs
Deviled eggs rely on strong, tangy flavors to take egg yolk to the next level, and seafood often provides the perfect match. Old Bay Seafood Seasoning is a natural addition to this Crab Deviled Eggs recipe. The crab meat, mustard, and salty, spicy seasoning create a powerful taste combination.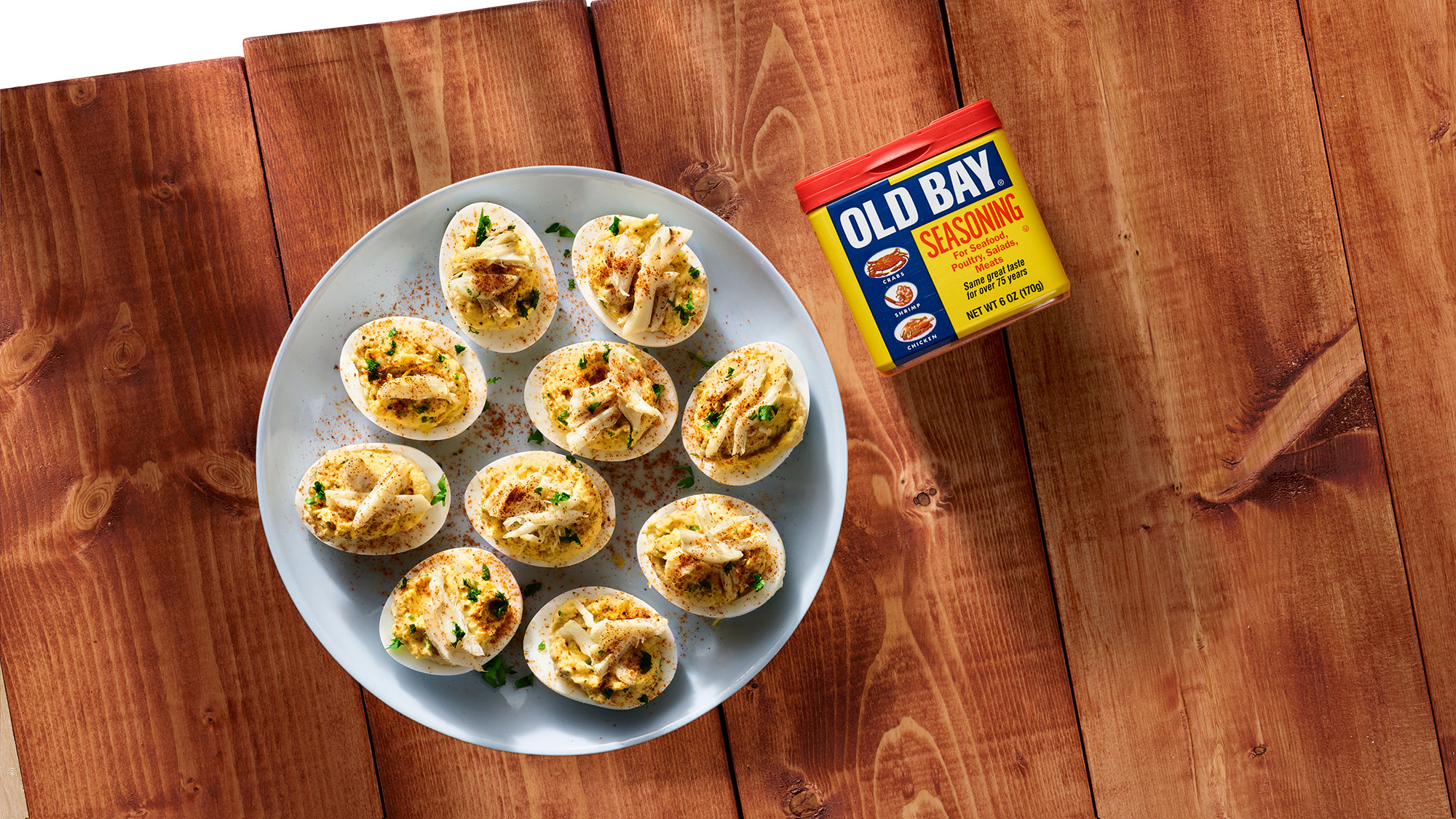 Deviled eggs with bacon
Bacon's strong salty taste makes it another natural choice for deviled egg recipes. Sprinkling it on top of the blended yolks gives it a welcome double-hit of taste and crunchy texture. However, it isn't the star of the show in this Smoky Deviled Eggs Recipe. That billing goes to the smoked paprika which gives this dish its signature smoky flavor. The two ingredients make this recipe one to remember.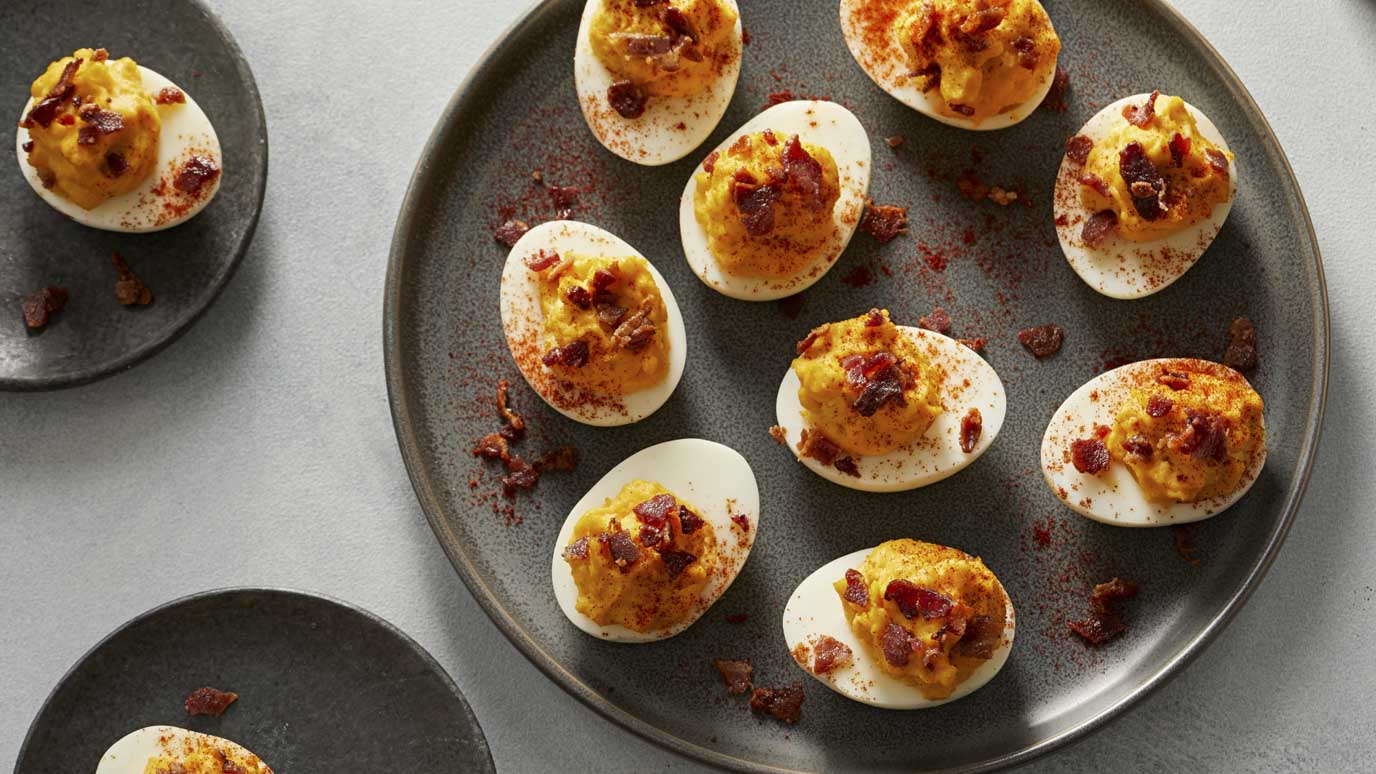 Dill deviled eggs
Once you know how to make deviled eggs using the base recipe, you can transform the entire dish by swapping out a single ingredient. For a different taste from smoky paprika, simply substitute the bright, sweet flavor of dill. This Dill Deviled Eggs Recipe uses the herb in the yolk mix, and a sliced dill pickle atop the final dish for both flavor and decoration.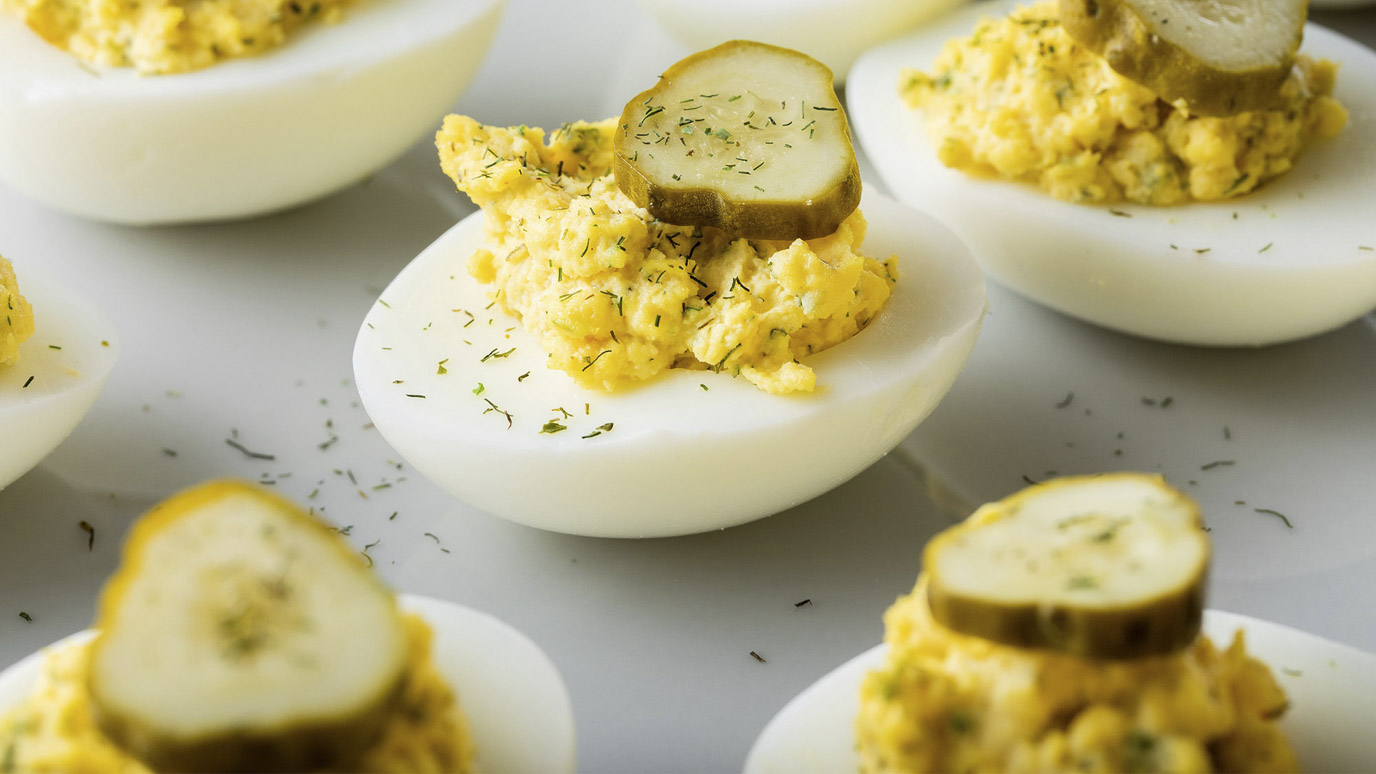 Avocado deviled eggs
Swap sweet for spicy and pickles for peppers with this Spiced Chipotle and Avocado Deviled Eggs Recipe. The great thing about this Mexican-themed dish is the addition of avocado and lime juice into the yolk mix. The fat in the avocado perfectly offsets the McCormick Chipotle Chili Pepper in the egg filling and the fiery pickled jalapeno slice on top of each egg.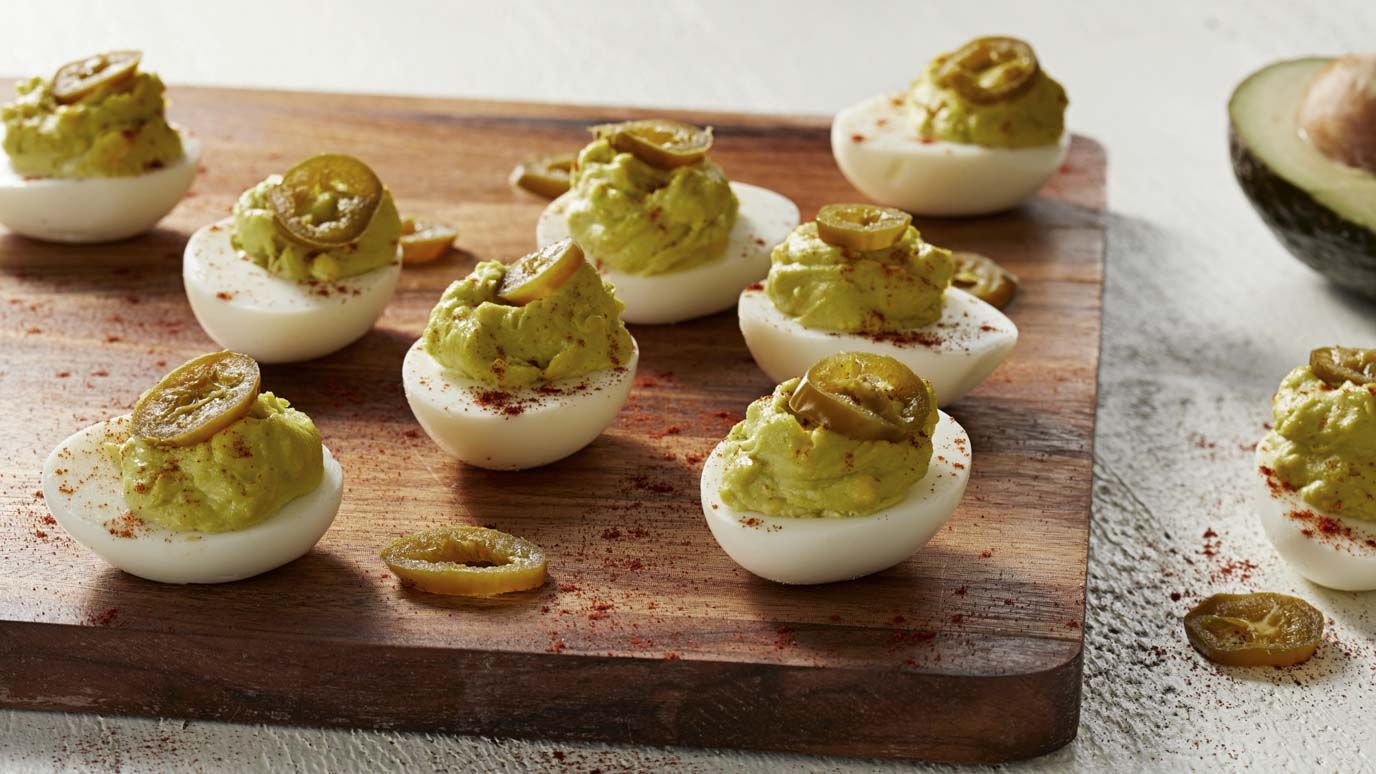 Deviled eggs are a go-to dish for any gathering that you can arrange quickly to satisfy your friends and family. If you can't decide which is the best deviled eggs recipe, then prepare batches with different tastes that will keep people coming back to the table. The hardest thing about any of these recipes is making hard-boiled eggs and peeling them, and this is something that you can do quickly as a batch earlier in the day.
Other deviled egg recipes to try
Deviled Eggs with Southern Fried Chicken Skin
Deviled Eggs with Smoked Creole Mustard
Egg related cooking tips
How to Boil Eggs for Deviled Eggs
How To Make Eggs Benedict Hollandaise Sauce