Crimson cupcakes and cakes have become classic, but what, exactly, is red velvet? We're going to walk you through exactly why you need to get your hands on a bunch of red velvet recipes to try out with friends and family (or just for you)!
The recipe is believed to have originated in the Victorian era, when vinegar was used to tenderize cakes. As for the color, it either could have come about by the combo of vinegar and Dutch process cocoa powder, which turns red, or by the beet juice often used to add moisture and color to cakes during World War 2, because of rationing.
The finely crumbed southern staple is only subtly chocolatey, because of unsweetened cocoa powder. This is largely what differentiates it from devil's food cake. And unlike your basic chocolate cake, it actually packs a whole lot of tang, thanks to the additions of vinegar, buttermilk or sour cream. 
Sweetness is primarily imparted by the traditional cream cheese icing, and of course, food coloring is essential for the synonymous red hue.
Whatever circumstances there were that brought red velvet cake into being, we're certainly glad they took place, enabling the invention of red velvet truffles, red velvet muffins, red velvet pancakes and more!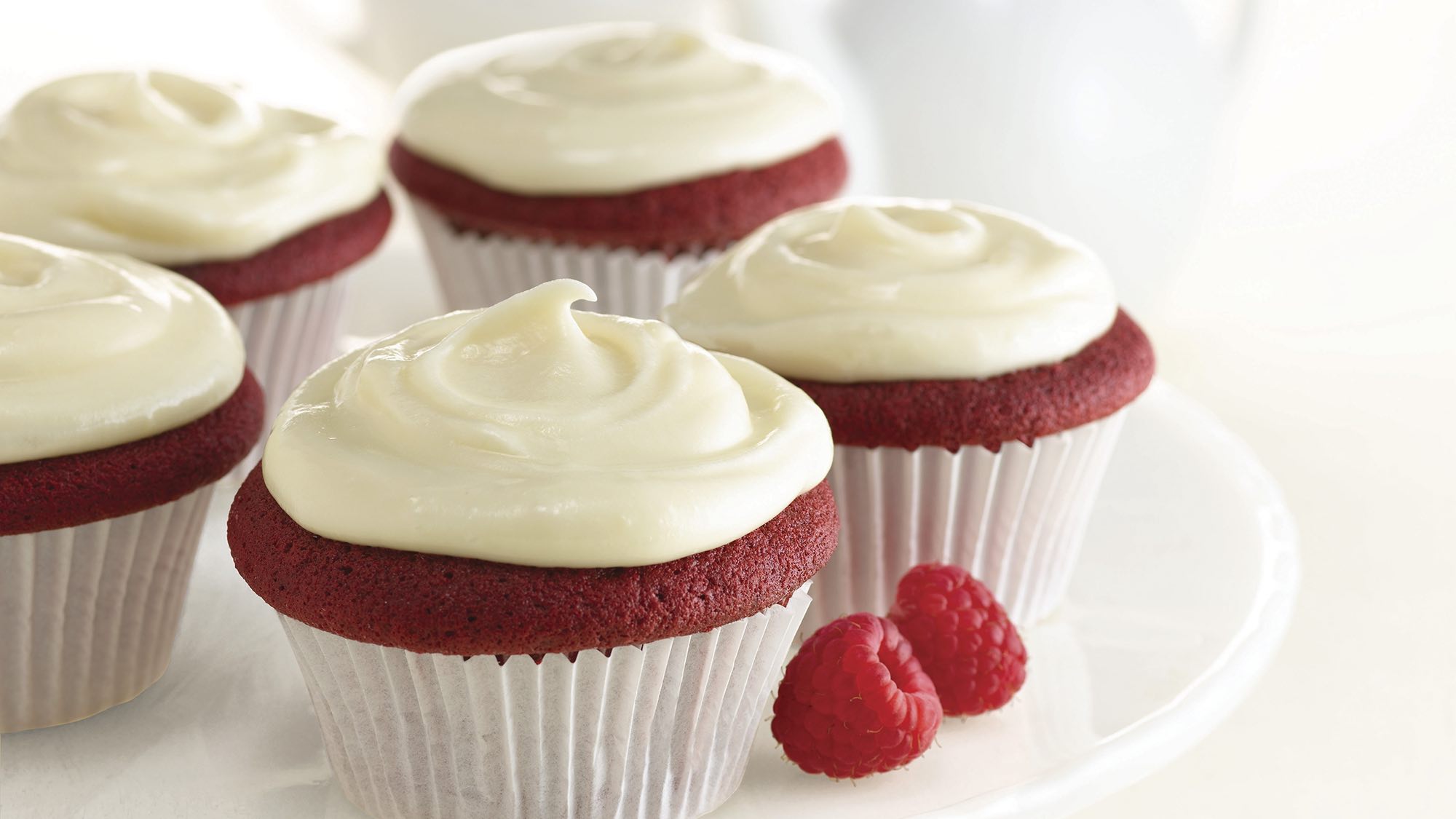 Red Velvet Cupcakes: Perfectly portioned for individual snacking, these bite-sized cakes pack a punch of flavor, to say nothing of the signature deep red color! 
Easy Red Velvet Cupcakes: What makes these easy? These shortcut cupcakes come together in minutes by using chocolate cake mix brightened with a splash of red food coloring. 
Red Velvet Cream Filled Cupcakes: The only downside to cupcakes is the uneven distribution of frosting. That's certainly not the case with these cream-filled beauties, which guarantee a decadent mouthful of icing in every bite.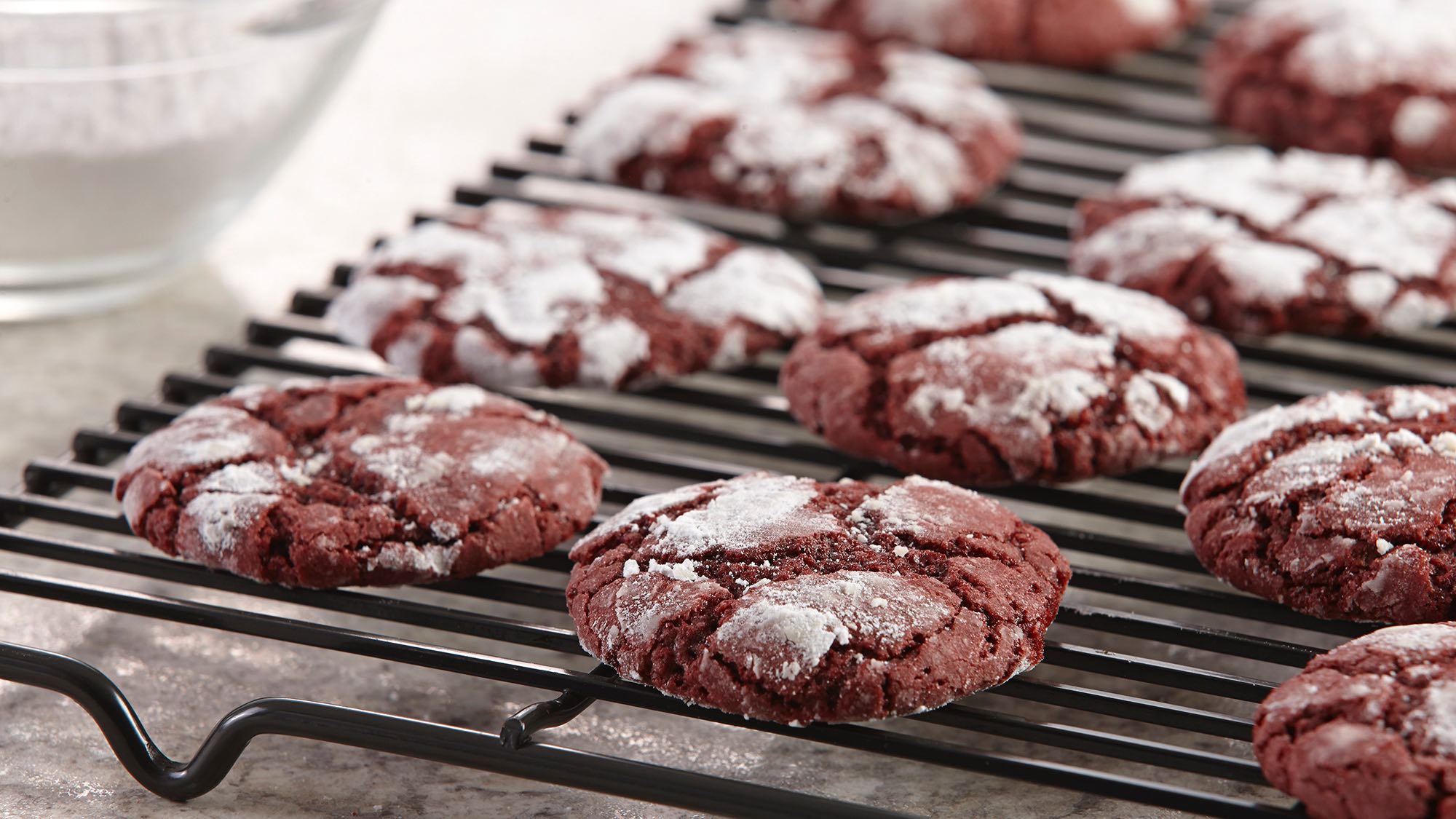 Red Velvet Crinkle Cookies: Boasting a festive, super-moist red crumb with snowdrifts of confectioners' sugar dusted within the crinkles, they'll be the hit of your holiday cookie exchange! 
Red Velvet Cheesecake: We're taking cheesecake to the next level by layering it with a ruby-hued stripe of red velvet poured into a chocolate crumb crust. 
Easy Red Velvet Brownies: Fold your favorite brownie mix together with sour cream and food coloring for a fudgy, pink frosting-topped dessert that's equally ideal for Valentine's Day, Christmas or a bake sale showstopper.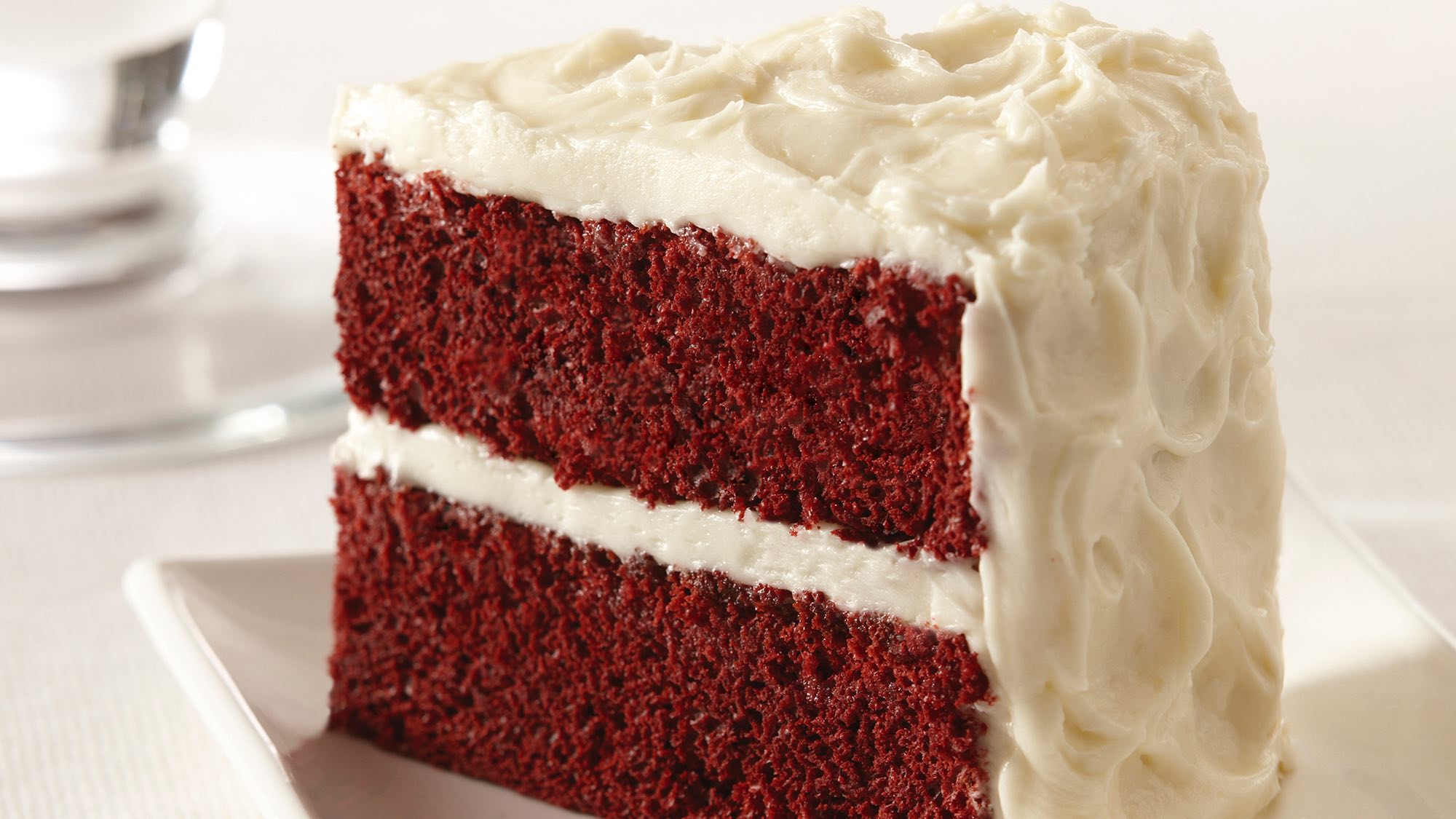 Easy Red Velvet Cake with Vanilla Cream Cheese Frosting: Our homemade red velvet cake is complemented by a cream cheese frosting recipe containing sour cream for extra tang. Although you can also use red velvet cake mix for an especially easy treat.
Red Velvet Whoopie Pies: Our celebratory whoopie pies scream special occasion but come together a lot more easily than you might think. 
Red Velvet Soufflé with Mascarpone Cream: Thought soufflés were reserved for fine dining restaurants? Razzle and dazzle your guests with these lighter-than-air puffs served with mascarpone cream.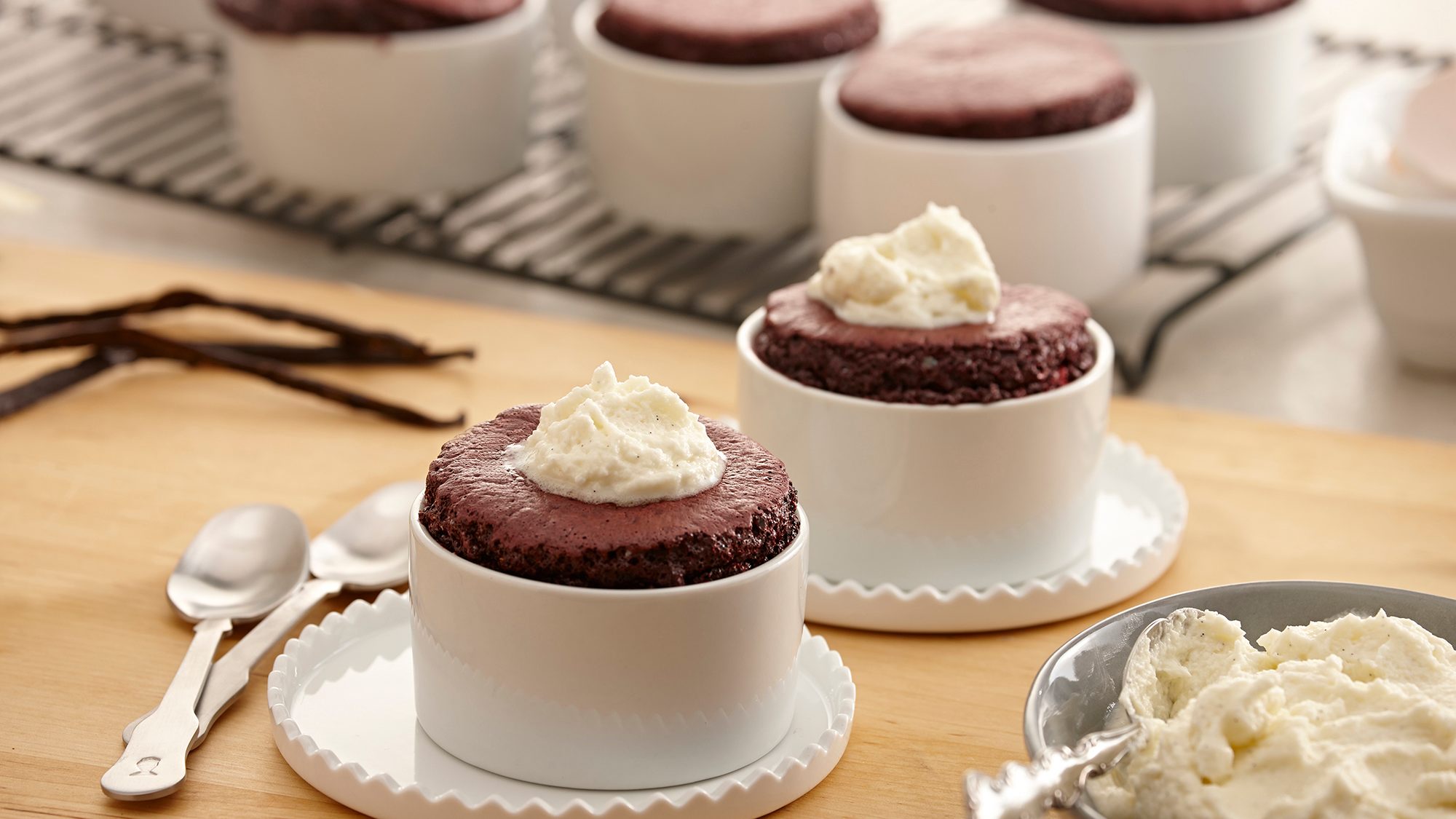 Red Velvet Bon Bons: Sporting dazzlingly shiny chocolate tops and tucked into tiny, delicate wrappers, these one-bite indulgences add class and drama to any holiday party. 
Red Velvet Mousse with Vanilla Whipped Cream: Who doesn't love their own goblet piped to the brim with ethereal and luxurious red velvet mousse? 
Red Velvet Mug Cake: Satisfy a red velvet craving pronto with a microwavable mug of moist, cream cheese glaze-drizzled cake.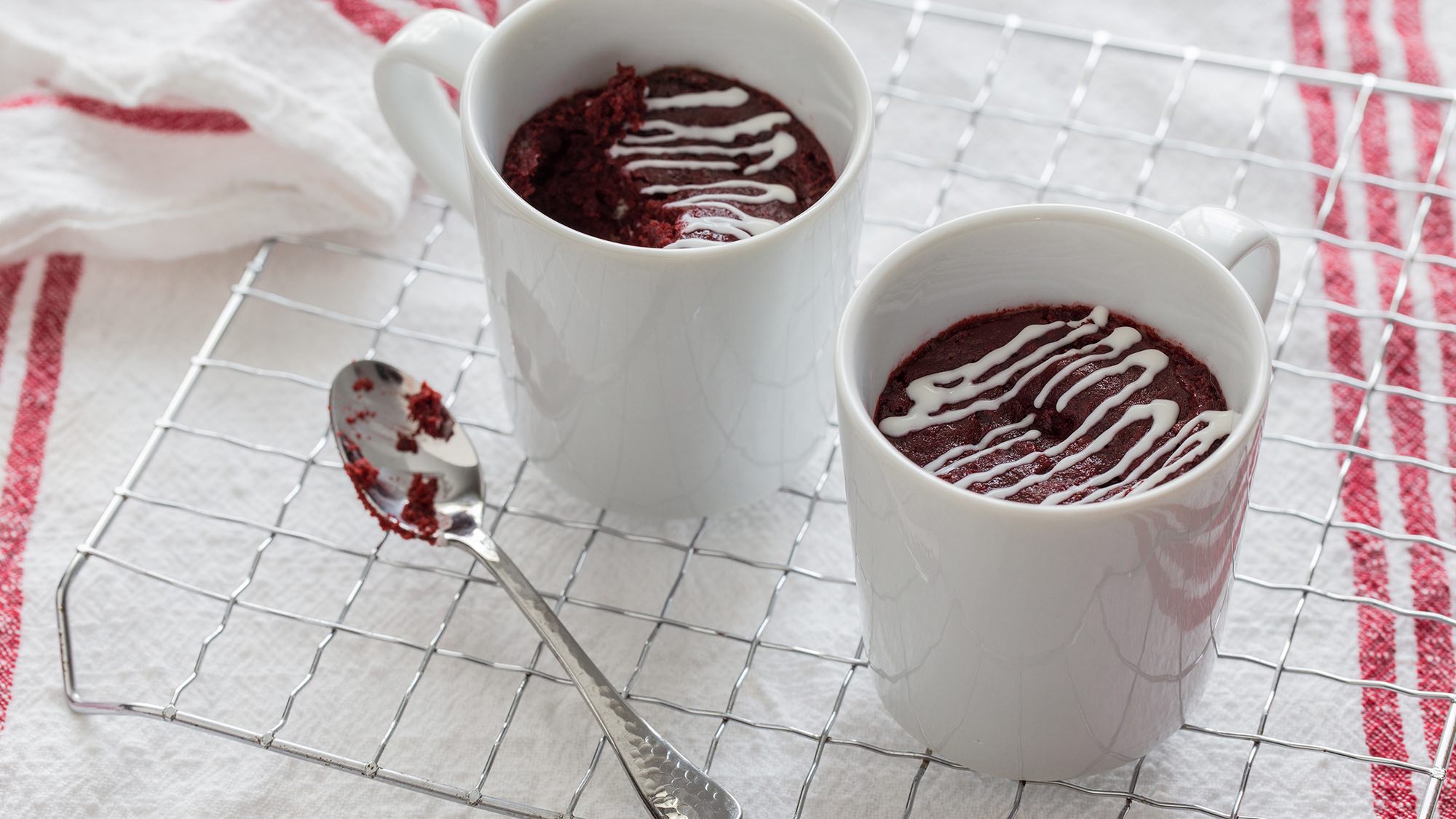 Red Velvet Pancakes: Breakfast or brunch just got all the more special, with tender pancakes topped with vanilla cream cheese glaze or vanilla cinnamon syrup.
Red Velvet Hot Chocolate: It doesn't get cozier than a steamy mug of crimson cocoa, made with real semi-sweet baking chocolate. 
Red Velvet Truffle Fudge: This toothsome fudge, featuring semi-sweet baking chocolate, white chocolate and sweetened condensed milk, makes the ultimate edible gift.