Recently I attended the Pecan Chefs Summit in Atlanta, along with other chefs from around the country. Pecans were discovered in central and eastern North America in the 1600s and have flourished ever since. They have been an important commodity for U.S. trade through the centuries. Our group learned how pecans are not only delicious but also nutritious.
Pecans are heart healthy, packed with 19 vitamins and minerals, along with fiber and protein, and they are sodium-free. I experienced firsthand how versatile the creamy, toasty pecan could be as we cooked dishes that added chopped pecans to meatballs, pizza crust and filling for tacos. We also stuffed them in pitted dates, wrapped in bacon and roasted until crisp. All of these unusual applications were happily surprising and plenty tasty.
I selected this sweet potato dish to cook for our lunch, and the result was so good that I will be making it for my Thanksgiving side dish this year. It's also a conversation starter when you say it was made using pecan milk, which is seriously simple to make. It also has lots of uses, such as adding it to your coffee or using it as a non-dairy milk replacement in other recipes.
This time of year is pecan season, which might explain why pecan pie is a favorite on the Thanksgiving dessert table, but I hope you'll try this reinterpreted mashed sweet potato dish for any of your holiday menus.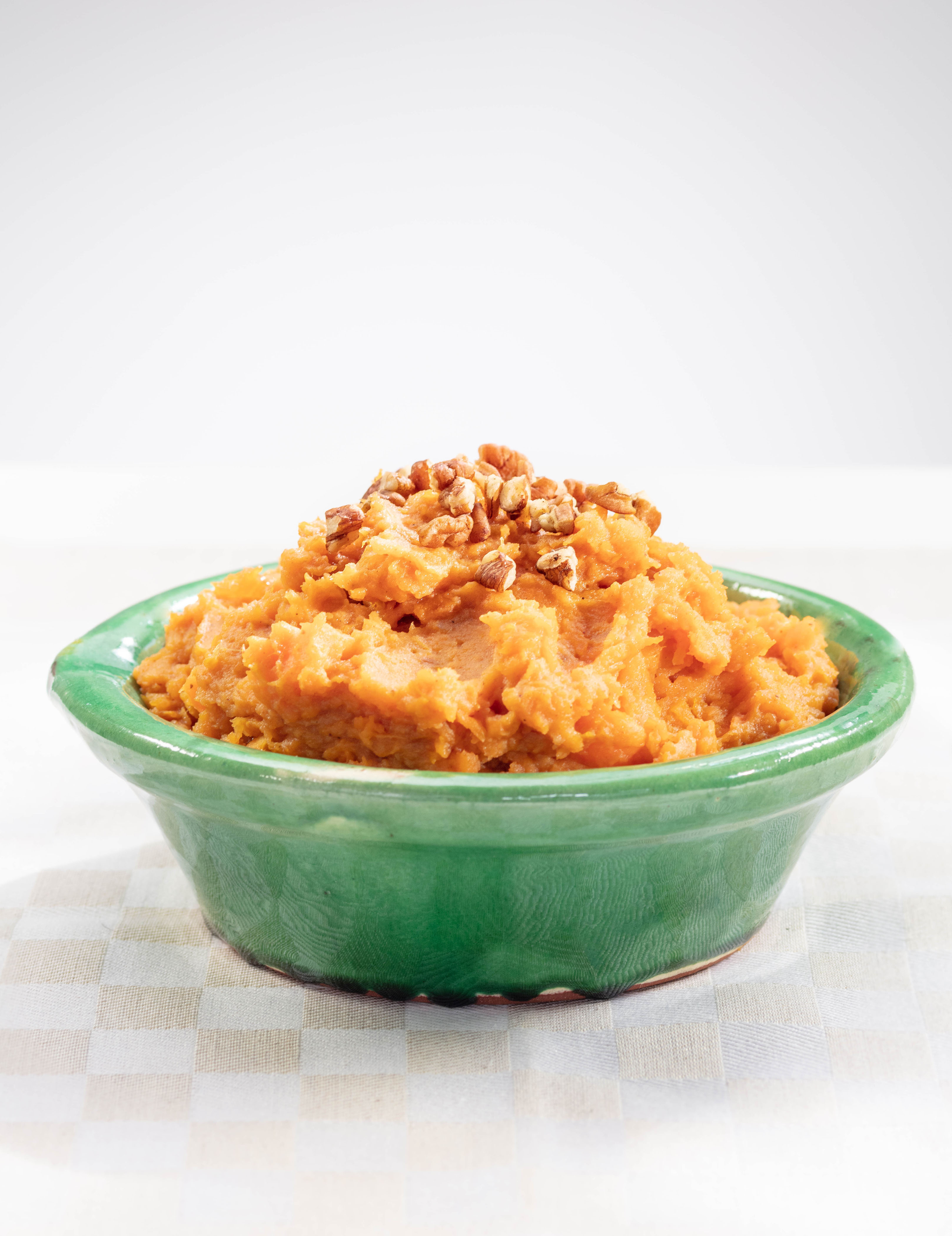 Mashed Sweet Potatoes with Peach Preserves and Toasted Pecans
Makes 4 to 6 servings
(This can be easily doubled or tripled)
2 1/2 pounds sweet potatoes, ends cut off
3 tablespoons butter
2/3 cup peach preserves
3/4 cup pecan milk or half-and-half (recipe follows)
1/2 teaspoon salt
1/4 teaspoon black pepper
1/8 teaspoon cayenne pepper (optional)
1/2 cup chopped pecans
1. Toast the pecans by putting them in a nonstick skillet over medium-heat, shaking the pan to toast them evenly. They should be fragrant and lightly browned. Reserve.
2. Preheat the oven to 425 F. Line a baking sheet with parchment paper.
3. Put the sweet potatoes on the baking sheet with a little space between each one. Roast until the skin softens slightly and you can slide a knife through the thickest part of the flesh with no resistance, 45 minutes to 1 1/4 hours, depending on their size. When cool remove the sweet potato pulp and transfer into a medium bowl.
4. Mash in 3 tablespoons butter and the peach preserves until melted and well blended. Drizzle in the pecan milk; it will absorb into the potatoes, so add enough for a mashed potato consistency.
5. Season with salt, pepper and cayenne, if using. Taste for seasoning. Transfer to a serving bowl. Sprinkle the toasted pecans over the potatoes, and serve immediately.
Pecan Milk
Makes about 1 1/4 cups
1/2 cup raw or freshly toasted pecans
2 cups water
1 tablespoon maple syrup, to taste
1/2 teaspoon pure vanilla extract
Pinch of salt
1. Toast the pecans by putting them in a nonstick skillet over medium-heat, shaking the pan to toast them evenly. They should be fragrant and lightly browned.
2. Place the pecans in your blender, and add 2 cups of water. Blend until the mixture is creamy and smooth, about 1 minute. (If using it for savory dishes omit the maple syrup and vanilla.)
3. Add the maple syrup, the vanilla and a pinch of salt. Blend again to combine. Taste, add additional maple syrup if you'd like sweeter milk. No need to strain.
Top tips
--You could substitute part or all of the peach preserves with frozen and defrosted coarsely chopped peaches for a lighter, less sweet version.
--I like the added spicy hit of cayenne pepper, but be sparing with it.
(Diane Rossen Worthington is an authority on new American cooking. She is the author of 18 cookbooks, including "Seriously Simple Parties," and a James Beard Award-winning radio show host. You can contact her at www.seriouslysimple.com.)
This article is written by Diane Rossen Worthington from Seriously Simple and was legally licensed via the Tribune Content Agency through the NewsCred publisher network. Please direct all licensing questions to legal@newscred.com.