Scallops are a versatile seafood that can be used in several recipes from pastas to skewers. You may have tried scallops at a restaurant seared in a pan but fear not, you can do it too and we'll show you the steps on how to cook scallops at home.
What Do Scallops Taste Like?
Scallops are a true jewel of the ocean. Silky soft and candy sweet, the bivalve mollusks boast a real meatiness. You can choose between sea scallops—which are large and velvety, measuring up to 2-inches across, and are generally hard seared and served in platings of two or three, or tiny and tender bay scallops, which are great for sautés, marinating into ceviche, or served over rice or pasta.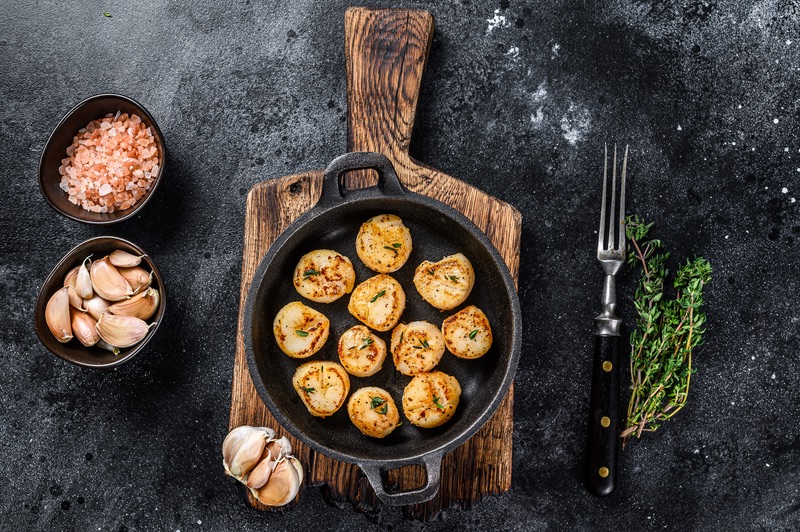 How Long To Cook Scallops
When it comes to how long to cook scallops, they generally take four to 5 minutes tops (or even less, for tiny bay scallops), no matter the method. The point is to get as hard a possible sear on the outside, while still allowing them to remaining tender and juuust opaque within.
How To Prepare Scallops
No matter the type or size of scallop, how they're prepared, or whether they're wet or dry (dry scallops are preserved and stored as is, while wet scallops are packed in a water and sodium solution), you should always blot away any excess moisture first, and allow them to drain for 10 minutes on paper towels. Scallops naturally tend to hold on to a lot of water, which can keep you from achieving that ideal sear. Then season generously just before cooking—seasoning too far in advance can also end up drawing out water. 
How To Sear Scallops
Heat a cast iron or nonstick skillet over high heat, then add a swirl of olive oil.
Heat until very hot shimmering (but not smoking) then add your scallops, being careful not to overcrowd the pan.
Sear on one side, without touching or moving, for about three minutes, then carefully flip and cook the other side for about two minutes.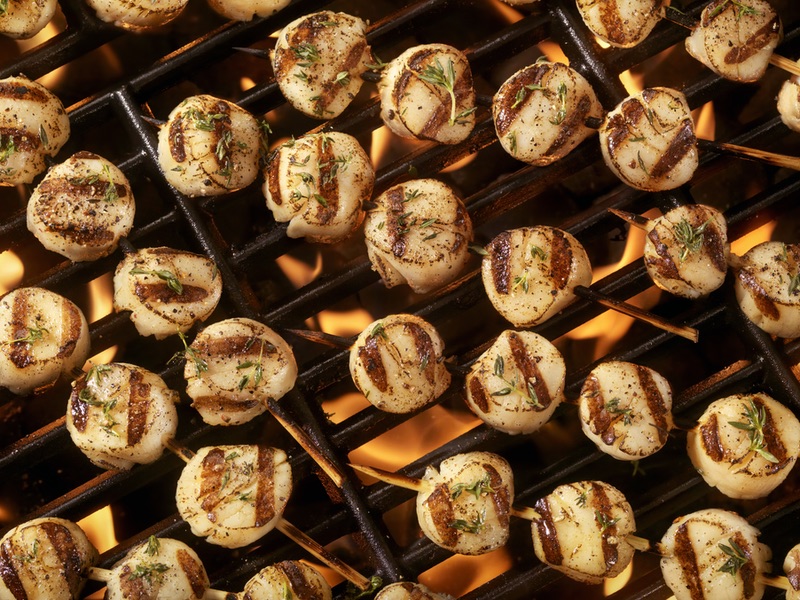 How To Grill Scallops
Thread your scallops (through the sides, not the centers) onto prepared skewers.
Place onto a hot, greased grill or grill pan.
Cook without touching for two to three minutes per side. 
How To Bake Scallops
Place scallops in a single layer in an ungreased baking dish.
Cover with a buttery breadcrumb topping or your choice of sauce.
Cook at 400F for 10 minutes or until bubbly.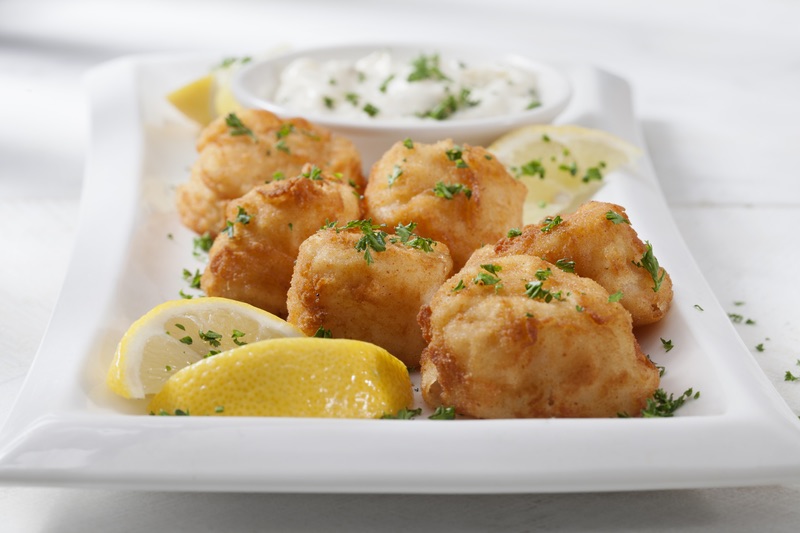 How To Fry Scallops
Dip scallops in a beer batter or flour/egg/breadcrumb mixture and shake off excess.
Heat 2 to 3 inches of vegetable oil in a cast iron or nonstick skillet until very hot and shimmering, but not smoking (around 350F).
Add the scallops, being careful not to crowd the pan.
Fry on all sides, for about 2 minutes total, then place on a paper towel-lined plate to drain before serving with a squeeze of lemon and a delicious dipping sauce. 
Our Favorite Scallop Recipes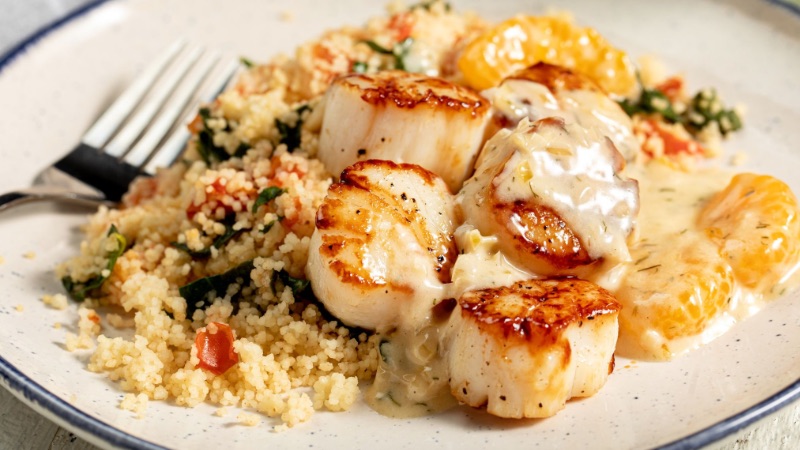 Seared Scallops with Citrus Dill Butter: Fragrant dill weed is the ultimate accent to seafood, and silky sea scallops are no exception, drizzled in butter sauce and served over a bed of tomato and spinach couscous. 
Scallops Au Vin: Not only do scallops taste great with wine, they taste great in wine! Crisp, citrusy vino makes an especially elegant marinade for scallops seared quickly on the grill.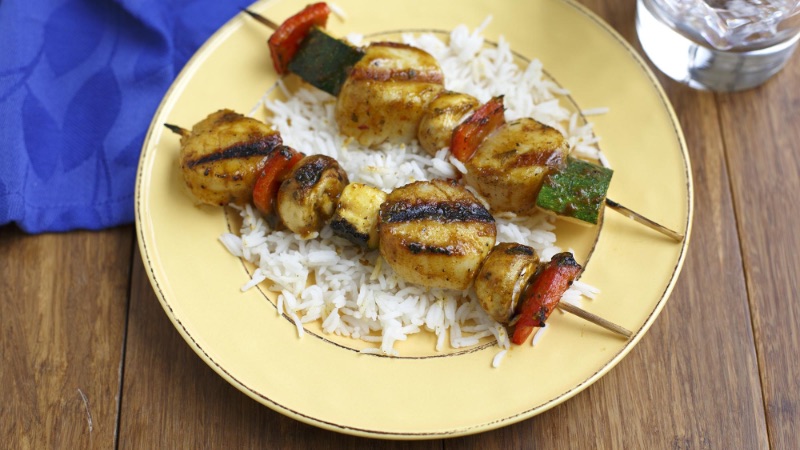 Curry Thai Basil Scallop and Vegetable Skewers: These fun-to-eat skewers have a unique, Asian bend that's sure to stand out at dinnertime. Make them a meal by serving over basmati rice!
Cornmeal Crusted Scallops: We love the textural contrast of creamy, tender scallops encased in a nubbly, cornmeal crust. But instead of feeling heavy and deep-fried, this dish has a summery lightness thanks to a base of heirloom bean and oregano succotash.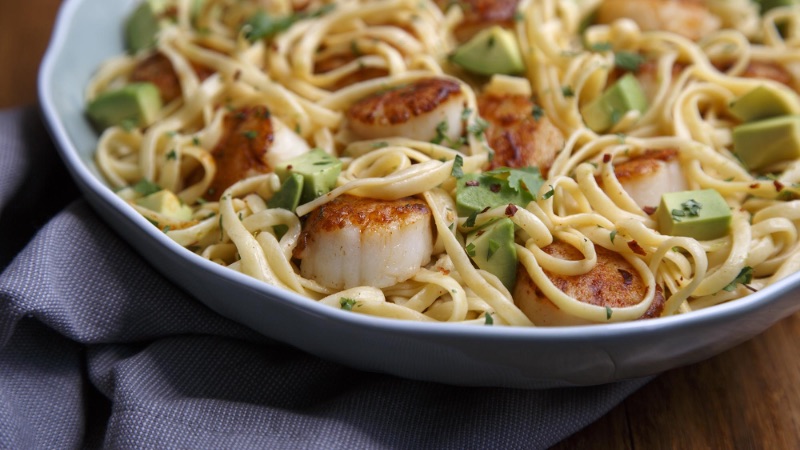 Scallop and Tequila Fettucine: Featuring thick ribbons of fettucine and meaty sea scallops, deglazed with tequila and tossed in a sauce of butter, lime and (believe it or not) avocado, this dish deliciously pulls influences from all over the globe.  
Salmon and Scallop Ceviche: Give your stovetop a break. Sprightly seafood ceviche is "cooked" with citrus and finished with an ingenious garnish — herbs de provence-seasoned popcorn!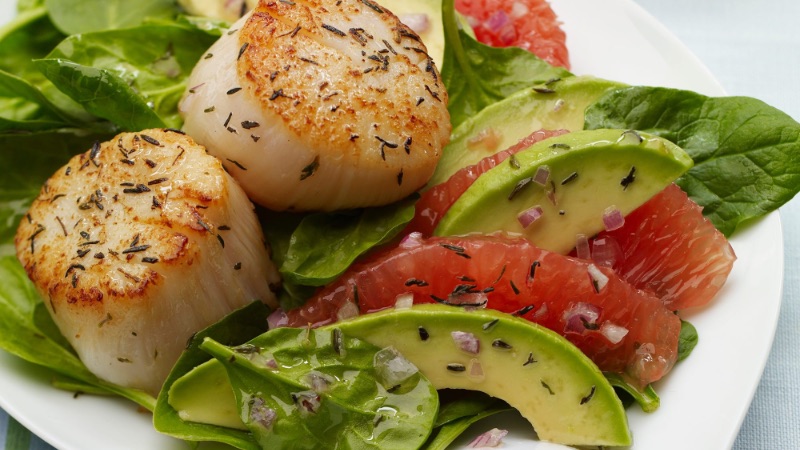 Seared Scallops with Red Grapefruit Avocado Salad: You'd be hard-pressed to find a better showpiece dish for a chic brunch, dinner or luncheon. Thyme and ginger add herbaceous heat to buttery scallops, set against a dynamic backdrop of avocado and red grapefruit. 
More Delicious Scallop Recipes To Try
Check out all of our other seafood recipe favorites.
Learn More About Cooking Scallops
Need help planning your weekly meals? Save your favorite scallop recipes and organize your ingredients with McCormick Meal Planner.