Hanukkah: the joyful Jewish festival of lights where families and friends come together to light the menorah, sing songs, play games, exchange gifts, and enjoy traditional foods. And since oil is a crucial element of the celebration, you can bet fried foods are on the menu!

What is Hanukkah?
Hanukkah (or Chanukah) is an eight-day festival, observed each fall or winter. It always falls on the 25th day of the month of Kislev, the Jewish calendar, which can be in early November or late December.
The holiday dates back to the 2nd century BCE, when Israel was under control of the Syrian-Greek Empire. A group of rebels known as the Maccabees defeated the Empire's army and reclaimed the Temple of Jerusalem. In celebration of the Temple's re-dedication to the Jewish people, the Maccabees lit the temple's Menorah with enough oil to only last one day (the word Hanukkah means "dedication" in Hebrew). It took 8 days to secure more oil, during which time the Menorah continued to burn. It is this miracle that is the basis of many Hanukkah traditions and recipes.
Hanukkah's most commonly known practice is the lighting of an eight-candled menorah on each of the eight evenings. But actual candles are relatively new: most menorahs were oil-based lamps until just a few hundred years ago. As the menorah is lit, prayers and songs are offered in thanks and remembrance of the holiday.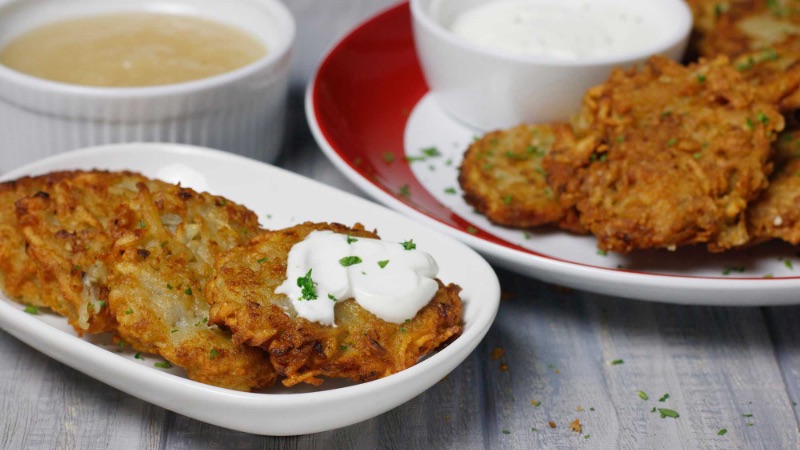 Traditional Hanukkah Recipes
Hanukkah recipes can be described in two words: richness and decadence. Hanukkah is a holiday filled with food traditions that are as symbolic as they are decadent. Make sure you come hungry: the celebration of oil is the foundation of many beloved foods, starting with latkes:
Latkes
Essentially, latkes are potato fritters: crispy patties bound by a floury batter and fried to the perfect texture before being dolloped with sour cream or applesauce. Try a
traditional latke
recipe for starters, and then branch out to other ingredients (sweet potatoes, vegetables, and more) if you'd like to take a culinary detour. Even the addition of seasoning salts (try
Lawry's Seasoned Salt
for a savory all-purpose seasoning) makes for a great
potato latke
variation.
Want to make your own golden brown potato pancakes? Learn
how to make latkes
with our easy step-by-step guide.

Doughnuts
Believe it or not, jelly doughnuts, known traditionally as sufganiyot, are another beloved fried food of Hanukkah. They serve as a complement to the savory latkes and are loved by kids and grownups alike. While often filled with jelly, they can also have other sweet fillings, such as honey, caramel or dried fruits.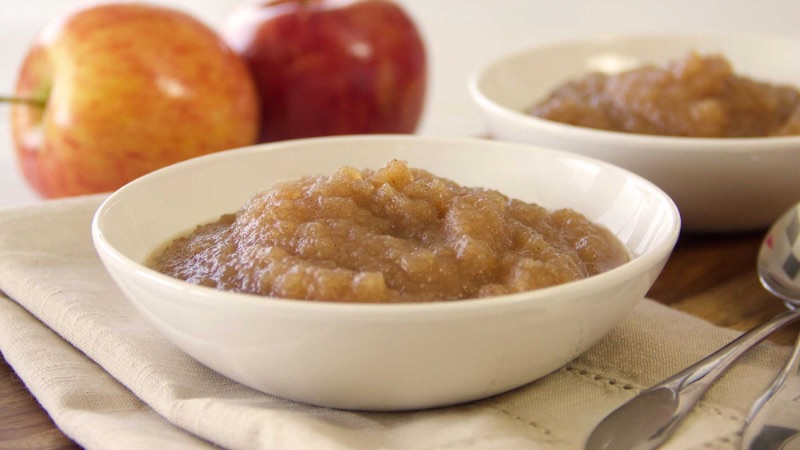 Apples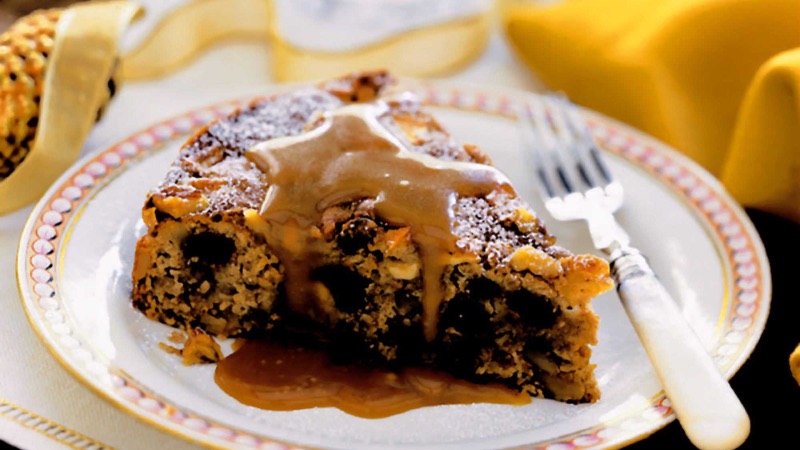 Chocolate
Another Hanukkah tradition is the spinning of dreidels, a game played by all ages, often for trinkets, money, or chocolate geld. Each four-sided dreidel holds the characters that symbolize the phrase "nes gadol hayah sham", which means "a great miracle happened there." During the Syrian-Greek occupation, Jewish prayers were not allowed, so spinning a dreidel was a way to practice religion without fear of punishment. Even the foil-wrapped chocolate geld we associate with Hanukkah represent both dreidel game winnings as well as rewards for children who completed their Jewish studies in time for the holidays.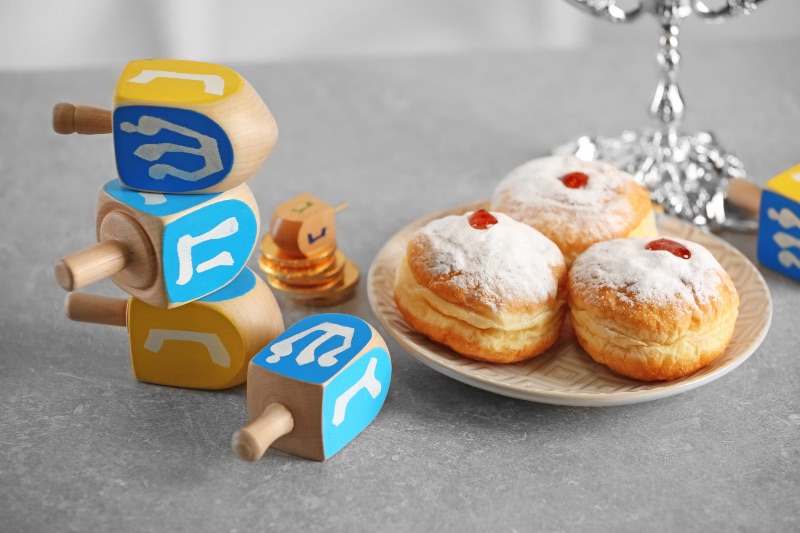 Dairy
Alongside the fried foods and chocolate treats, dairy is the other vitally important Hanukkah ingredient. The story of conquering the Greeks includes the defeat of a Greek general by way of cheese - yes, cheese! It is said that a woman named Yehudis from the town of Bethulia fed a Greek general extremely salty cheese which made him thirsty for the wine she offered. Once he was asleep, he was killed, and the Greek army panicked and fled her city, saving the residents from starvation. Cheese and dairy are therefore revered as symbols of the Jewish reclamation of many of their home cities.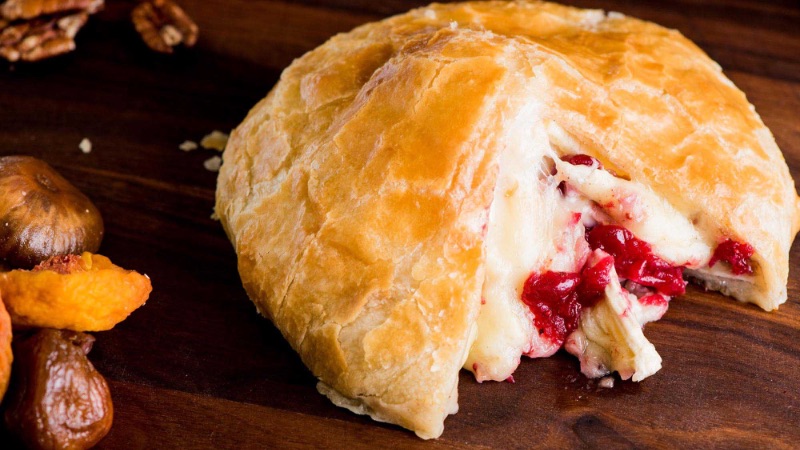 You'll see dairy in the sour cream topping for latkes, or in the filling of cheese blintzes. Savory fried pastries containing cheese were thought to have become popular as a Hanukkah tradition in Europe, where access to milk and cheese were reliable and already part of the daily diet. Take a modern twist on the traditional cheesy pastry with this
baked brie with cranberry chutney
. Simple and delicious, it's sure to be a hit with everyone at your holiday gathering, no matter which culture you are celebrating.

Brisket
Hanukkah wouldn't be the same without mentioning brisket. This slow cooker beef brisket recipe only takes fifteen minutes to prep with 6 ingredients, for a hands-off Hanukkah brisket that's bursting with slow-cooked, sweet yet hearty flavor. Just pop a package of McCormick Slow Cookers Savory Pot Roast Seasoning with a few onion wedges, small red potatoes, a few pounds of beef brisket and carrots in the morning - by the time your guests are ready to eat, they'll be blown away by the depth of flavor.
Or, add some BBQ flavor into the mix with this BBQ beef brisket recipe. The secret ingredient? French's Tomato Ketchup and brown sugar. Smoky and sweet, eight hours in the slow cooker leaves you with super tender slices.
As you embrace your own holiday traditions, remember that we all celebrate with many of the same hopeful sentiments in mind: triumph over adversity, respect for customs, honoring of family and friends, and the gratitude for plentiful foods to share with those around us.