With its bright pink skin, green spikes and unique name, chances are dragon fruit has caught your attention in the grocery store at one point or another.
And if you've felt intimidated by its flashy look, let us reassure you––it's both easy and delicious to work dragon fruit (also called pitaya) into your cooking. Here are a few recipes to inspire stunning dragon fruit dishes.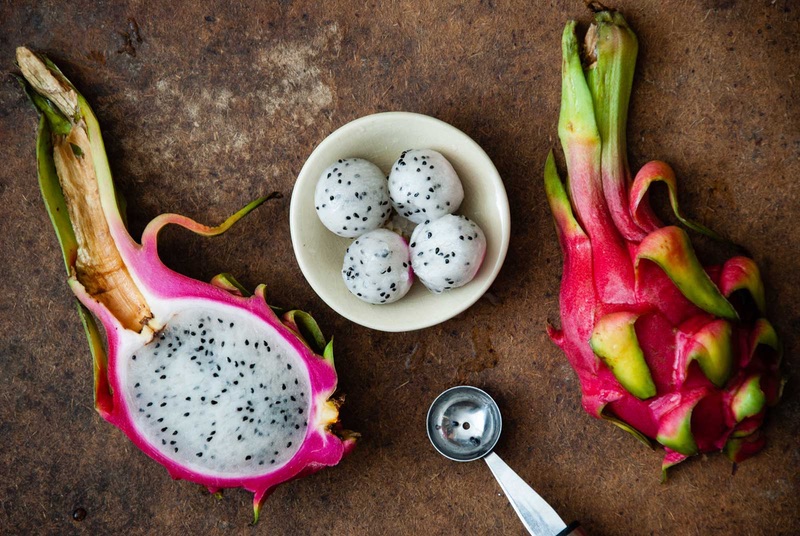 How to Pick and Prepare Dragon Fruit
When you're shopping for dragon fruit at the grocery store, you'll most likely see bright pink fruit with white inner flesh. You may also stumble across other other varieties: yellow-skinned dragon fruit with white flesh, or pink dragon fruit with fuchsia flesh to match.
No matter which kind you choose, you'll get a mellow fruit with a flavor that's somewhere between watermelon, berries and kiwi.
Look for a fruit with smooth, brightly colored skin that has just a little give to it. Overripe dragon fruit will look blotchy or dry, while under ripe fruit feels rock hard (but don't worry, it will soften within a few days).
Prepping your dragon fruit is easy. Simply slice it in half, then use a spoon or melon baller to scoop out the flesh.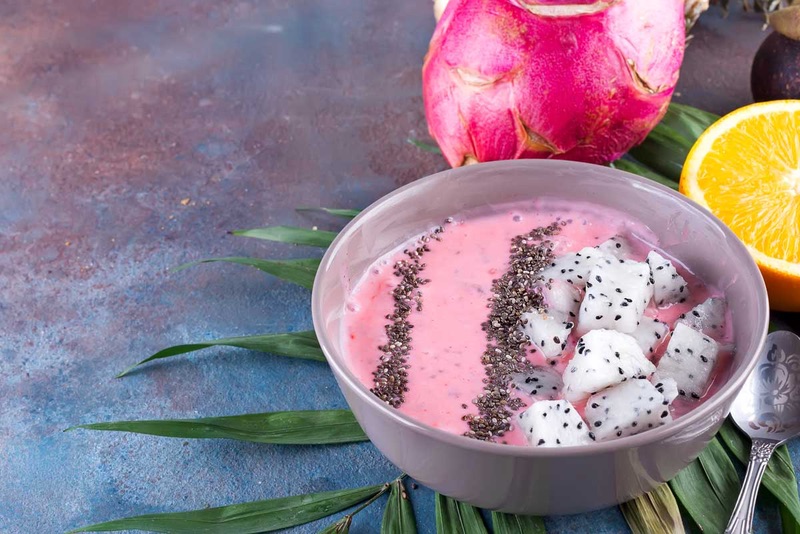 Top 7 Ways to Eat Dragon Fruit
Need a little inspiration to bring more dragon fruit into your life? We've got you covered. 
1. Blend Into Smoothies
Looking for a fresh new way to start your day? Why not try a dragon fruit smoothie! Try adding a few chunks of dragon fruit to a strawberry coconut milk smoothie.
Or use dragon fruit to add more natural sweetness to a breakfast shake that's already packed with greens. It'll make this matcha, coconut and kale smoothie even more delicious.
2. Create Stunning Bowls
Of course, (drinkable) smoothies aren't the only way to add a little dragon fruit to your breakfast. Try a smoothie bowl! Blend frozen dragon fruit with almond milk or coconut water until it takes on an ice cream-like consistency, then pour into your breakfast bowl.
Add your fave toppings––homemade granola, shaved coconut or diced dragon fruit––and dig in!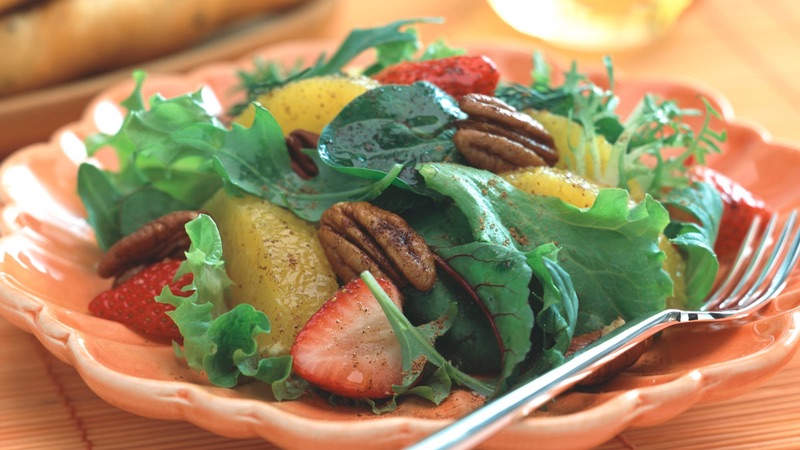 3. Slice Into Salads
We love a sweet summer salad––and adding dragon fruit to your leafy greens creates a stunning starter. Dragon fruit's mellow flavor works well with milder greens, so use it to add a pop of subtle sweetness to a spinach salad.
Drizzle your plate with a homemade vinaigrette––like a cinnamon vinaigrette or a pomegranate vinaigrette––for fresh summer flavor.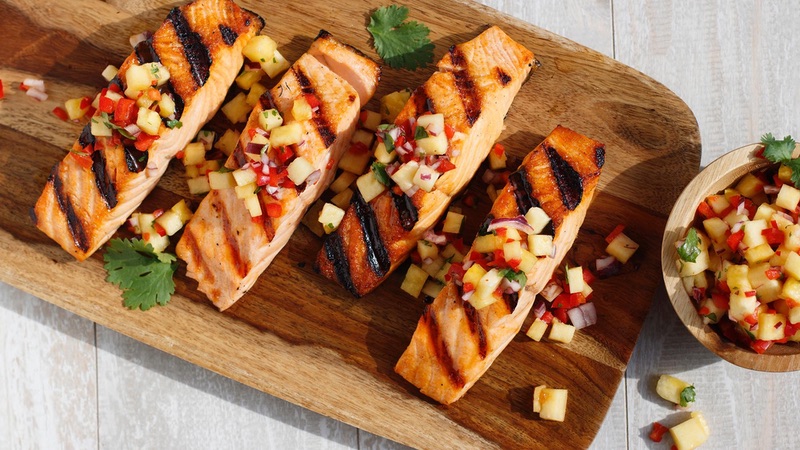 4. Make Sweet Dragon Fruit Salsa
Dragon fruit doesn't just work in side dishes––it can dress up your main course, too. Combine finely chopped dragon fruit with chopped grilled pineapple with an olive oil, cilantro and lime juice vinaigrette to create fresh salsa.
Use it as a topping for fish, like salmon or mahi mahi, or as a garnish for DIY poke bowls.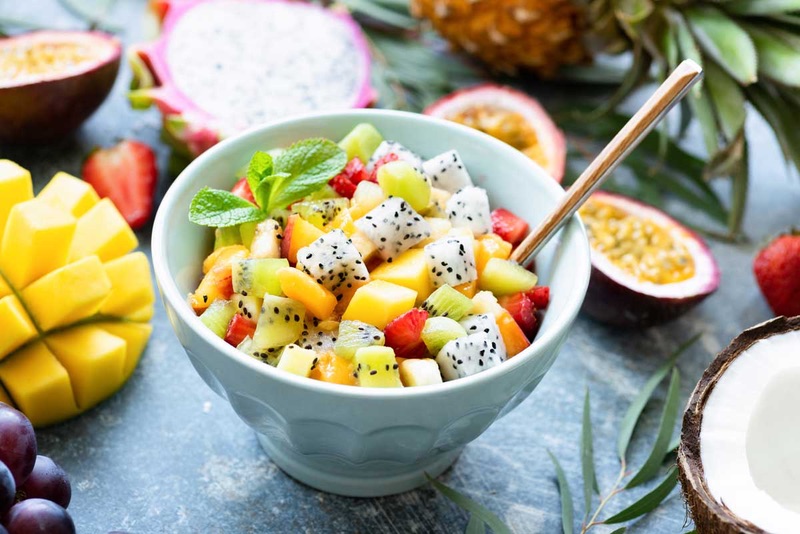 5. Whip Up (Dragon) Fruit Salad
There's no easier summer dessert than fruit salad – and, thankfully, dragon fruit fits into any fruit salad recipe you love. Use it to add even more visual interest to an already-stunning poppy seed fruit salad, or take a walk on the spicier side with a honey ginger fruit salad.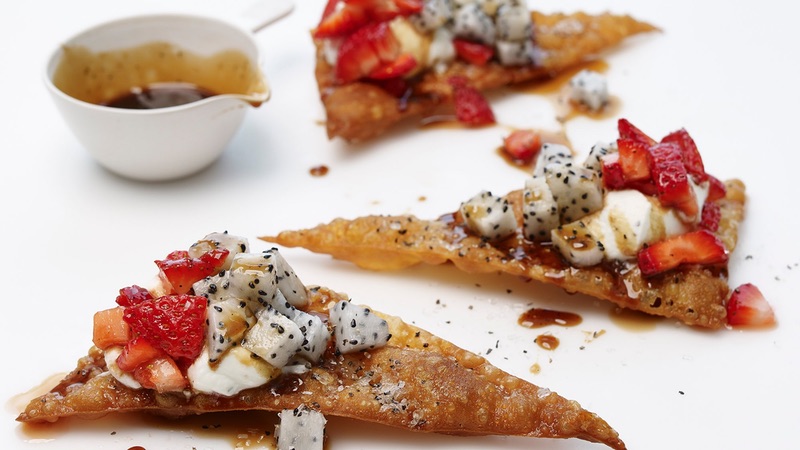 6. Prep Dragon Fruit "Poke"
Looking for something a little more show-stopping? Put a sweet twist on the poke trend by making this crowd-pleasing dragon fruit and strawberry mock poke.
It's got something for everyone: natural sweetness, thanks to dragon fruit and strawberries; satisfying crunch, courtesy of sugared wonton triangles; and surprising spice brought to the dish by a balsamic-pepper syrup topping.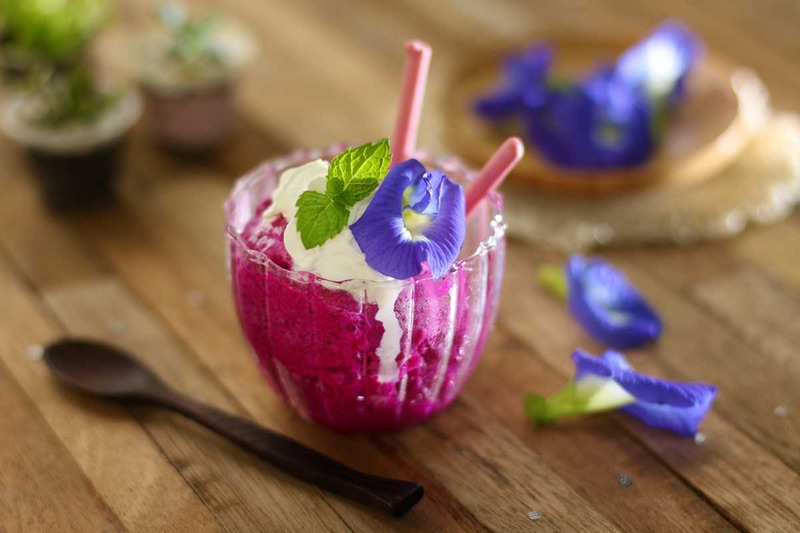 7. Make Dragon Fruit Ice Cream
If, on the other hand, you want a final course that's a little more low-key, try making dragon fruit ice cream instead. Simply use our guide on how to make creamy and delicious no-churn ice cream for the perfect frosty treat.
Spice up your dragon fruit ice cream with a dusting of cinnamon, or add dragon fruit to your strawberry ice cream for a tropical twist.