Turkey Cooking Guide
As a crisp creeps into the morning air and the leaves just start changing hue, we're ready to say goodbye to grilled corn on the cob and turn our attention to fall favorites like apples, pumpkin spice and, of course, Thanksgiving turkey. And even if you're not quite feeling ready for turkey time just yet, starting to plan a few weeks ahead can make pulling off an unforgettable holiday feast easier, especially if it's your first time hosting. Read on to learn how to cook a Thanksgiving turkey—and what to do with those yummy Thanksgiving leftovers, too!
Planning Thanksgiving Dinner
1. Order Your Turkey
The first step to throwing a Thanksgiving feast is planning ahead, and you should reserve your bird with a butcher at least a few weeks in advance.
2. How Much Turkey Per Person?
Order roughly 1.25 pounds of turkey per guest—so, for example, a 12- to 13-pound bird to feed a party of 9—so everyone can get their fill and have some leftovers, too. If you want lots of leftovers, order 1.5 pounds per guest.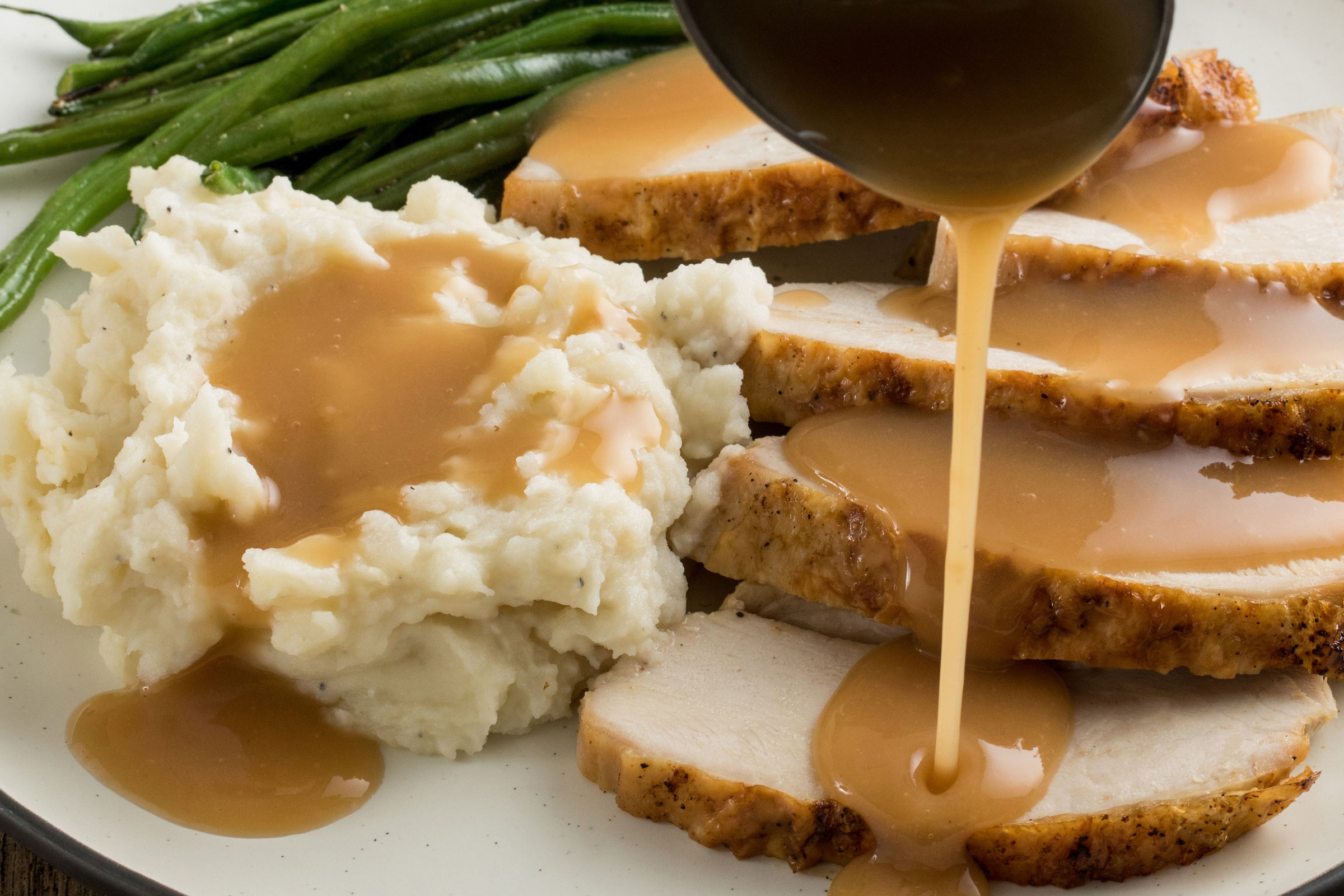 3. Plan Your Thanksgiving Menu
Ultimately, your Thanksgiving feast is about more than just the turkey. Plan in advance which sides, seasonings and sauces you want to serve so you can create a grocery list—and figure out early if any dishes require advance preparation.
Mix and match these options to create the perfect Thanksgiving menu:
• Salads: Impress your guests with a salad featuring fresh seasonal flavors, like this pear and mixed green salad with a pumpkin-spiced vinaigrette, or a sweet-and-spicy spiced pomegranate and orange salad. • Stuffing: Use a slow cooker to make a classic sausage and bread stuffing. Cooking your stuffing separately from your turkey can help to avoid food-borne illness (or having to roast your turkey so long that the meat dries out) and saves space in your oven too. • Vegetables: Serve a well-rounded meal with two to three veggie sides. Go for roasted Brussels sprouts with apples, cinnamon-roasted carrots, or a more decadent option like sweet potato casserole. Don't forget the mashed potatoes! • Additional Sides: Indulge your guests with creamy macaroni and cheese, or try this cheesy sausage cornbread. • Gravies and Sauces: Bring your meal together with the perfect gravy—like this savory rum or apple sage version—and easy stovetop cranberry sauce. • Desserts: Finish your meal with the perfect pumpkin pie or apple crisp (or both!)
Cleaning a Turkey and Preparation
Roasting an unforgettable turkey takes some time, and you may need to start up to a week before your feast.
1. How to Thaw a Turkey
If your turkey came frozen, it could take days to thaw. If you're thawing in the fridge, count on one day of thawing per 4 to 5 pounds of turkey; for thawing in a water bath, plan for a half hour of thawing per pound of turkey.
2. How to Clean a Turkey
Most turkeys will come with the neck and giblets inside the bird. Remove these and set them aside to cook separately. Use paper towels to pat the bird dry, including inside the cavity.
Brining is the process of treating food, particularly lean meats, with brine, which is a mixture of salt and water. You'll get the best flavor and most tender meat if your brine your turkey before you cook it. This turkey brine recipe is simple and flavorful and combines bay leaves, paprika, rosemary and thyme.
Ready to Roast
Your turkey's all brined —now it's time to get cooking!
How to Season a Turkey
Yet another layer of flavor? Yes, please! A classic rub made from thyme, garlic powder, salt and pepper works well with virtually any stuffing, while a sage rub perfectly complements the cornbread stuffing. Try our delicious sage rubbed roasted turkey recipe for this holiday season!
What Temperature to Cook a Turkey
Set your oven to 325°F to cook your bird evenly. The total cook time will depend on the size of your turkey, so let a meat thermometer be the ultimate judge. Your turkey is cooked when the breast meat reaches 170°F and the thighs reaches 180°F.
After it's done, allow the bird to rest for at 20 least minutes before carving. This is the perfect time to use the oven to warm up your sides or pop in a batch of dinner rolls.

How to Carve a Turkey
You're almost ready to serve your bird, now you just need to carve. We suggest carving in advance rather than at the table, since you can take your time to get it right. Let this video by your guide.
Remove the drumsticks and wings to serve whole, and slice or pull the rest of the dark meat. Remove the turkey breasts and slice the white meat into ½-inch slices, using a carving knife or chef's knife. Fill your platter with a variety of cuts and serve - and bask in the glow of compliments from your guests, you've earned them!
How to Make Turkey Gravy
The secret to savory, lump-free, turkey-flavored gravy? Fond (the meaty little bits leftover in your turkey roasting pan) and two packets of McCormick® Turkey Gravy Mix. Make our Perfect Turkey Gravy recipe in a few simple steps.
McCormick Turkey Gravy Products
• McCormick® Turkey Gravy Mix - Just five minutes and a cup of water are all you need to make turkey gravy with this easy to use turkey gravy packet featuring McCormick spices. • McCormick® Gluten-Free Turkey Gravy Mix - Love turkey flavored gravy mix but looking for a gluten free version? Try this gluten free turkey gravy mix packet. • McCormick® Simply Better Turkey Gravy - Get no fuss, ready to serve gluten free turkey gravy with this liquid gravy mix. All you have to do is pour, heat, and serve.
Keep the festive flavor going by making one (or more) of these yummy classics with your leftover turkey meat, and find a full list of leftover recipe ideas here: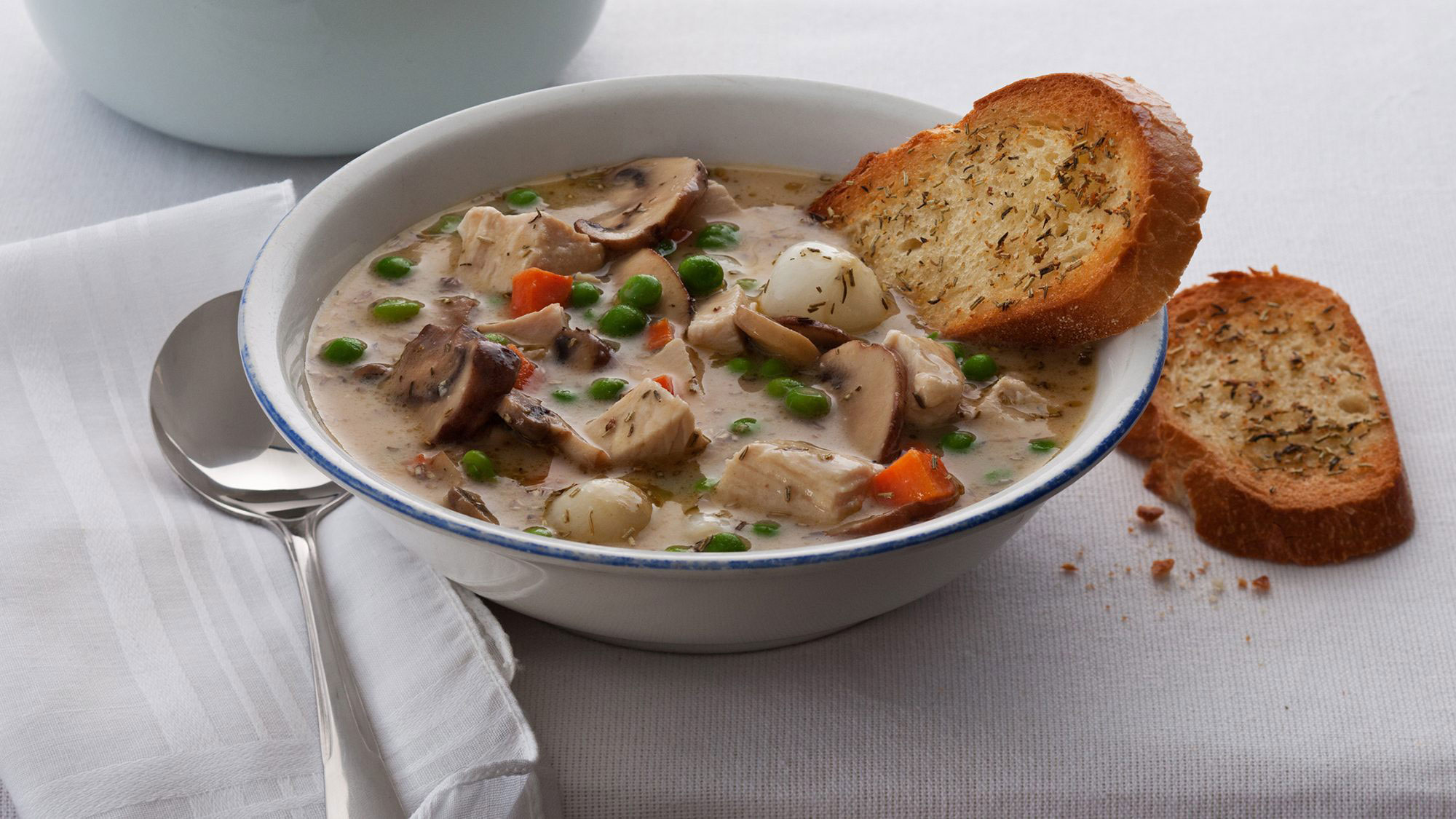 Who doesn't love turkey vegetable soup – it's like a liquid version of turkey pot pie. Rosemary, thyme, garlic powder and chicken stock help deepen the savory flavor of this leftover turkey recipe. Get creative and add your favorite vegetables – start with onions, peas, carrots, and mushrooms.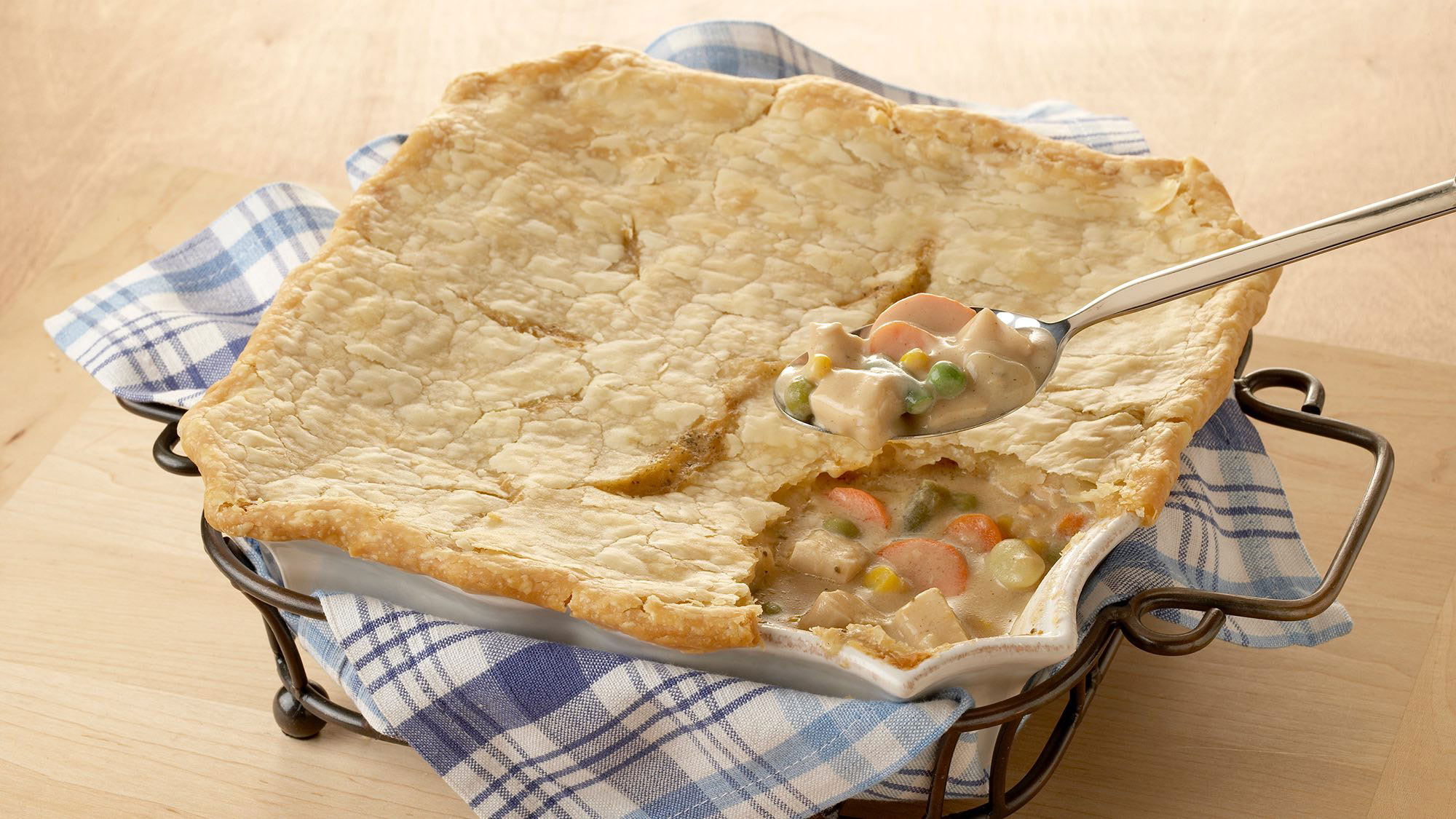 Turkey pot pies are a quick and easy way to savor the flavor of Thanksgiving post-holiday. All you need is poultry seasoning with McCormick Turkey Gravy Mix, a few cups of milk, your choice of frozen mixed vegetables and cooked cubed turkey breast for a family dinner everyone'll enjoy.
Leftover turkey soup is another great way to get the most out of all of those delicious Thanksgiving sides you didn't finish. Mix turkey, chunky potatoes and corn together for a creamy broth with onions, bacon, and more.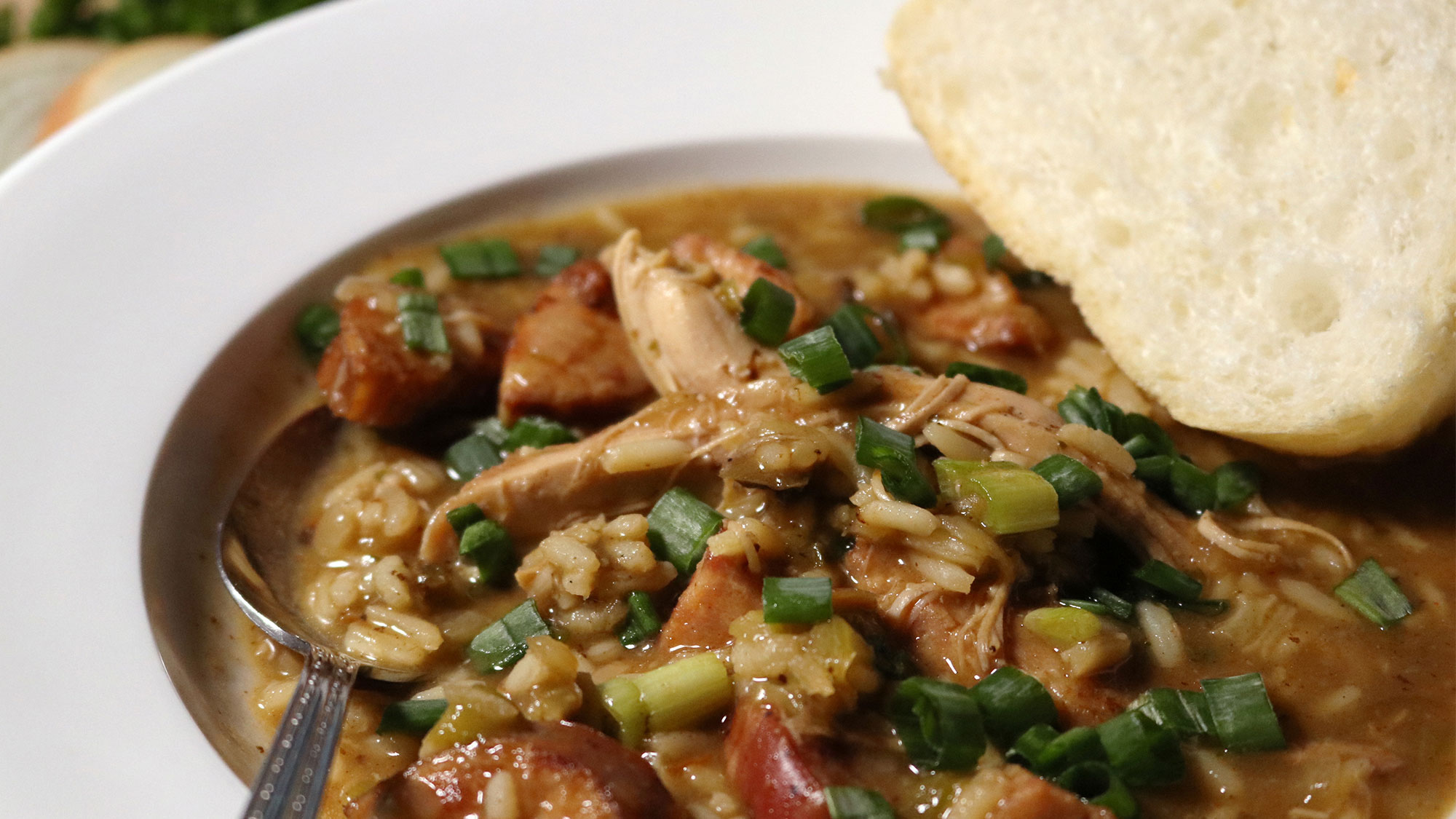 Leftover turkey is the perfect base for a holiday gumbo. Just add in celery, pepper, onions, fresh garlic, and Zatarain's Gumbo Mix with Rice for a New Orleans flavored post-holiday treat in under an hour.
Check Out Some of Our Other Thanksgiving Recipe Favorites & Tips
• 5 Easy Ways to Ruin the Thanksgiving Turkey
• This Hack Is the Best Way to Cook a Thanksgiving Turkey
• This Is the Best Way to Roast Thanksgiving Turkey for a Crowd
• 5 Ways to Flavor Your Turkey
• How to Cook Thanksgiving Dinner in a Single Sheet Pan
• The Ultimate Checklist for All Your Thanksgiving Prep