Thanksgiving demands a lot from us all, but it demands the most from the dishwasher. If you're having a smol Thanksgiving, it might not make sense to bust out every single pot and pan, but luckily you don't have to. A full Turkey Day meal—complete with cranberry sauce—can be cooked up in your oven on single sheet pan.
For me, a bare-minimum turkey dinner has five components:
Turkey
Stuffing or dressing
A starchy carb, such as a potato or squash
Some sort of green vegetable
Cranberry sauce
I went with dry-brined, garlic butter turkey thighs (the best part of the turkey, or of any bird that does a good bit of walking), a simple shallot stuffing, a combination of simply roasted sweet potatoes, russets, and delicata squash, miso Brussels sprouts, and little ramekins of blood orange cranberry sauce. It all turned out pretty beautifully. The turkey, starchy bois, and stuffing all cooked at the same rate, while the cranberry sauce took the Brussels' spot for the first half hour of cooking, before they were removed and allowed to cool while the sprouts took their place on the pan.
You could stick to my chosen components, or you could play around with the players. If you have no need for white potatoes, just focus on the garnet yams, or skip tubers altogether and chop up a medley of squash. Similarly, though I kept the delicata and potatoes simple with a bit of olive oil and salt, you could brush on a glaze towards the end. If you don't like Brussels, reexamine your values, then try green beans—just check the cooking time to make sure you don't add them to the pan too early. The sheet pan turkey dinner is actually pretty forgiving, so feel free to riff on mine as you see fit. I'll go ahead and tell you what I did, though, because that's my job.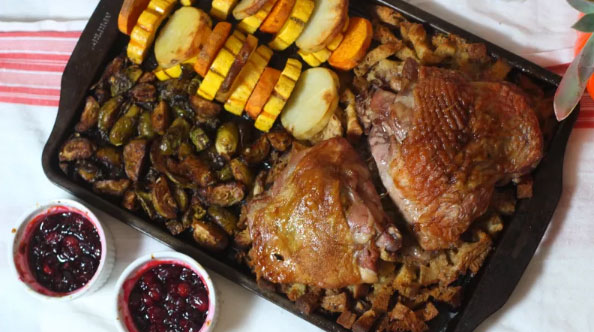 Sheet Pan Turkey Dinner
For the turkey:
2 turkey thighs
2 tablespoons kosher salt
2 teaspoons blood orange zest (regular orange is fine too)
1/2 teaspoon lemon zest
Half a stick of butter, brought to room temperature
4 garlic cloves
3-4 sprigs of your favorite herbs, diced finely
For the stuffing:
4 cups dried, cubed bread
1 cup flavorful stock or broth
1 shallot, diced
1 stick of butter, melted
1 egg
For the starchy sides:
1 small sweet potato
1 small russet potato
1 delicata squash
2 tablespoons of olive oil
Salt and pepper to taste
For the Brussels:
3 cups of Brussels, tough ends removed and quartered
1 tablespoon of olive oil
1 tablespoon of dark miso
1 teaspoon of sugar
For the cranberry sauce:
1 cup of whole cranberries
The juice of 1/4 of an orange
4 tablespoons of sugar, divided in half
The day before, mix the kosher salt and citrus zest together in a small bowl, then sprinkle it all over both turkey thighs. Place the thighs on a metal rack over a plate or shallow bowl, and let them dry brine in the fridge at least overnight (or up to three days).
When you're ready to get cooking, preheat your oven to 350℉, and start assembling your stuffing. Place the dried bread in a bowl, pour the broth on top, give it a stir, and let it soak for five minutes or so. Melt your butter and let it cool. Lightly beat the egg, then slowly pour in the melted butter, whisking all the while, until it's fully incorporated. Mix the egg and butter in with the bread, along with the diced shallot, and spread the stuffing mixture over half your sheet pan. (I used a half sheet pan because that's what fits in my dumb oven. Your stuffing may not take up an entire half or a true sheet pan; don't panic.)
Slice the potatoes into 1/2-inch thick rounds and your delicata into half moons. Toss in a large bowl with olive oil, salt, and pepper, then arrange on one quarter of the pan, alternating slices of each.
Take two five-ounce ramekins, and fill each one with cranberries, one tablespoon of blood orange juice, and two tablespoons of sugar. Place the ramekins in the final quadrant of the sheet pan.
Remove the turkey from the fridge, and mince four cloves of garlic, along with five or six sprigs of your favorite herbs. Combine the garlic and the herbs with soft, room temperature butter, using a fork (or you hands). Gently separate the skin of the turkey from the meat by slowly wiggling your fingers in between the two, then shove the garlic herb butter under the skin, patting it down on top to distribute. Place the thighs on top of the stuffing, then pop the whole sheet pan in the oven.
Mix the Brussels sprouts with the olive oil, miso, and sugar, and set aside. Once about half an hour of cooking time has elapsed and the cranberries have burst and are all bubbly, take the pan out, remove the cranekins (you know, "cranberry ramekins"), and spread the sprouts out in that quadrant. Return the pan to the oven until the thickest part of the turkey registers 170℉ on an instant read thermometer, about 25-35 minutes. If the vegetables or turkey skin start to look dry at all during cooking, just give them a brush of olive oil or melted butter. Once the turkey reaches its target temp, remove the sheet pan from the oven, let everything rest for 10 minutes, then dig in.
This article was written by Claire Lower on Skillet and shared by Claire Lower to Lifehacker from Lifehacker and was legally licensed through the NewsCred publisher network. Please direct all licensing questions to legal@newscred.com.