Ah, eggplant. It's a delight to see clusters of the purple petaled plants in the garden, amongst other members of the nightshade family like tomatoes and peppers. Because while largely available year round, July through October is actual eggplant season, when you'll find a wide, farm-fresh variety of freshly picked specimens, in an array of sizes, shapes and colors.
So what is eggplant — or aubergine, as it's referred to in Europe — exactly? They originated in India, where they were small and white, which is how they got their name. Eventually, the fruit (yes, a fruit, like its sister, the tomato!) was eagerly adopted throughout Asia, Europe and Africa, before finally making it to America scarcely more than a century ago.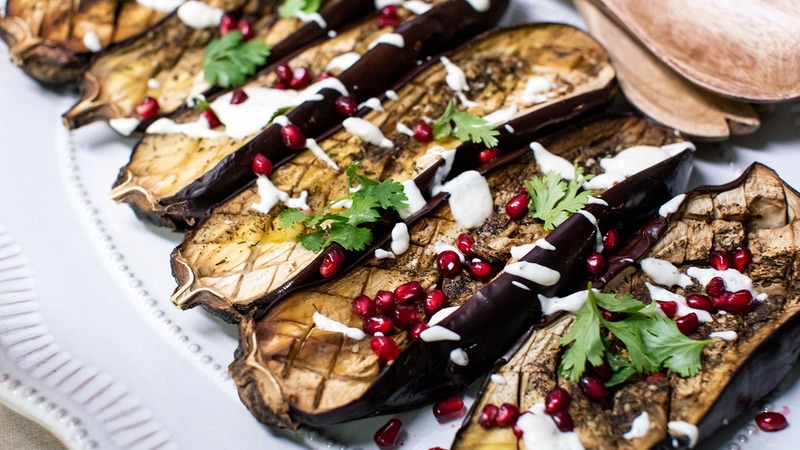 What does eggplant taste like? There's a reason it's often used as a substitute for meat. A thick skin means it stands up to aggressive cooking practices like grilling, searing, frying or stewing, yet the porous flesh acts like a sponge for flavors. They are known to have a slightly bitter quality, although that's a characteristic largely associated with the familiar Italian globe eggplant. In truth, most of the varieties are mild, supple and sweet, from purple and white striped fairy tale eggplant, to tiny, round Thai eggplant, and long, slender Japanese eggplant.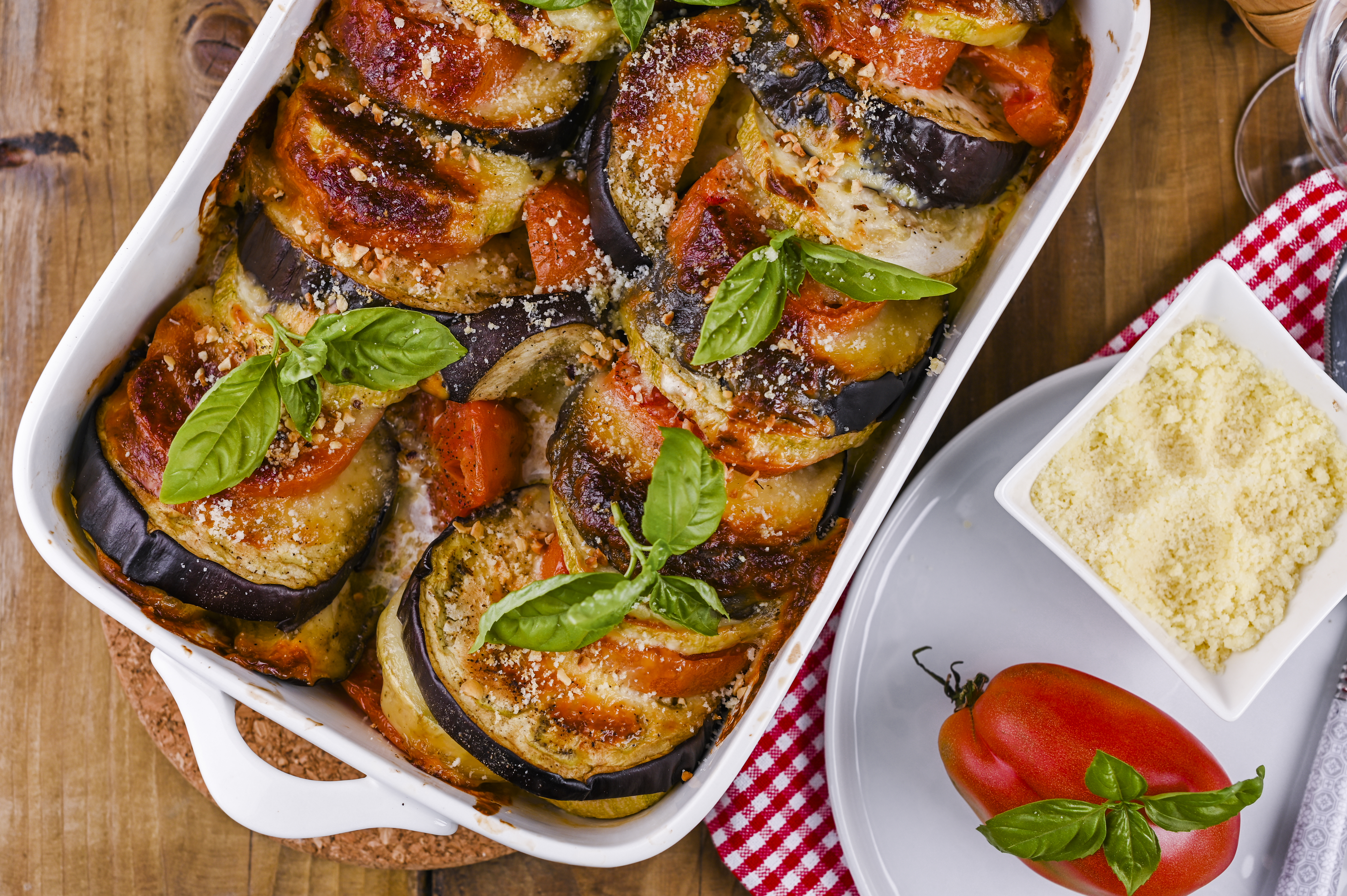 Now that you know the answer to "when is eggplant in season," take advantage of the dazzling summer bounty, and get experimenting with eggplant recipes! 
It helps to know how to cut eggplant. For classic Eggplant Parmesan, you'll probably want to slice it into rings. Just cut off the top first, then horizontally divide the rest of the eggplant into circles, thick enough for frying. For grilled eggplant, you'll want big segments that won't burn to a crisp or slip through the grate. Go vertical with your cuts, by standing the eggplant up for slicing.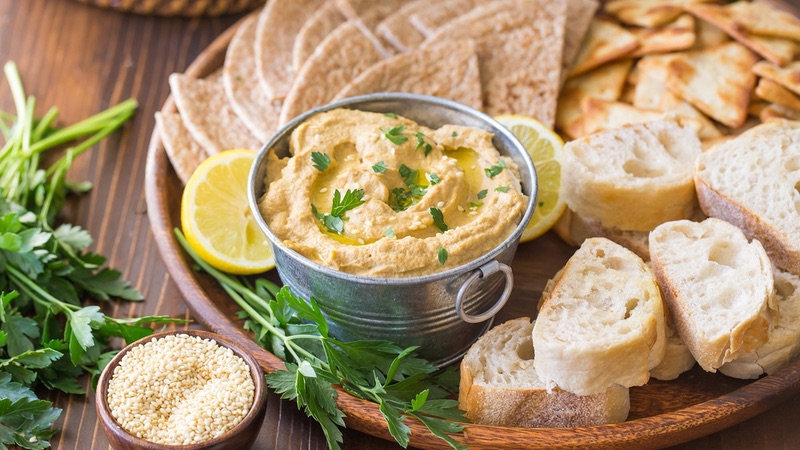 When making baked eggplant for casseroles or stews, you'll want even, bite-sized cubes. Divide the eggplant into slices, cut those slices into strips, and then chop the strips into squares. Finally, for roasted eggplant, perfect for velvety dips like Baba Ganoush, you don't need to cut it at all! Simply prick the eggplant all over with a fork to release steam, and cook until charred on the outside and meltingly tender within.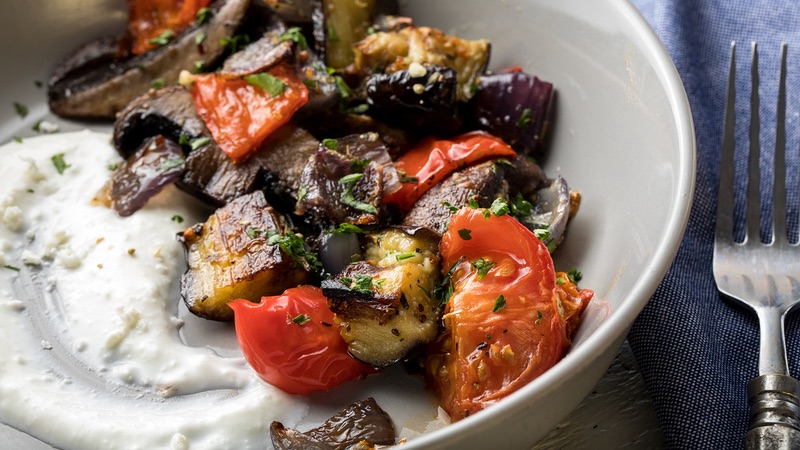 So grab those eggplants and let's get cooking! Here are a few delectable ideas for working with the savory berry.
Middle Eastern baba isn't the only great eggplant-based dip. Try this Spanish Roasted Vegetable Dip, or Eggplant Caponata, a Sicilian specialty of tomatoes, capers, pine nuts and basil, that's as tasty dolloped on toast or crackers, as it is used as a relish for meat or fish.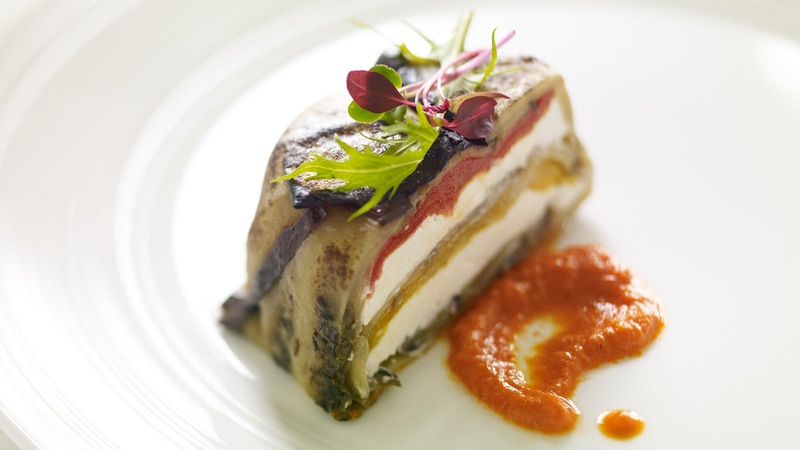 Start a meal off right with smooth eggplant soup, such as Roasted Eggplant Bisque with Honey Harissa Sauce. Eggplant and Goat Cheese Torte is another elegant appetizer, boasting multicolored layers punctuated by stripes of red and yellow pepper.
Fried eggplant is a favorite, but if you're looking to lighten things up, go for Gluten-Free Eggplant Lasagna. And if you'd just as soon stay away from meat, eggplant has what it takes to serve as a totally satisfying main course. We're talking everything from Grilled Stuffed Eggplant and Vegan Barbacoa, to Roasted Vegetable Gumbo and South American Arepas with Easy Greek Moussaka.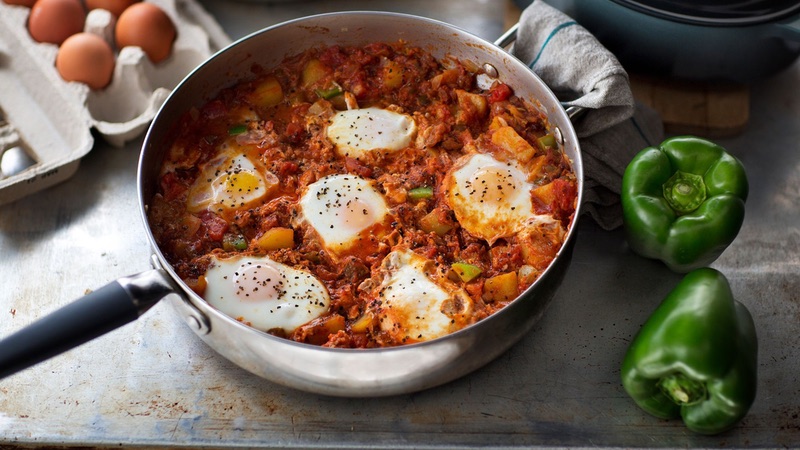 Needless to say, incredible eggplant is versatile enough to be incorporated into dishes from morning until night. Think Mediterranean Vegetable Shakshuka and Chickpea and Ground Lamb Hash for breakfast, a Grilled Ratatouille Sandwich for lunch, and Roasted Eggplant with Tofu and Basil for dinner. And we're willing to bet, with a bit of creativity and eggplant know-how, you can even think of ways to transform it into dessert!