Opposites attract. The best chefs know it. From sweet jam and brie cheese to salt and caramel, unexpected flavor pairings from either end of the food spectrum are often a hit. That's why honey mustard is a constant favorite.
Honey Mustard Recipe From Scratch
How is honey mustard made? It follows the same process as regular mustard but with a little extra sweetness thrown in. Crushed mustard seeds combined with water make a base. From there, you can adjust the flavor by adding in different kinds of vinegar or wine along with spices. This gives you a regular mustard, like brown, yellow, or Dijon. You then make it sweeter by mixing it with honey or in some cases demerara sugar. Typically, you'll add equal amounts of honey and mustard together.
Adding honey to mustard isn't a new idea. Romans used this mixture as the basis for a hot sauce when roasting wild boar. While that recipe might not make it to your kitchen table, this delicious condiment is great as a dressing, glaze, or dip for many modern recipes.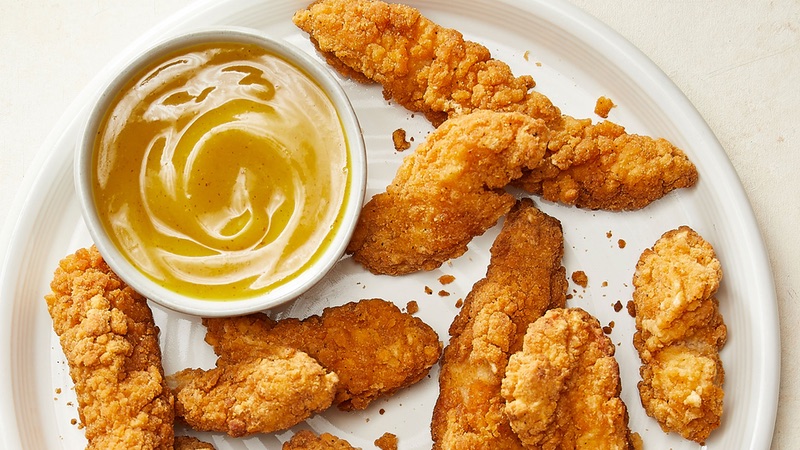 Our Best Honey Mustard Recipes
Adding honey to mustard transforms its flavor profile. The honey cuts down the intensity of the mustard, taming what can be a fierce heat. It enhances the tangy, spicy flavors in your mustard with a mellow sweet note. It's more complex than honey but less aggressive than simple mustard, making it useful for a variety of savory options ranging from finger foods to meat glazes.
Honey Mustard Finger Foods:
Honey mustard options need not begin with your main course. For an appetizer that will get people talking or even a snack between meals, try Dijon Honey Glazed Walnuts.
Mustard is a great dip for pretzels, so why not combine the two as a snack by making honey mustard pretzels? These Honey Mustard Chicken Pretzel Pockets make a great handheld snack.
You can also use honey mustard dipping sauce to add extra zing to finger foods ranging from chicken tenders to shrimp. There's a reason that this classic sauce has proven such a hit at restaurants: it's delicious.
Honey Mustard Dip:
This Honey Mustard Dipping Sauce takes just a little honey, mayo and mustard for a home-made dipping delight, although for an even more convenient option it's also worth checking out our own French's Honey Mustard Dipping Sauce, which gives you an instant tasty dip for the table.
Honey Mustard Chicken:
For an extra-tasty family experience, take honey mustard chicken to the next level by baking the honey mustard straight onto the meat. These Crispy Honey Mustard Chicken Tenders combine French's Honey Mustard and French's Original Crispy Fried Onions to create a crunchy, tangy bite that your family will remember long after supper.
For an even quicker version, Quick & Easy Honey Mustard Chicken uses chicken breasts or thighs, along with honey and French's Classic Yellow Stone Ground Mustard to give the meat that classic sweet-tangy taste.
Make Your Own Honey Mustard Dipping Sauce Variations: 
Remember to experiment with different types of mustard. Dijon is a more fiery mustard variety thanks to less acidic ingredients that let the intensity of the mustard through, so this Honey Dijon Chicken recipe will have more of a kick than recipes using other honey mustard types.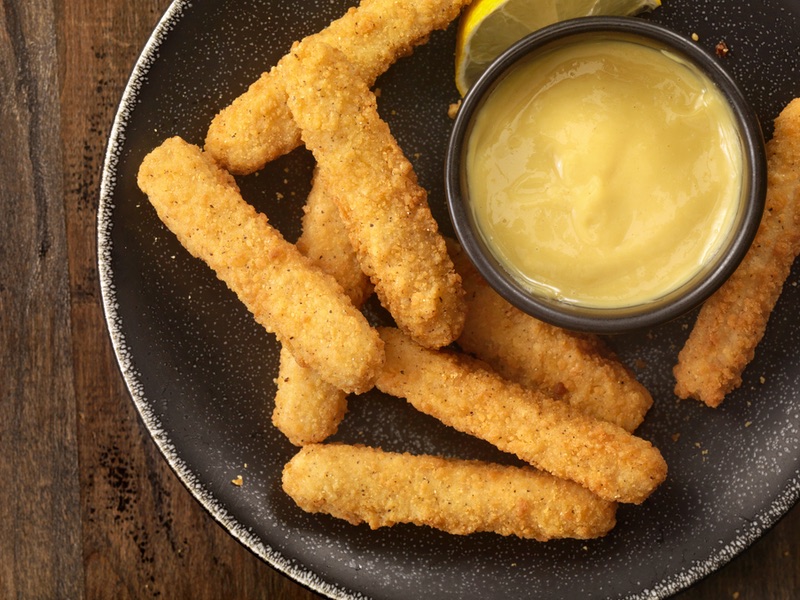 Find More of Our Honey Mustard Recipes
Chicken isn't the only kind of meat that goes well with honey mustard. These Honey Mustard Glazed Pork Chops use our dipping sauce to give chops extra flavor. It also goes well with seafood. Honey Mustard Herb Crusted Baked Salmon Filets offer a healthy option for the family, while these Honey Mustard Shrimp Po'Boys will add some Cajun flair to your table. If tuna is more your thing, check out this Lemony Honey Dijon Tuna Salad. Honey mustard is best known as a dip and a glaze but it rocks a salad as a vinaigrette. A creamy honey mustard dressing takes this Cobb Salad to new heights.
Don't stop there. Consider honey mustard as a spread, too, which is great for everything from breads to cheese. This Country Peach Honey Mustard Spread brings just the right mix of fruit, sweet, and heat.
Honey mustard recipes are hard to beat for those with a sweet tooth that also like savory flavors. With our range of pre-prepared sauces, whipping up these tasty, tangy-sweet treats is a snap. Try them tonight and light up faces around the table.