A cheesecake is one of those desserts either you love or it's just not your thing. I've never been a fan, as classic cheesecake tends to be dense and heavy. However, I think it may be one of those desserts that is a childhood taste memory for some. And enjoying a New York-style cheesecake can be comforting to others.
As a Californian, I rarely had cheesecake on my radar; that is, until I came across this treasured recipe years ago. I have been serving it ever since.
This version is light and fluffy and souffle-like, because the eggs are separated and the whites are whipped into soft clouds. This lightens the mixture and produces a mashup of a souffle and a cheesecake. Remember to use clean beaters and a clean bowl so egg whites can whip properly.
I like to use pastry flour, because you don't have to let it rest before working it; it has a low gluten count and turns out a flakier crust. All-purpose flour works fine if you can't find pastry flour. If you use frozen butter, you don't have to chill it before using since it is already cold.
I sometimes call this the St. Andreas Cheesecake because it can occasionally develop a fault line in the center. Not to worry -- just sprinkle powdered sugar over any of the cracks on top and decorate, if desired, with your favorite berries for a beautiful presentation. This cake is supremely light, and the raisins, Marsala and lemon rind give it a fruity balance. Serve this at room temperature for optimum flavor and texture. Sometimes I will serve small dessert glasses of Marsala with the cake for a lovely after dinner experience.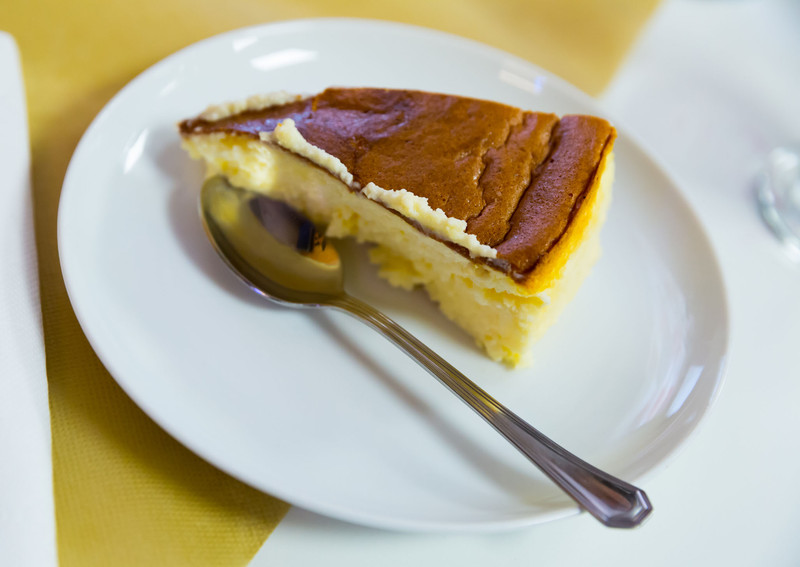 Cheesecake Souffle
Serves 8
For the pastry:
1 cup pastry or all-purpose flour
Pinch salt
2 tablespoons sugar
1/2 cup (1 stick) unsalted butter, frozen and cut into small pieces
1 egg yolk
For the filling:
1/2 cup golden raisins
1/2 cup California Marsala
1 pound cream cheese, room temperature
1 tablespoon all-purpose flour
1/2 cup sugar
4 eggs, separated
1/2 cup sour cream
1 teaspoon vanilla extract
1/2 teaspoon salt
2 tablespoons grated lemon zest
Powdered sugar (optional garnish)
Lemon leaves and berries (optional garnish)
1. In small bowl combine raisins and Marsala and leave to soften for 2 to 4 hours. Drain.
2. For pastry: Preheat oven to 400 F. Combine flour, salt, and sugar in food processor. Process a few seconds to blend. Add butter and egg yolk, and process until dough is just beginning to come together and will adhere when pinched.
3. Press about half the pastry onto the base of a 9-inch springform pan. Bake base without sides of pan for about 8 minutes or until pale brown. Cool. Attach springform sides to base and press remaining pastry inside rim about halfway up sides. Chill. Reduce oven temperature to 350 F.
4. For filling: With an electric mixer, beat cream cheese until soft in medium bowl. Add flour and sugar; mix well. Add egg yolks, sour cream, vanilla and salt; beat well. Stir in lemon zest and raisins.
5. With clean beaters, whip egg whites until stiff. Gently fold the eggs whites into cream cheese mixture. Pour into pan. Bake for 45 minutes. Cool to room temperature.
6. To serve, release sides of pan. Place dessert on cake platter or flat basket and surround with lemon leaves and berries. Dust with powdered sugar.
Advanced preparation: This dessert may be kept up to 8 hours in refrigerator. Bring to room temperature before serving.
This article is written by Diane Rossen Worthington from Seriously Simple and was legally licensed via the Tribune Content Agency through the NewsCred publisher network. Please direct all licensing questions to legal@newscred.com.