After mastering homemade steak and grilling next-level burgers, mouth-watering brisket should be next on your BBQ bucket list. Tender, slow-cooked brisket is intensely flavorful — well worth the time you put into it — and becomes the star of any cookout.
It's also less intimidating than you think. Read on to learn about the best ways to cook brisket, how to select the right cut, and lots of recipes to get you started.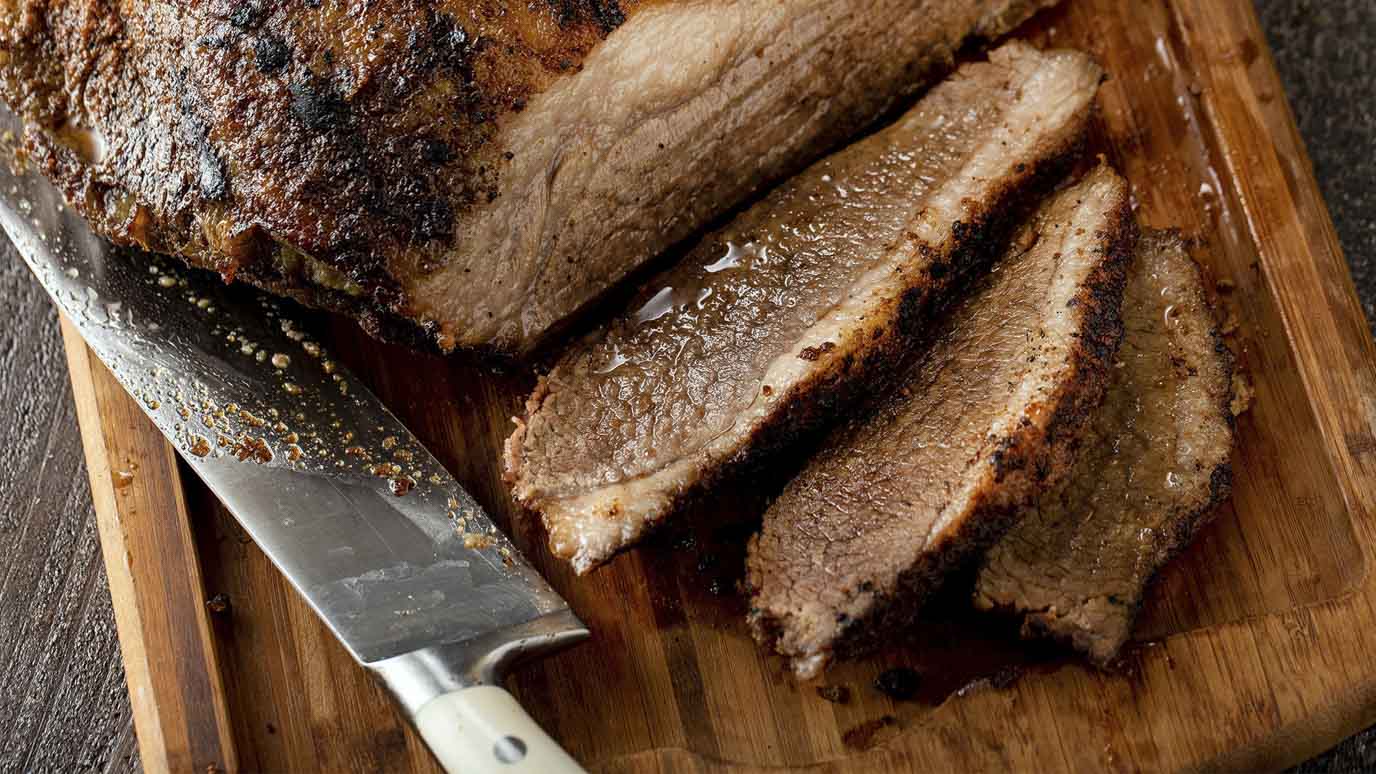 What cut of meat is brisket?
Brisket is cut from the breast, or the lower chest, of the cow.  Each brisket is actually made up of two cuts of meat: the flat, which is a lean cut, and the fattier point cut. A "Texas brisket" is a brisket that includes both the flat and point cuts, but butchers also sell each cut separately. 
In general, you should look for smaller briskets, since large ones tend to be tougher. Unless you're making Texas brisket, ask your butcher for a point cut to ensure a tender, richly-flavored final product. 
What's the best way to cook brisket?
When it comes to cooking brisket, you've got two main options: low and slow or high and fast.
The low and slow method involves cooking the brisket at a relatively low temperature, sometimes for eight hours or more. This long cooking time allows the connective tissue in the meat to break down and give you that melt-in-your-mouth texture you love. 
The high and fast style method turns up the heat slightly and reduces the cooking time to three to four hours. You'll get smokey, tender brisket in roughly half the time, as long as you use a fatty cut of brisket.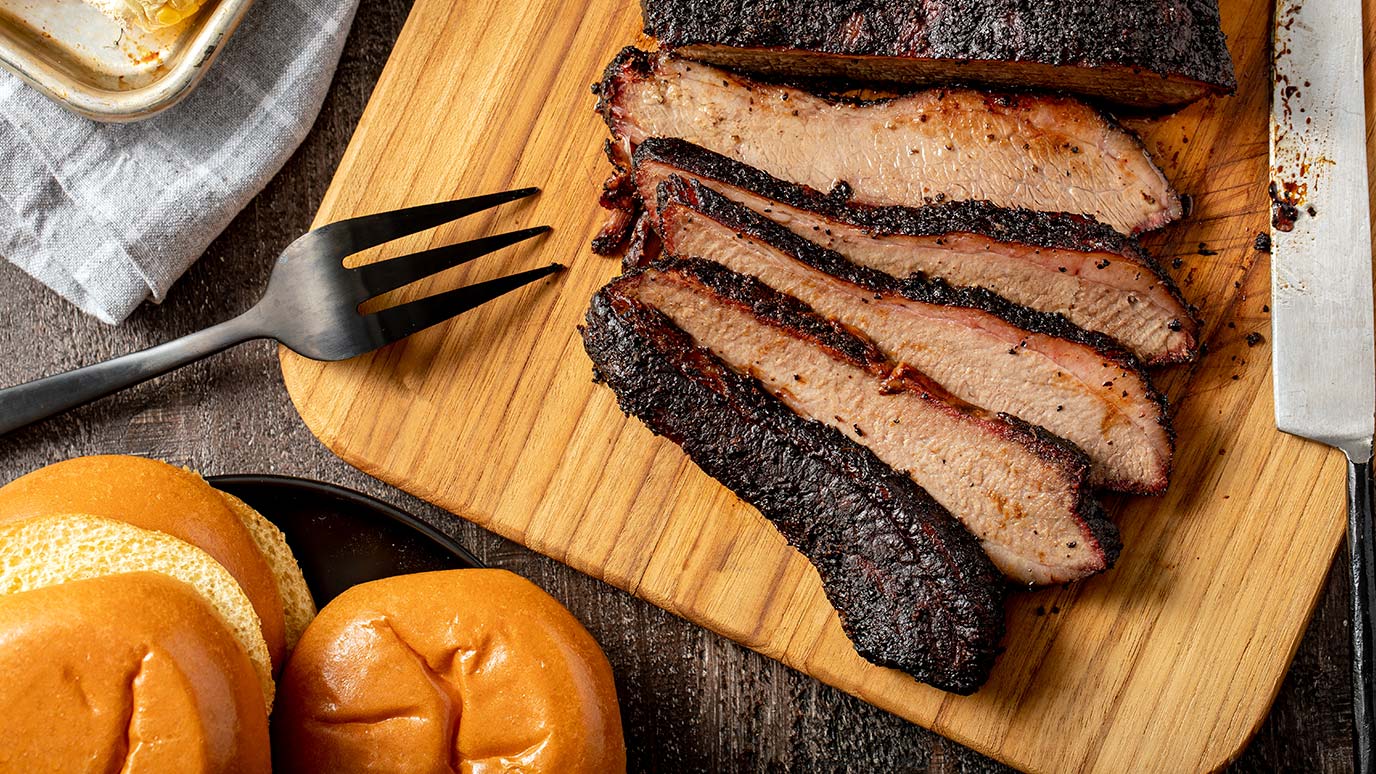 The best brisket recipes
Whether you're looking for a quicker cook (four hours or less) or you're ready to make a day of it, we've got the recipe inspo you need for irresistible brisket. 
It doesn't get any better than tender, smoky brisket, and this classic Texas-style recipe is a must-try. It uses a generous serving of McCormick Grill Mates Mesquite Rub — a blend of onions, chili pepper, black pepper, cumin and tomato — for that intense smoky-sweet flavor you love. An eight-hour grilling time yields ultra-flavorful brisket that's ideal for entertaining. 
This delicious recipe puts a peppery twist on low and slow brisket. It uses a mix of McCormick Grill Mates Coarse Black Pepper & Flake Salt Seasoning and beef stock to infuse the brisket with irresistible flavor. The recipe is also adaptable, so you can cook your brisket in a smoker or on a gas grill.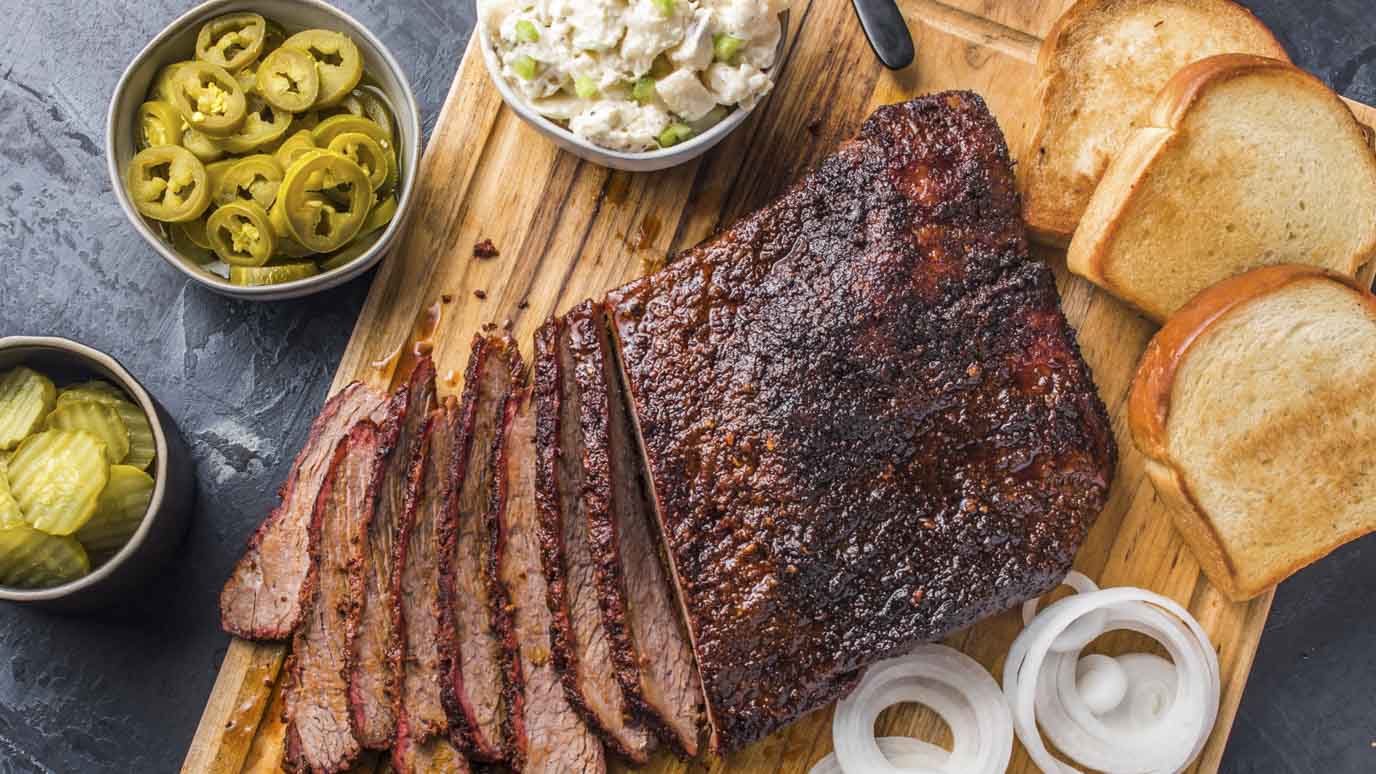 If you're craving classic Texas-inspired BBQ flavor, this is the recipe for you. It's seasoned with McCormick Grill Mates Texas BBQ Seasoning, a blend of molasses, spicy chili pepper and savory onion and garlic. Using the low and slow method, you can start this brisket in the morning to be ready in time for dinner.  
If you're shorter on time, try this relatively quick-cooking brisket that comes together in under four hours. It's intensely savory, thanks to a generous coating of McCormick Chili Powder and McCormick Grill Mates Smoky Montreal Steak Seasoning. It's the ideal combination of mouth-watering brisket and steakhouse-inspired seasoning.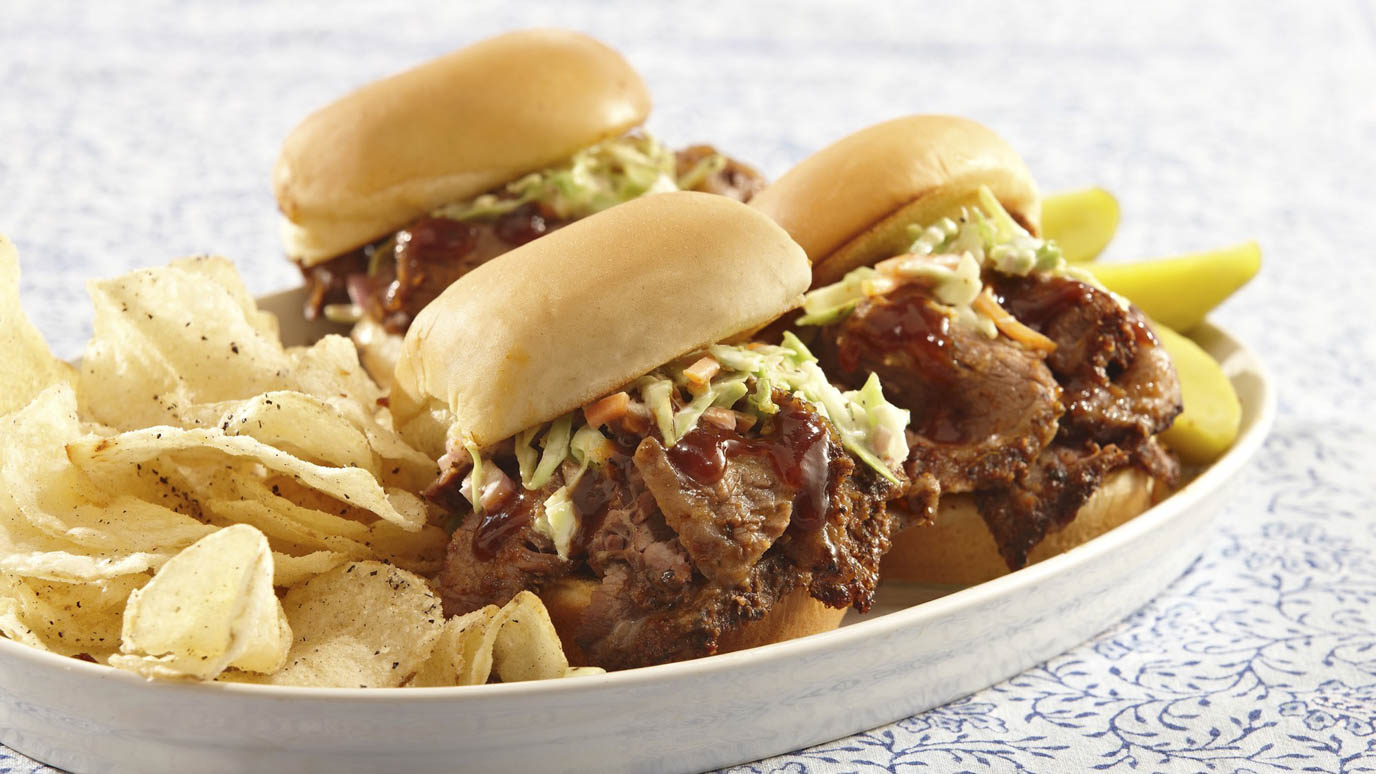 Brisket is already a crowd-pleasing treat, but turning it into sliders makes it even better. Smoky, savory brisket pairs perfectly with creamy coleslaw, and a dollop of homemade BBQ sauce brings the flavor over the top. Serve these at your next cookout or tailgating party, and your guests will love you.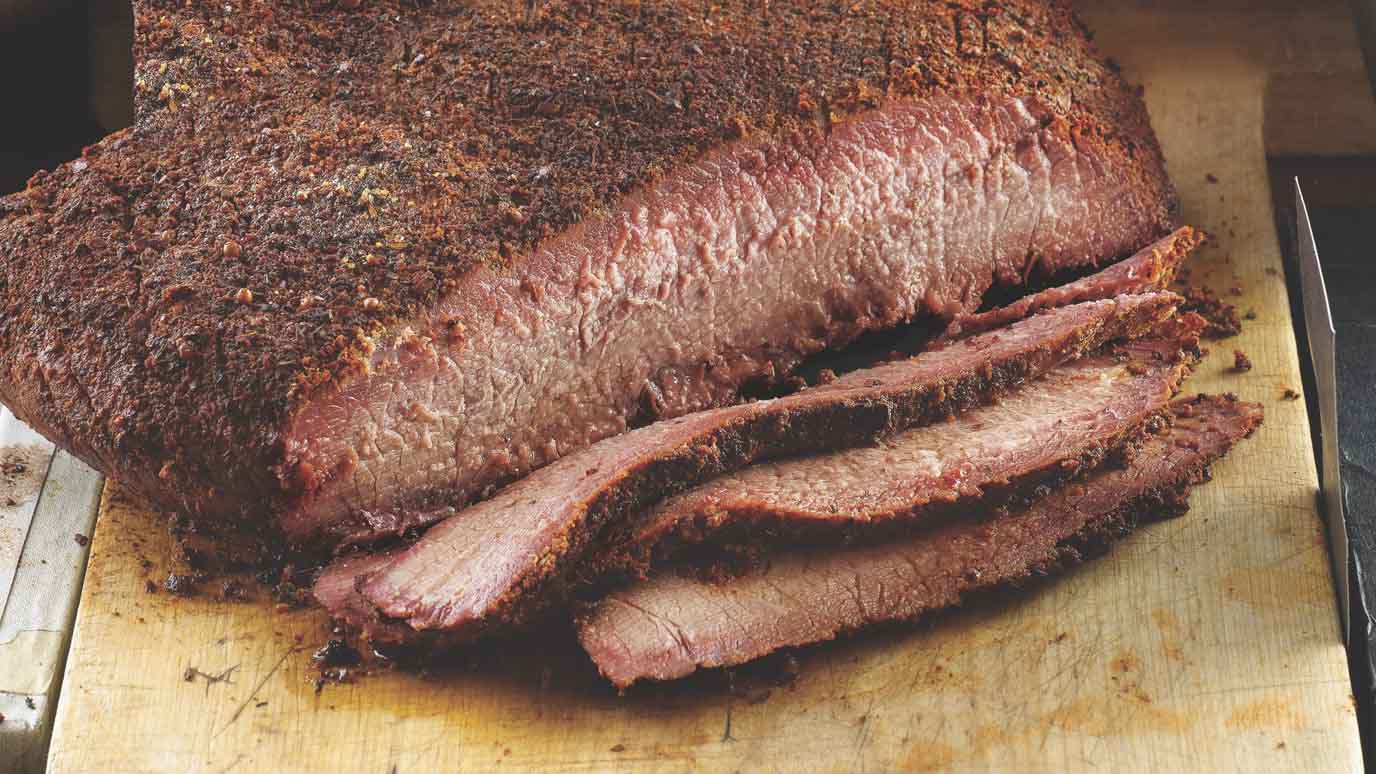 Make brisket into a meal
Need more cookout inspiration? Try mixing and matching these recipes to fill out your menu: