We've all been there: You've decided to sear some fish for dinner and without even realizing it, you find yourself hovering over the stove, anxiety running high as you constantly slip a spatula under each filet to check if the skin is sticking to the bottom of the hot pan.
Before you find yourself in this trap again, watch the latest episode of Mad Genius Tips on Facebook Live, with Food & Wine Culinary Director Justin Chapple and James Briscione, director of culinary development at the Institute of Culinary Education and author of The Flavor Matrix. Both chefs agree that a fish spatula—a thin, flexible, slotted, spatula made of metal—is almost mandatory when cooking fish. As Chapple points out, many people score fish in the hopes of keeping it from curling. But with a fish spatula and a little gentle pressure when the fish first enters the pan, you can skip scoring altogether.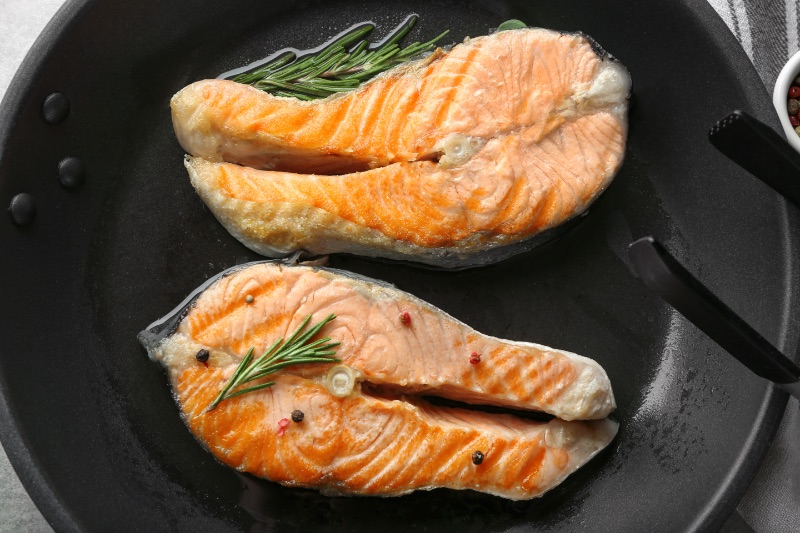 "The only way [the fish is] not going to curl is with a little bit of pressure," Briscione says. "Some people will put a pan on top of their fish, but I think it smashes the fish too much. Gentle pressure in the first five to 10 seconds when the fish goes in the pan will help it to stay flat and allow it to sear up really nicely, with a crispy skin."
Now, about those filets sticking to the pan. Though both Chapple and Briscione admit it's a risk anytime you sear fish, they say the key to making sure your fish filets don't stick is to let them sit in the pan—without moving them. "Just wait," Briscione says. "[The fish] will release on its own when it gets a nice brown on the bottom."
On the show, the duo made a seared snapper with a granny smith, strawberry, and basil salsa—and paired it with a red wine, Pinot Noir. Briscione says it works because the floral notes of the apple match the floral notes in the finish of the wine.
This article was written by Jillian Kramer from Food & Wine and was legally licensed through the NewsCred publisher network. Please direct all licensing questions to legal@newscred.com.