All you need is 4 ingredients.
Looking to take your fall apple cider to the next level? Laura Prepon has the perfect way to do just that. 
In a recent Instagram video, the actor took store-bought apple cider and just 3 other ingredients to make the ultimate seasonal cocktail. Here's how to make it – it's actually super easy to prepare.
First, Prepon took her fresh ginger that she bought at the farmers market and started chopping it up.
"Fresh ginger is very potent," she explained as she added 3 chunks of ginger into a glass of vodka (about 2 servings worth) to infuse overnight. Because ginger is so strong, Prepon suggested that even just infusing the ginger in the vodka for a couple of hours should give a flavorful result.
Once infused, Prepon then strained the ginger out of the vodka and added the liquid into an iced glass. Afterwards, she pours over cold apple cider.
"If you guys go pumpkin picking or apple picking, buy the apple cider," Prepon insisted. Though she prefers the taste of fresh apple cider, she used a store-bought version in this video, which she said is still tasty. She topped off the cocktail with carbonated water that she whipped up in her SodaStream.
Once mixed, it's ready to serve, but Prepon included a decorative skewer of candied ginger and apples to garnish the glass.
"See how easy that was, though?" Prepon exclaimed. "A harvest cider spritz, isn't that cute? The zing from the ginger and the vodka is beautiful."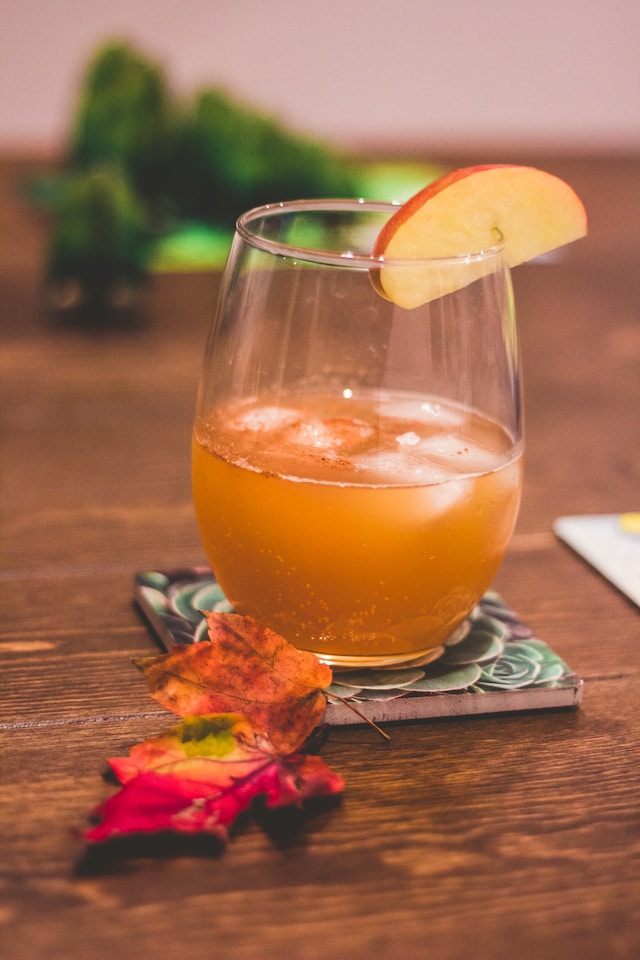 Bonnie Kittle
  
We're excited to be transported to an apple orchard once we try this Fall Cider Spritz. For a "hot take" on this cocktail, check out our own Hot Cider with Apple Brandy & Spices or our Big-Batch Hot Bourbon Cocktail with Maple & Apple Cider.
This article was written by Danielle DeAngelis from EatingWell and was legally licensed through the DiveMarketplace by Industry Dive. Please direct all licensing questions to legal@industrydive.com.