Flavor Profile
Onion is an essential flavoring for savory dishes, and an ingredient where quality counts. McCormick powdered onion is onion, plain and simple. We start with whole, white, field-grown onions. Use it where you'd use fresh onions. No peeling. No chopping. No watery eyes. Onion powder brings an additional asset that makes it incredibly useful in the kitchen. It disburses evenly throughout the dish for rich, allover onion flavor. Sprinkle it into soups and stews, create creamy dips and salad dressings, perk up casseroles and vegetables, or use it as a base for rubs and marinades. Your onion powder should smell sharp and just a little sweet, like a beautiful whole onion warmed by the sun.
Usage
You can use onion powder in any recipe that calls for fresh onion. One tablespoon of onion powder is equal to a half cup of chopped fresh onion. It's easy! Sprinkle the onion powder over the surface of the dish and stir.
Soups and stews are perfect candidates for onion powder. From vegetable, meat and bean soups to any style of chili or beef stew to gumbo or chowder, pure onion powder delivers bold onion flavor and aroma.
Onion powder is an essential seasoning for ground meat for burgers, meatloaf, chili, skillet suppers and more. We like to add a teaspoon per pound of ground beef, but feel free to experiment!
Dry rubs are a natural for onion powder. For pork ribs, we start with onion powder, and then add garlic powder, cumin, thyme leaves, parsley flakes and red pepper or cayenne. Let the ribs sit for an hour or so before you roast or grill them to soak up the delicious flavor.
Perfect Partners
Onion powder gives a lift to any potato dish. Whisk it into sour cream for a baked potato. Sprinkle it onto potato gratin before baking. Stir it into mashed potatoes with butter and milk. Yum!
Any roast meat—chicken, beef, pork, lamb—can benefit from a sprinkling of onion powder, plus salt and pepper, before you pop it in the oven. Want to get fancy? Rub on garlic powder, paprika and rosemary leaves, too.
We're always trying to get our families to eat more vegetables. Onion powder to the rescue! Add it to any recipe for roasted vegetables. Or stir it into an olive oil dressing or butter sauce for simple steamed veggies.
Substitutes
Q: If I don't have onion powder on hand, what makes a good substitute?
A: Chopped or minced dried onions can easily stand in for onion powder. Just grind them up and use an equal measure. Other options are fresh, finely minced green onions or yellow onions, sautéed for added sweetness. One tablespoon of onion powder is equal to a half cup of chopped fresh onion.
History/Fun Facts
There's some complicated science behind the answer to why chopping onions makes so many of us cry. The culprit is a complex of sulfur compounds produced by the onion. And while there are a lot of tales about how to prevent the tears, most of us would need a full face mask to stop them. By removing 96 percent of the water, dehydrating onions not only adds convenience and elevates flavor, but takes away the tears. Thank goodness!
Sourcing/Quality
McCormick onion powder begins in the field as whole, white onion bulbs, harvested at the peak of flavor. They're washed and trimmed, then gently dehydrated and ground to preserve their bold, sweet flavor and toasty color.
Popular Recipe Recommendations
BLT Dip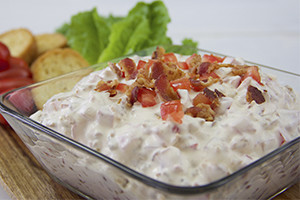 Gluten-Free Cheesy Hash Brown Breakfast Casserole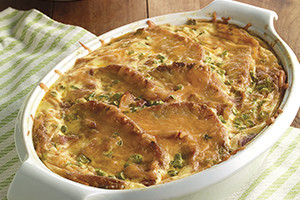 Easy Egg Salad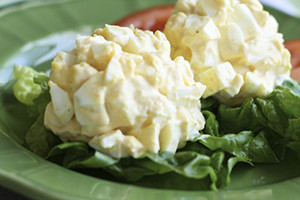 Sesame Steak