After a long day of work or an especially hectic week, I fall hard and fast for the takeout game. Out of all the choices in my NYC neighborhood, Indian cuisine always makes its way to the top of my list -- and, more specifically, Indian butter chicken. There's so much to love about this classic dish: It's comforting, creamy, rich and full of flavor, and never fails to brighten up my day.
If you've ever tried to make butter chicken at home, you know it's not easy. First, there's the long, intimidating list of spices, not to mention the overnight marinade for the chicken -- and that's all before you've even start cooking. Needless to say, it's not practical for a busy work week. So I decided to take on the challenge of making a quick 30-minute version of butter chicken that's just as creamy and satisfying, and practically as fast as picking up takeout.
Butter chicken was first created in India just a few decades ago, and was actually born out of a need to re-purpose unsold chicken. Restaurant owner Kundan Lal Gujal came up with the recipe in 1948 to use up dried-out, unsold tandoori chicken, another one of his well-known Indian recipes. So he created a creamy tomato sauce full of spices and butter to rehydrate the chicken and create this heart-warming dish. I'd say it's ingenious.
For this shortcut version, I'm using quick-cooking boneless, skinless chicken breasts (but feel free to use thighs or a mix of breasts and thighs) and skipping the overnight marinade in favor of a dry spice rub. Speaking of the rub, I'm also saving time by starting with a store-bought spice blend called garam masala, which translates to "hot spices." This blend of flavors varies from region to region in India as well as from chef to chef, but no matter what kind you use, it will give the butter chicken its rich, smoky, familiar flavor. You'll finish the dish off with plenty of butter (and a splash of heavy cream), and I promise you'll feel as accomplished as Gujal when he created this dish.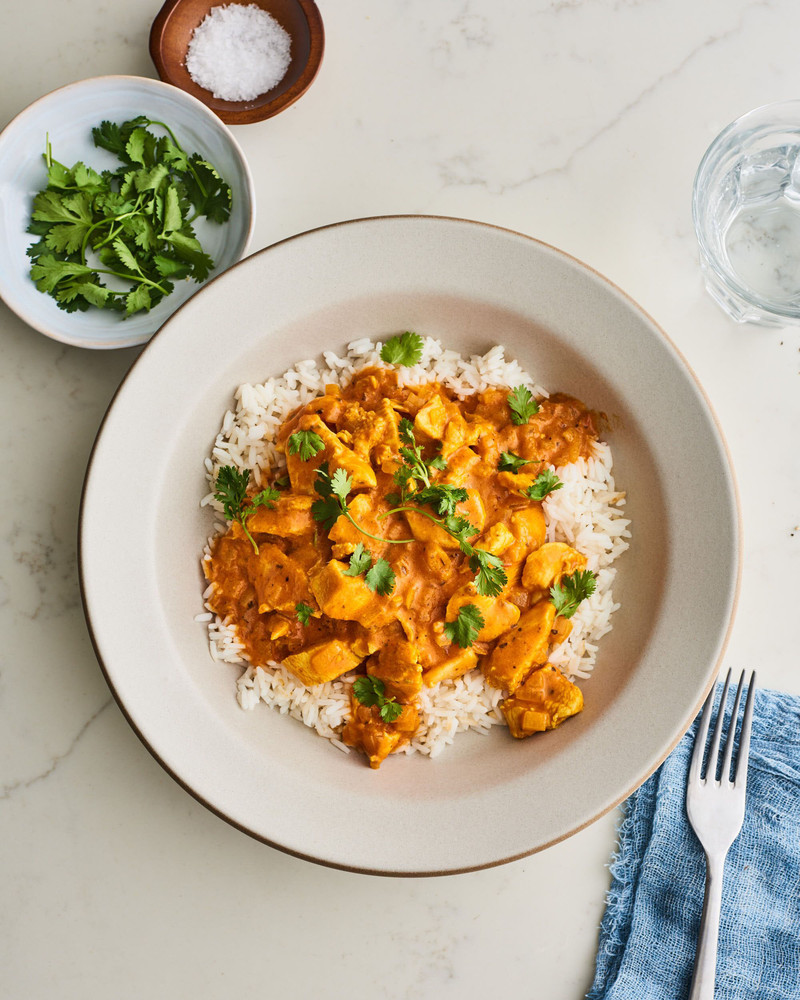 Butter Chicken
Serves 4 to 6
Prep time: 10 minutes to 15 minutes
Cooking time: 20 minutes to 25 minutes
1 medium yellow onion
3 cloves garlic
1 (1-inch) piece fresh ginger
1 tablespoon plus 1 teaspoon garam masala, divided
1/2 teaspoon plus 1/4 teaspoon ground turmeric, divided
3/4 teaspoon plus 1/2 teaspoon ground cumin, divided
Pinch cayenne pepper (optional)
2 pounds boneless, skinless chicken breasts or thighs
Kosher salt
Freshly ground black pepper
6 tablespoons unsalted butter, divided
1 (3-inch) cinnamon stick
1 tablespoon tomato paste
1 (16-ounce) can tomato sauce
1 1/4 cups water
1/2 cup heavy cream
1 tablespoon freshly squeezed lemon juice
2 tablespoons chopped fresh cilantro
Cooked basmati rice or naan, for serving
Finely chop 1 medium yellow onion, grate 3 garlic cloves, peel and grate a 1-inch piece of ginger; place it all in a medium bowl.
Combine 1 teaspoon garam masala, 1/4 teaspoon ground turmeric, and 1/2 teaspoon ground cumin in a large bowl. Combine 1 tablespoon garam masala, 1/2 teaspoon ground turmeric, 3/4 teaspoon ground cumin, and a pinch of cayenne pepper if desired in a small bowl and set aside. Cut 2 pounds chicken into 1-inch pieces, add to the spices in the large bowl, season with kosher salt and black pepper, and toss to evenly coat.
Melt 4 tablespoons unsalted butter in a large heavy-bottomed pot over medium-high heat. Add the chicken and cook until browned on all sides, about 7 to 8 minutes. Transfer the chicken to a plate; it might not be cooked through.
Add the onion mixture to the pan and cook, stirring frequently, until beginning to soften, about 2 minutes. Add the reserved spices, 1 (3-inch) cinnamon stick, and 1 tablespoon tomato paste, and cook 1 minute more.
Add the can of tomato sauce, 1 1/4 cups water, and the chicken and any accumulated juices, and stir to combine. Bring to a boil. Reduce the heat to maintain a simmer and cook until the sauce slightly thickens and the chicken is cooked through, 8 to 10 minutes. Meanwhile, chop 2 tablespoons cilantro.
Add 1/2 cup heavy cream, 2 tablespoons unsalted butter, and 1 tablespoon lemon juice to the chicken, and stir to combine. Taste and season with salt as needed. Garnish with the cilantro and serve over basmati rice or with naan.
Recipe notes: Leftovers can be refrigerated in an airtight container for up to 4 days.
This article is written by Laura Arnold from The Kitchn and was legally licensed via the Tribune Content Agency through the NewsCred publisher network. Please direct all licensing questions to legal@newscred.com.