Flavor Profile
Ground nutmeg fills the kitchen with a sweet, nutty aroma when holiday cookies and spice cakes are in the oven. For a festive touch, we love to add a dash to frothy eggnog or baked vanilla custard. On the savory side, nutmeg brings a warm undertone to white sauces like the classic béchamel used in Mediterranean pasta casseroles. (Think spinach lasagna!) It's savored in cuisines around the world, from Indian curries to Scandinavian cream sauces. You'll find ground nutmeg flavoring sausages, slow-cooked meat and tomato sauces, winter squash and sweet potato dishes and creamed vegetables. You can even shake it onto your next bowl of macaroni and cheese. Ground nutmeg should deliver a soft, sweet aroma like the first perfect sip of eggnog.
Usage
Nutmeg is the subtle flavoring behind the white sauce called béchamel, which is milk thickened with a cooked roux of butter and flour. Italian lasagna, French cheese sauce for vegetables, and Greek pasticcio with its layers of lamb and macaroni all benefit from nutmeg's piquant flavor.
Middle Eastern cooks have a long-standing love for nutmeg. It's the secret ingredient in spiced eggplant, red lentil soup, Moroccan lamb stew and all kinds of rubs and marinades for grilled beef and pork. This sweet and spirited spice is also popular in Spain, most especially as an addition to small meatballs of ground beef, pork or lamb. The bite-sized morsels—and the nutmeg that flavors them—are must-haves for tapas.
Perfect Partners
Nutmeg is a tasty add-on for any creamy dish, from mac and cheese to potato gratin to creamed spinach. It's delicious with buttered vegetables like broccoli, sweet potatoes and carrots, too. Shake it on top of the finished dish for rich aroma and flavor.
Baked or poached fruit—apples, peaches, pears, plums—are perfect for nutmeg, whether made into a crisp or simply served on their own. Sprinkle the fruit with nutmeg and sugar before baking. We love to add a pinch of nutmeg to the whipped cream garnish, too, for extra aroma.
Eggs and ground nutmeg share a long and happy history together. Nutmeg's aromatic sweetness is the perfect complement to frothy homemade egg nog. And there's no better topping for baked egg custard.
Substitutes
Q: If I don't have ground nutmeg on hand, what makes a good substitute?
A: Whole nutmeg, finely grated, is the perfect substitute for ground. In savory recipes, such as cream soups or béchamel, the warm flavor of mace is a good stand-in. For sweet recipes, such as spice cake or cookies, substitute ground cinnamon or ginger.
Popular Recipe Recommendations
Roasted Harvest Vegetables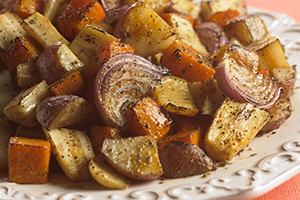 Apple Dumplings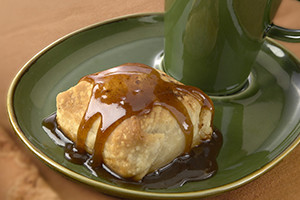 Eggnog Whipped Cream