When you crave a sweet snack but want to avoid the seduction of a whole cake or a dozen chocolate chip cookies, the one-off mug cake is your best friend.
What is a mug cake? It's just what it sounds like: a few tablespoons of ingredients whisked up in a mug and baked in the microwave for less time than it takes to make popcorn. Presto: sweet, moist cake. And just one.
Here's my new favorite mug cake: a quick batter with golden oats and chopped pecans that bakes up light and fluffy around a dollop of gooey Nutella in the middle. It's like getting cake and frosting in one happy mug.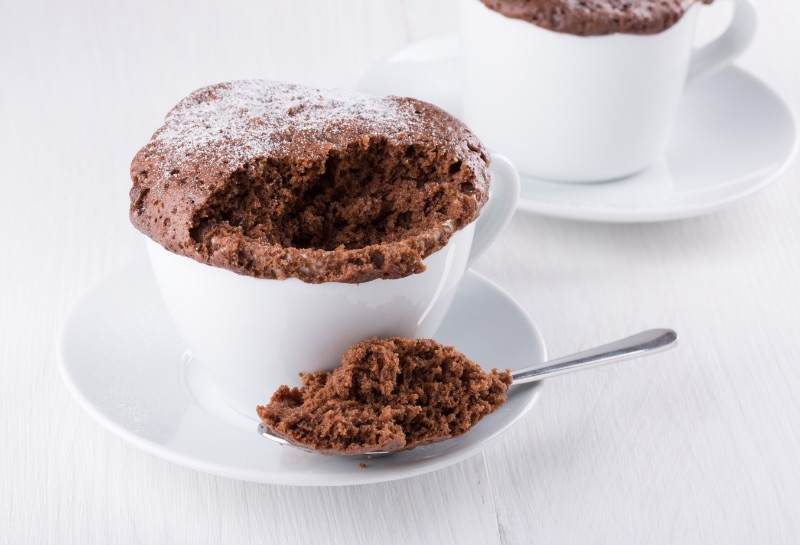 Of course, it is a little deceiving to call mug cakes "cake" at all. What most of them resemble most is a steamed cake or pudding, like those found in old-fashioned British cooking. They don't brown or get golden on top, and their texture stays fairly moist and usually rather dense.
But this mug cake avoids the pitfalls of the overly-gummy microwave cake by doing things a little differently. First of all, there's no egg, which can weigh a recipe like this down. Secondly, I use a tad more baking powder than is usually called for, and this gives it some extra lift. Lastly, I fold in rolled oats and chopped pecans. The oats absorb a little of the moisture, leaving the cake tender and light, and together the oats and nuts add pleasant texture and crunch.
And Nutella? Oh, why not! A big spoonful in the middle of the cake gets warm and gooey in the microwave, sinking down so as you dig in you get a spoonful of warm cake and chocolate goodness in every bite.
Don't be put off by the list of ingredients; this is a very fast and easy recipe for anyone with a decent baking pantry. I made this recipe more than five times in one afternoon while testing, and it took no more than 5 to 10 minutes total from beginning, to mixing, to microwaving, to eating. There's only one serving in each batch -- but it doesn't take long to make a second!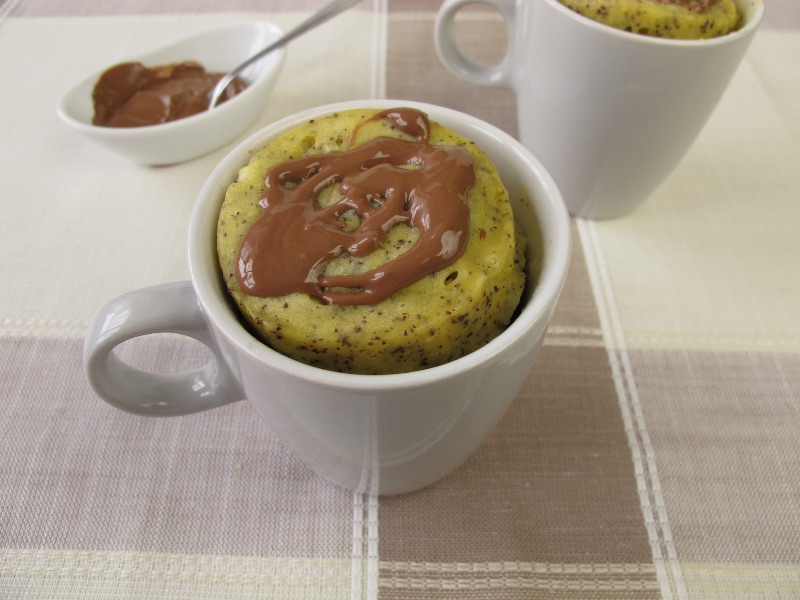 Oatmeal Nutella Mug Cake
Makes 1 mug cake.
3 tablespoons milk
1 tablespoon olive oil
1 tablespoon sugar
3 tablespoons flour
1 1/2 tablespoons rolled oats
1 tablespoon finely chopped pecans, plus more to garnish
1/4 teaspoon baking powder
1/8 teaspoon salt
1/4 teaspoon cinnamon, optional
Pinch nutmeg, optional
1 tablespoon Nutella, or any chocolate-hazelnut spread, plus more to garnish
In a 12-ounce (or larger) mug, whisk together the milk, olive oil and sugar. Whisk in the flour until smooth, then whisk in the oats, pecans, baking powder, salt, and cinnamon and nutmeg, if using.
Dollop the Nutella on top and push in gently so it is partially submerged in the cake batter.
Microwave on HIGH for 30 seconds, and then in 15-second bursts until the top looks dry and cooked and springs back when pressed with a finger.
Note on microwave power: My microwave is 700 watts, and it took between 70 and 90 seconds total for the cake to be done, depending on the batch. Times will vary in microwave ovens of different powers. So I recommend a prudent approach of microwaving for 30 seconds and then in short bursts, checking between each.
Let stand at least 5 minutes before eating, as the cake and Nutella center will be quite hot. Top with additional Nutella if feeling indulgent!
Recipe Notes
The nuts can be left out, although I do like their nuttiness in this cake.
Substitute peanut butter, almond butter or a spoonful of cooked fruit such as apples for the Nutella.
Note that your finished mug cake will probably not come up to the lip of the cup as pictured here. After testing I made a double batch in the mugs pictured here to make it easier to photograph and show you what the texture is like.
This article is written by Faith Durand from The Kitchn and was legally licensed via the Tribune Content Agency through the NewsCred publisher network. Please direct all licensing questions to legal@newscred.com.