While plenty of Japanese foods have made their way stateside in the past few years (we're still obsessed with the famous jiggly cheesecake), we'll always love what is arguably the most iconic Japanese dish: sushi.
Sushi has a long, storied history in Japan. It was first introduced in the 8th century as a means of preserving fish, but evolved over hundreds of years into the sushi we know and love today. Sushi first appeared stateside in the early 1900s, but really took off in the 1960s with the opening of the first sushi restaurants in America. And, of course, now you can find sushi virtually anywhere.
...Including in your home kitchen. While we can't promise to turn you into a pro in an instant––real sushi chefs go through years and years of training and apprenticeships to perfect their art––you can easily whip up delicious homemade sushi rolls (also called maki) using this simple step-by-step guide.
What You Need to Make Sushi
Creating your own maki at home doesn't require too much equipment, but you will need a few staples to make it a success. Check out your local Japanese grocery store for a bamboo sushi mat to make rolling easier. Also, be sure to pick up Japanese pantry staples: sushi rice, rice vinegar, pickled ginger, and wasabi. From there, all you'll need is sushi-grade fish, plus any veggies you plan to include in your maki.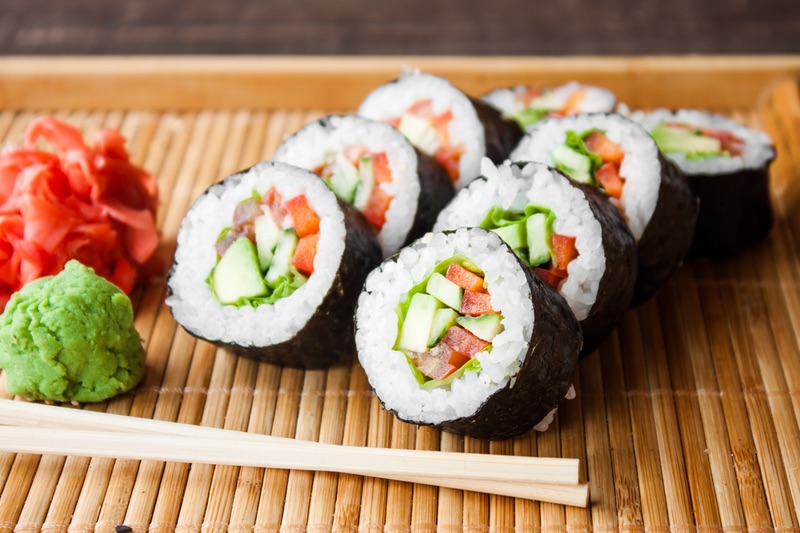 How to Make Sushi at Home
Ready to make delicious homemade sushi? It can be on your table in less than an hour.
Sushi recipe adapted from Minimalist Baker.
Step 1: Cook and Season Your Rice
A little sweet, a little tangy, and sticky enough to hold your sushi roll together: your delicious homemade sushi roll starts with the right rice.
To make enough sushi for two, cook a half-cup of white rice in water as usual. As it cools, mix in 2 tablespoons of rice vinegar, 1 tablespoon sugar and a pinch of salt, then mix and fluff the rice with a spatula until the seasonings are incorporated.
Step 2: Get Your Fillings Ready
Time to get creative! The beauty of homemade sushi is being able to choose whatever fillings you want.
Pick up sushi-grade fish to ensure it's safe to eat. Start with classic salmon or tuna sliced into bite-size pieces, or make prep even easier by making your maki with pre-shelled crab meat.
Use vegetables to add flavor and texture. Try julienned carrots or seeded cucumber for crunch, and avocado for creaminess. Or get more experimental. Finely sliced red bell pepper adds even more freshness to a DIY sushi roll, while mango adds a pop of sweetness.
Finally, set out your savory fill-ins. Wasabi (or wasabi aioli) is a must-have, especially for salmon sushi rolls, while sriracha or spicy mayo adds a fiery kick.
Step 3: Get Ready to Roll
Now comes the fun part: assembling your maki!
1. Prep your space by laying out your bamboo mat, along with a bowl of water seasoned with rice vinegar.
2. Place a sheet of nori on the mat, then top with a half-cup of sushi rice.
3. Moisten your hands in the vinegar-seasoned water, then use your fingers to spread the rice over the sheet.
4. Add your wasabi and other fillings to the center of the roll. Don't overfill––stick to a quarter cups' worth of fillings or less.
4. Form the maki by rolling the bamboo mat up and away from you, applying light pressure and using your fingers to hold the fillings in place to create a tightly-packed roll.
6. Then, gently press each end of the maki to hold everything in place.
7. Finally, add your toppings of choice. Thinly-sliced avocado, a drizzle of sriracha mayo, or toasted sesame seeds can take your maki to the next level.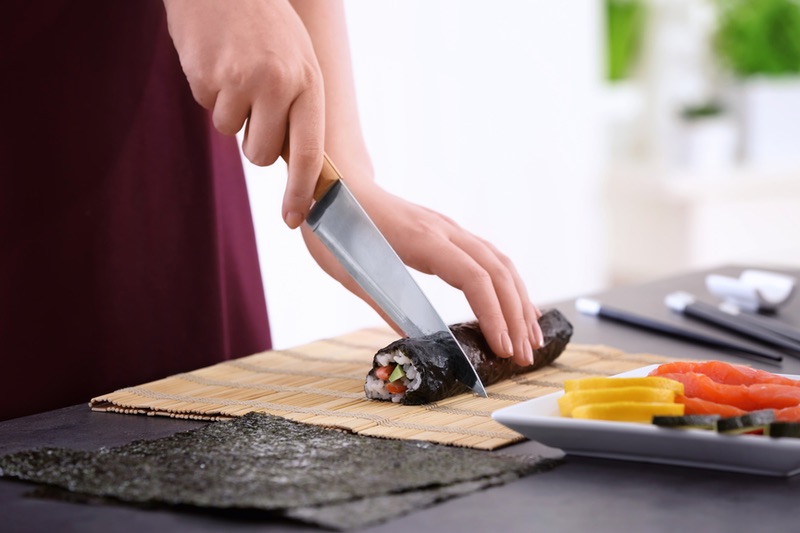 Step 4: Serve Your Maki
It's almost time to eat!
Create 6 perfectly-even pieces by wetting your knife with the vinegar-seasoned water and cutting the roll in half, then slice each half into thirds.
Use garnishes to give your homemade maki the gorgeous presentation it deserves. They don't have to be complicated: a simple dollop of wasabi or spicy mayo, soy sauce for dipping, plus pickled ginger (gari) to use as a palette cleanser between bites, is all you really need.
But more creative garnishes, like spiral-cut cucumber seasoned with rice vinegar and homemade furikake seasoning, can add visual interest.
Once you've got the basics down, feel free to experiment with fresh flavor combinations, and turn homemade sushi into a weeknight staple in your home.

Craving Japanese food now? Discover more Japanese recipes here.