In our house, frittata, the Italian egg dish that's often made in a skillet, is usually reserved for a Sunday clean-out-the-fridge night. It's simple to throw together and satisfying, and you can use almost any vegetable or cheese you have on hand. Lately, however, frittata has been making its way onto the breakfast table. Actually, to be truthful: I've been doing a portable version for busy weekday mornings.
Frittatas are nice because they're simple. Generally on weekdays, my breakfasts look pretty darn similar: granola and yogurt, toast and peanut butter, or a piece of fruit and some muesli. But these frittata cups are so simple they can realistically make their way into the weekday line-up.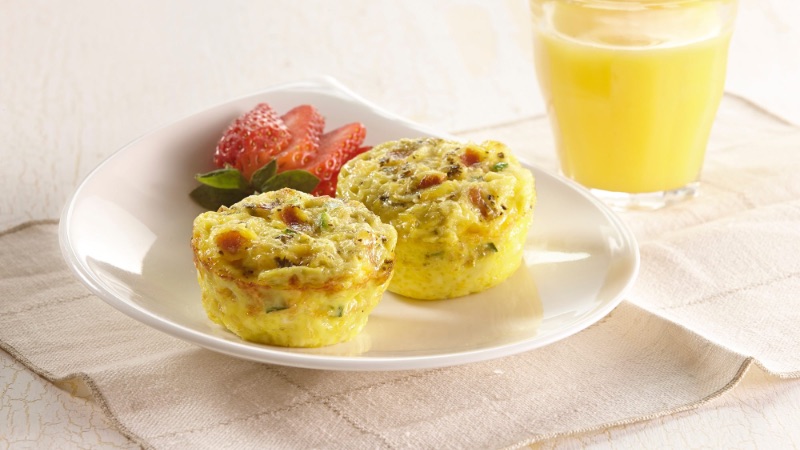 While they are meant to be served warm, they're actually wonderful room temperature or even cold, making them a great grab-and-go lunch option as well. And this recipe is versatile. Don't like kale? Substitute a different leafy green. Have broccoli you need to use up? Chop it up and throw it in. Prefer Parmesan to goat cheese? No problem. So you can experiment here and find a version of this recipe that suits your own taste.
I always use lacinato kale for this recipe, but you could really use any leafy green you'd like. And since you'll have kale stems leftover, why not reserve them for a stir fry later in the evening?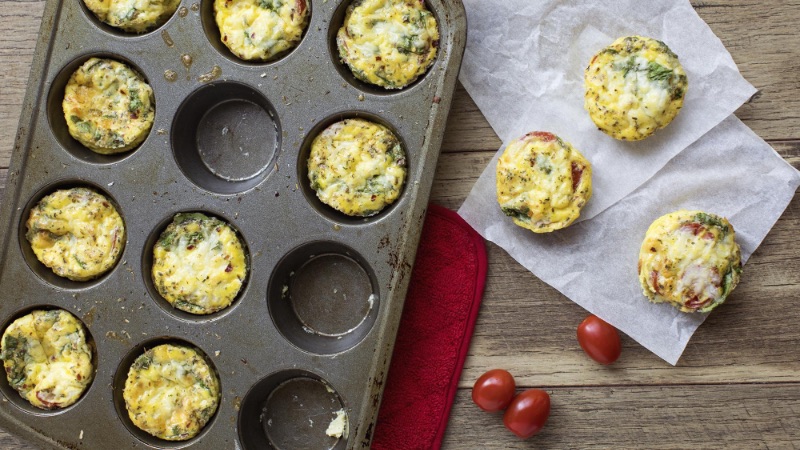 Kale and Goat Cheese Frittata Cups
Makes 8 individual cups.
2 cups chopped kale
1 garlic clove, thinly sliced
3 tablespoons olive oil
1/4 teaspoons red pepper flakes
8 large eggs
1/4 teaspoon salt
Dash ground black pepper
1/2 teaspoon dried thyme
1/4 cup goat cheese, crumbled
Preheat the oven to 350 F. To get 2 cups kale, remove the leaves from the kale ribs. Wash and dry the leaves and cut them into 1/2-inch-wide strips.
In a 10-inch nonstick skillet, cook the garlic in 1 tablespoon of oil over medium-high heat for 30 seconds. Add the kale and red pepper flakes and cook until wilted, 1 to 2 minutes.
In a medium bowl, beat the eggs with the salt and pepper. Add the kale and thyme to the egg mixture.
Using a 12-cup muffin tin, use the remaining 2 tablespoons of oil to grease 8 of the cups (you may also use butter or non-stick spray if you'd prefer). Divide egg mixture evenly between cups and sprinkle the tops with goat cheese. Bake until they are set in the center, about 25 to 30 minutes.
Frittata is best eaten warm from the oven or within the next day, but leftovers can be kept refrigerated and reheated for up to a week.
This article is written by Megan Gordon from The Kitchn and was legally licensed via the Tribune Content Agency through the NewsCred publisher network. Please direct all licensing questions to legal@newscred.com.