For a fun, easy twist on chicken Marsala, give boneless pork chops a try for dinner instead. When cooked in a bit of browned butter and then simmered in a glossy sauce rich with golden-brown mushrooms and sweet Marsala wine, these pork chops can make dinner just a tad more elegant.
It may seem a bit fussy to use both oil and butter, but that's what makes this recipe special. The butter browns the chops and gives them a delicious nutty flavor. When whisked into the pan at the end, the butter also makes the sauce glossy and thick. The oil keeps the butter from burning, so it's necessary when searing the chops.
The third secret ingredient is flour, which does double duty here. When dusted onto the pork chops, it helps brown them and create a tasty crust during searing. Just a tablespoon of the leftover flour helps thicken the sauce, so make sure you don't throw it out. I love eating this pork chop Marsala with crusty bread to mop up every drop of sauce, but some buttered egg noodles would also be a great companion too.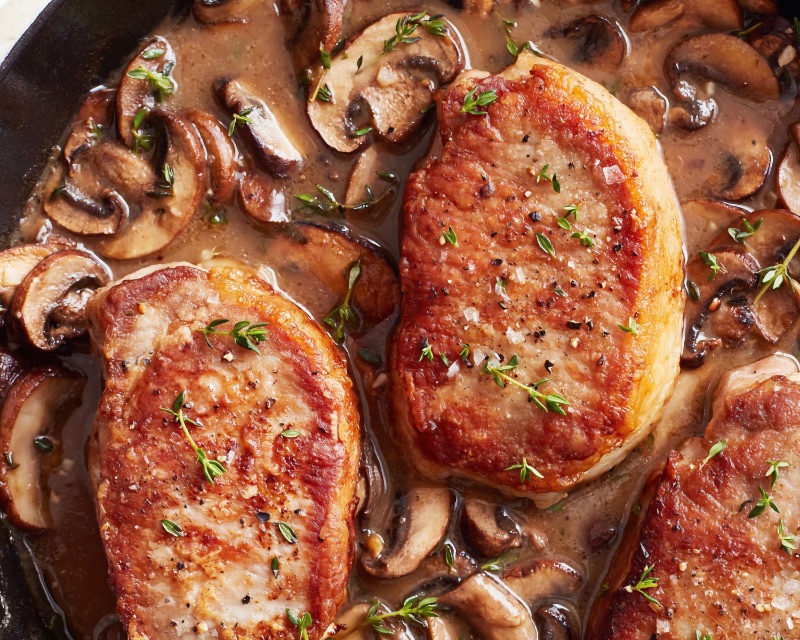 Pork Chop Marsala
Serves 4
Prep time: 10 minutes
Cooking time: 30 minutes
4 (3/4-inch-thick) boneless pork chops (about 1 3/4 pounds total)
Kosher salt
Freshly ground black pepper
1/2 cup all-purpose flour
3 tablespoons olive oil
5 tablespoons cold unsalted butter, divided
1 pound cremini mushrooms, thickly sliced
2 teaspoons minced garlic
1 teaspoon chopped fresh thyme leaves
3/4 cup sweet Marsala wine
3/4 cup low-sodium chicken broth
Lightly season the pork with salt and pepper. Place the flour in a pie plate, and dredge pork until evenly coated on both sides with flour; do not discard the remaining flour.
Heat the oil and 2 tablespoons of the butter in large frying pan or cast-iron skillet over medium-high heat until shimmering. Add the pork, and sear until dark golden-brown on the bottom, 4 to 5 minutes. Flip and cook on second side for 1 minute more to cook out the floury taste (the pork chops will not be cooked through). Transfer to a plate.
Add the mushrooms to the pan, and cook, stirring every few minutes, until they begin to brown, about 8 minutes. Add the garlic and thyme, and cook until fragrant, about 30 seconds. Add 1 tablespoon of the remaining flour, and stir and cook for 1 minute. Stir in the Marsala and chicken broth, and bring to a simmer. Simmer until reduced and thickened slightly, about 5 minutes.
Return the pork chops to the pan, add any juices from the plate, and simmer until the pork is cooked through and registers at least 145 F on an instant-read thermometer, about 3 minutes more.
Remove from the heat. Stir in the remaining 3 tablespoons butter until melted. Taste and season with salt and pepper as needed. Serve with egg noodles or crusty bread, if desired.
Recipe notes: Leftovers can be stored in an airtight container in the refrigerator for up to three days.
(Christine Gallary is food editor-at-large for TheKitchn.com, a nationally known blog for people who love food and home cooking. Submit any comments or questions to editorial@thekitchn.com.)
This article is written by Christine Gallary from The Kitchn and was legally licensed via the Tribune Content Agency through the NewsCred publisher network. Please direct all licensing questions to legal@newscred.com.