Green sauces are a part of many cuisines. Some of the best-known examples are pesto in Italy, salsa verde in Mexico or sauce verte in France. Each enhances the flavor or their regional dishes.
Chimichurri is a simple sauce and marinade that is ubiquitous throughout South America. You'll find it appears on grilled and roasted meats everywhere. In Argentina it is as common as ketchup is to us. I have added sweet white balsamic vinegar to the mixture. Most of us are familiar with the red balsamic variety. This white vinegar is produced by adding cooked-down grape juice to ordinary white wine vinegar which gives it an amber color and slightly sweet flavor. You could also try rice wine vinegar for a slightly different flavor profile.
The basics of chimichurri sauce remain the same: parsley, garlic, vinegar and olive oil. Any additions make it your own signature dish. The amount of garlic you choose to use is based on how much you like a strong flavor. You can start with the smaller amount and then add more, if desired. Some ideas include adding capers, shredded carrots, celery, red bell pepper and even anchovies. You can also add other fresh or dried herbs like thyme, chives, burnet or marjoram. Some sauces are not cooked and others blend all the ingredients together by simmering them for a few minutes. Try this version and then put your own personal stamp on it.
Try this on grilled vegetables, shrimp, scallops or other fish as well as poultry and of course meat. I have enjoyed it on lamb, pork and beef. The garlic and herbs add a touch of pizazz to any simple meat, poultry or seafood in a marinade as well as a sauce on the side. It is also lovely drizzled over grilled or roasted zucchini, eggplant, peppers or asparagus. I like to keep this in my refrigerator to have available to me at a moment's notice. If you refrigerate it, make sure to bring it to room temperature and season to taste.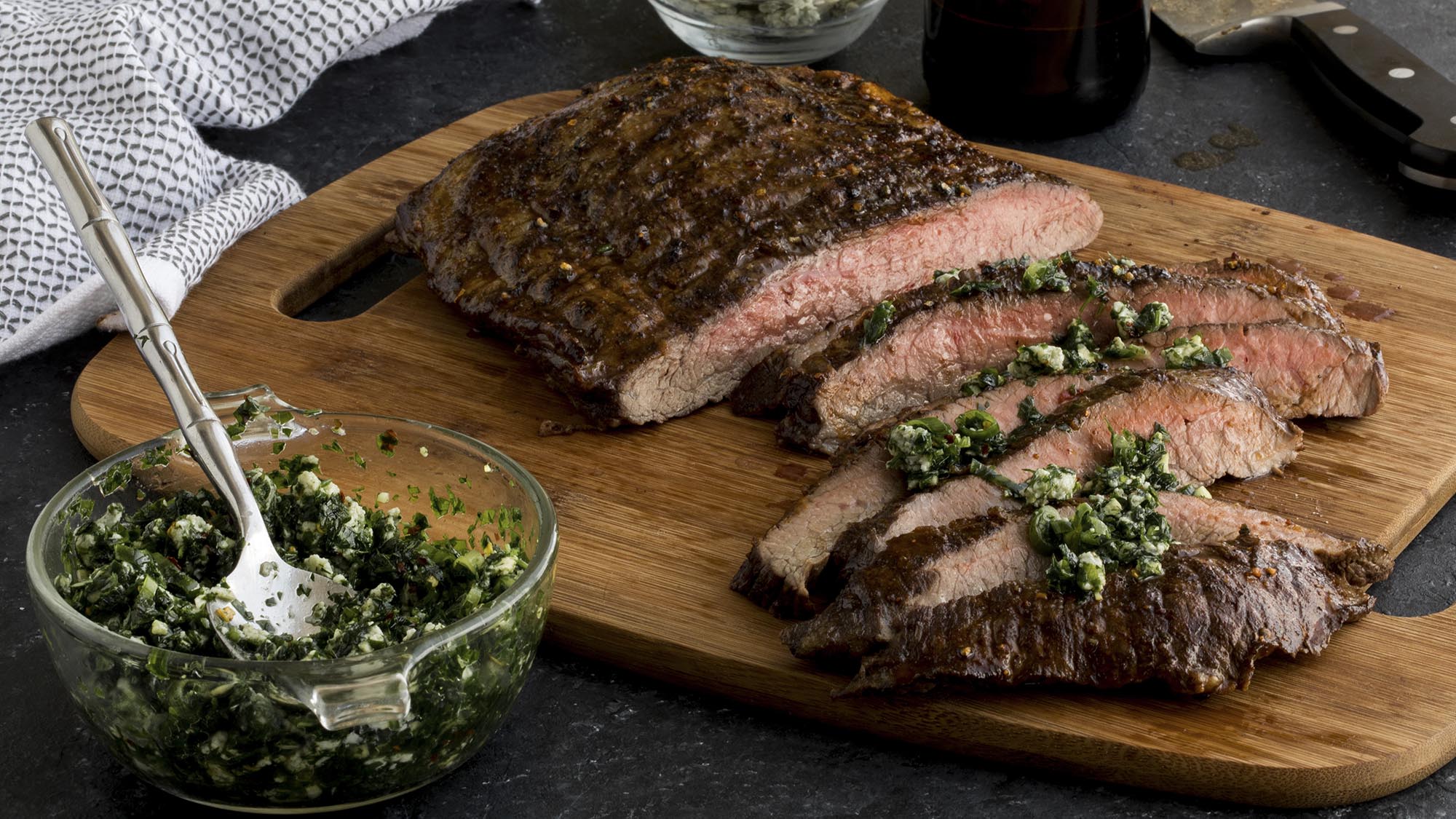 Chimichurri Sauce
Makes about 1 3/4 cups
6 to 10 medium garlic cloves, depending upon your taste
1 medium bunch Italian parsley, stems removed
2 tablespoons fresh basil, coarsely chopped
2 tablespoons fresh mint, coarsely chopped
3/4 teaspoon dried oregano
3/4 cup olive oil
1/4 cup white balsamic vinegar
1/4 cup water
1/4 teaspoon crushed hot pepper flakes, or to taste
Salt, to taste
In a food processor puree the garlic. Add the parsley and other herbs and process until finely chopped. Add the oil, vinegar, water, crushed hot pepper flakes and salt, and process. Taste for seasoning. It should be very flavorful and spicy. Adjust if necessary. Set aside.
This article is written by Diane Rossen Worthington from Seriously Simple and was legally licensed via the Tribune Content Agency through the NewsCred publisher network. Please direct all licensing questions to legal@newscred.com.