You're only five ingredients and a few minutes away from a batch of frozen margaritas in your favorite flavor, including mango, peach and more! 
Warmer weather is upon us, which means frozen drink season is coming. While we love a good strawberry daiquiri or piña colada at the beach, frozen margaritas just hold a special place in our hearts—especially when they only require a handful of ingredients and we can make them at home. 
Our formula for skinny frozen margaritas is pretty healthy, since there's not a lot of added sugar (there's only ¼ cup of simple syrup divided among six servings). But they also taste plenty sweet: Frozen fruit takes care of that and gives these margs the fresh flavor we love.
Whether you're a fan of frozen mango margaritas, peach margaritas, strawberry margaritas or pineapple margaritas, we've got you covered. This formula works for any fruit you've got in your freezer! Heck, you can even open up a package of frozen berries or mixed tropical fruit—it all works beautifully.
To become a margarita master, it may be worth stocking up on a few essentials, like a blender (regular or high-speed will work well) We like these:
Oster Master Blender or Vitamix Blender
Set of 6 margarita glasses
Citrus juicer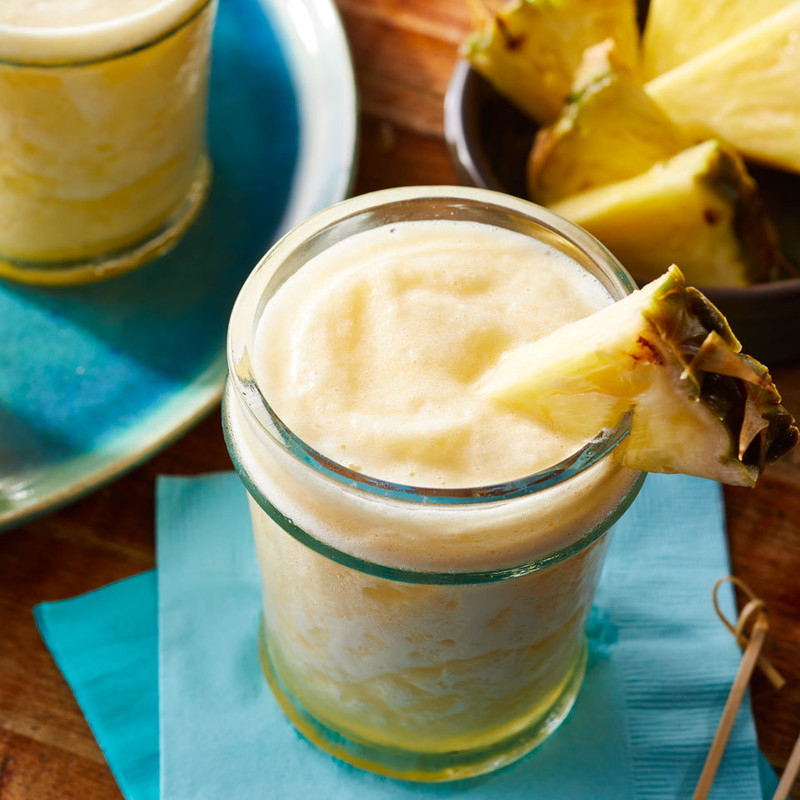 How to Make Frozen Margaritas in 2 Easy Steps
Ingredients:
Here's the formula to help you nail frozen margaritas at home. Go ahead and whip up a batch for practice (we won't tell):
5 cups frozen fruit
3 cups ice
1 cup tequila
⅔ cup lime juice
½ cup Triple Sec
¼ cup simple syrup
Directions:
1. Make simple syrup
Bring 1 cup sugar and 1 cup water to a boil in a medium saucepan, stirring frequently to dissolve the sugar. Let cool for 30 minutes and then refrigerate until cold, at least 1 hour. Makes about 1 1/2 cups. (Store extra simple syrup covered in the refrigerator for up to 1 month.) 
2. Blend and enjoy
Puree everything in a blender until smooth and serve in your favorite margarita or cocktail glasses. Cheers!
Prefer your margs on the rocks? See The Only Recipe You Need to Make the Best Skinny Margarita to learn how to make the perfect classic margarita.
This article was written by Jaime Milan from EatingWell and was legally licensed through the NewsCred publisher network. Please direct all licensing questions to legal@newscred.com.