Whether part of an impossibly high-end, multi-course tasting (otherwise known as an omakase), or ordered at an all-you-can eat sit-down, sushi has certainly garnered mass appeal. So much so, that at-home cooks have begun to try their hands at becoming amateur chefs. And once you get a hang of the method, sushi is actually easy to make. The ingredients are generally raw – calling for little more than slicing, dicing, and of course, rolling! 
That said, it helps to know your way around the most popular sushi rolls, whether you're selecting off of a menu, or just playing around in your kitchen.  
What Is A Maki Roll? 
A Maki (Makiushi) is a traditional sushi roll that consists of fish, vegetables, rice and rolled up in a seaweed. The sushi roll will sometimes include various sauces and the meat can be either cooked or raw. 
Types Of Maki
Hosomaki: A very thin roll of sushi that is about 1 inch around. Hosomaki is made with nori (seaweed paper), rice and a single ingredient which can be a meat or a vegetable. 
Chumaki: Usually an 1 1/2 inch around and contains 2 or 3 different ingredients instead of just 1 as seen in the Hosomaki.
Futomaki: The largest of the maki rolls, Futomaki is usually 2 1/2 inches around and can include 4 or more ingredients, not including the rice and nori. 
Uramaki: Most sushi rolls will have nori as the outer layer as the wrapping but for uramaki, the sushi roll is turned "inside out", with the rice as the outer later and the nori on the inside wrapping the ingredients. 
Temaki: Also known as a "hand roll", looks like an ice cream cone, temaki is made specifically to be held in the hand when being eaten. 
Maki vs. Sashimi
Sashimi is a thin slice of raw fish and is not a roll. There is no rice, nori or vegetable for sashimi as seen with maki. Although a slice of raw fish may seem simple, mastering the technique can take several years. Sashimi is usually served with daikon (Japanese radish), soy sauce and wasabi. 
Nigiri vs. Maki 
Nigiri is sushi that is prepared by putting a single slice of meat (fish, shrimp, scallops, etc.) on a hand-pressed rectangle-shaped block of rice. A small dab of wasabi is usually place in-between the rice and fish. 
Must Try Maki Sushi Roll Recipes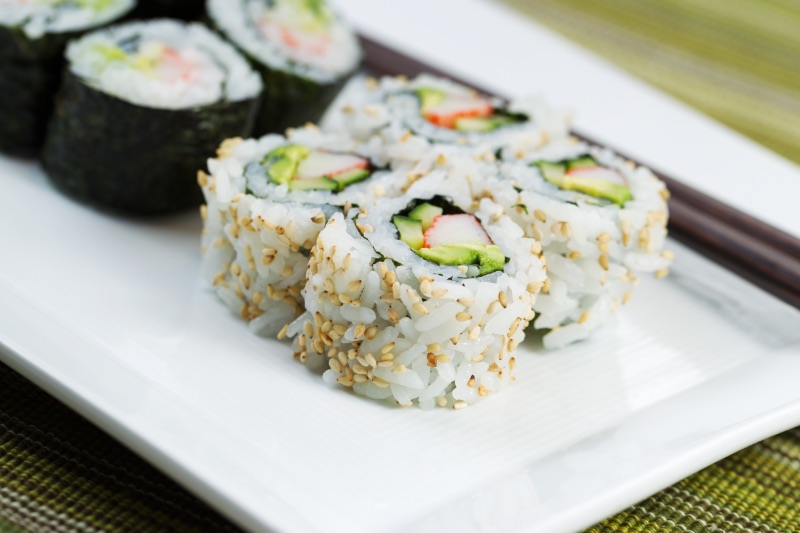 California Roll
Since the perennially popular Cali roll doesn't contain raw fish, it's often considered entry level sushi. So what's in a California roll? The classic California roll recipe for California roll sushi contains crab (or imitation crab), cucumber and avocado. 
Boston Roll
Poached shrimp is the signature shellfish in Boston roll sushi, paired with julienned strips of creamy avocado and crunchy cucumber.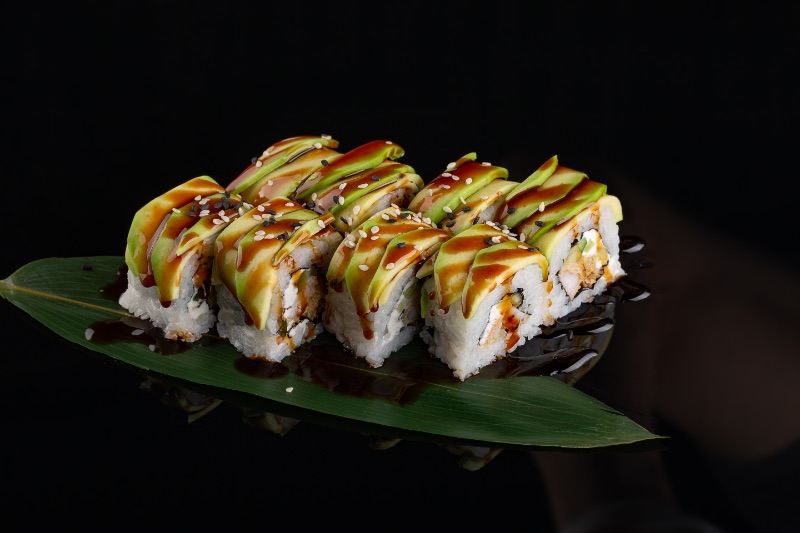 Dragon Roll
Don't worry if you're not a fan of heat. Bursting with bits of shrimp tempura and fresh cucumber, these eye-popping rolls are actually called dragon roll sushi because they boast concentric layers of bright avocado on the outside. The cool effect is that they look like scales!
Tiger Roll
Tiger roll sushi is truly over the top. That's because it features two types of shellfish—airy shrimp tempura and mild imitation crab – along with cucumber, avocado, and sticky unagi sauce made from sweetened soy.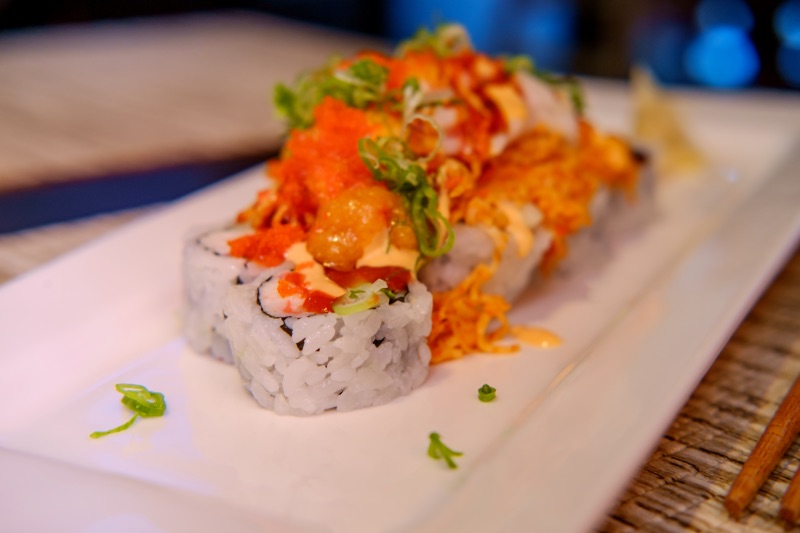 Volcano Roll
Talk about an explosion of flavors. Not only is it filled with spicy tuna and cucumber roll, this extravagant roll is served topped with a lava flow of rock shrimp tempura. 
Rock and Roll
Rock and roll sushi will have you dancing to the beat of shatteringly crisp shrimp tempura, rolled with fresh matchsticks of cucumber and avocado.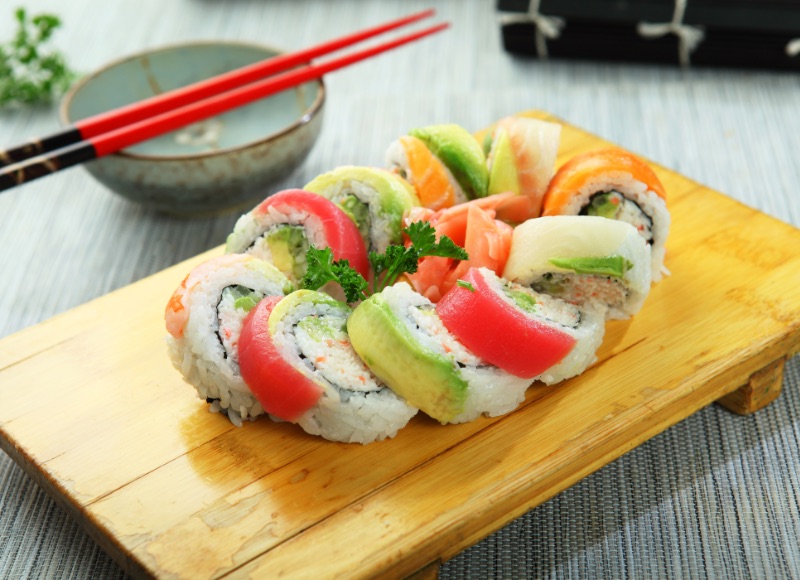 Rainbow Roll
Taste the rainbow! Rainbow roll sushi is essentially a California roll, wrapped in colorful layers of fish (commonly salmon and tuna) as well as buttery avocado, instead of nori. 
Alaska Roll
Alaska roll sushi is filled with salmon (unsurprisingly, considering it's one of the major resources of the state), along with avocado. Which sounds basic, until you realize that the roll itself is formed inside out, before being smothered in panko and deep fried!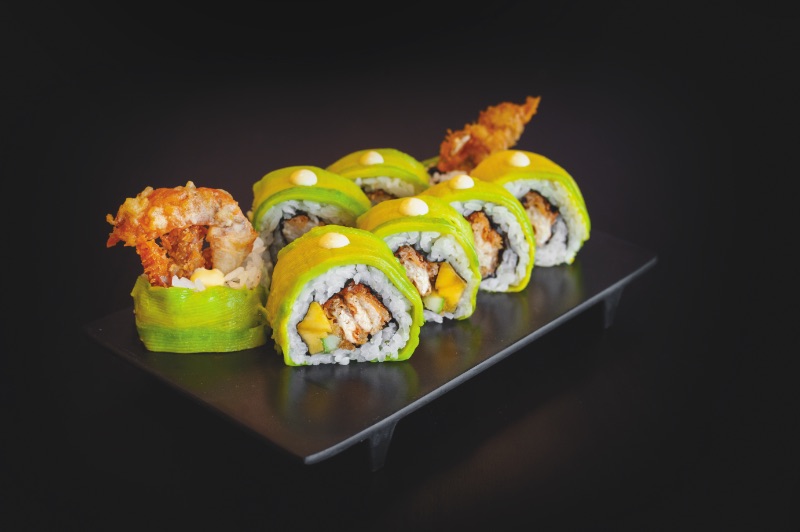 Spider Roll
It's got legs for days! Spider roll sushi is a type of crunchy roll sushi stuffed with battered and fried soft shell crab, and often topped with a sweetened soy sauce. 
Philadelphia Roll
It should come as little surprise that cream cheese is the feature ingredient of this ode to the City of Brotherly Love, along with smoked salmon. It's like breakfast in a sushi roll, with bagels swapped out for rice!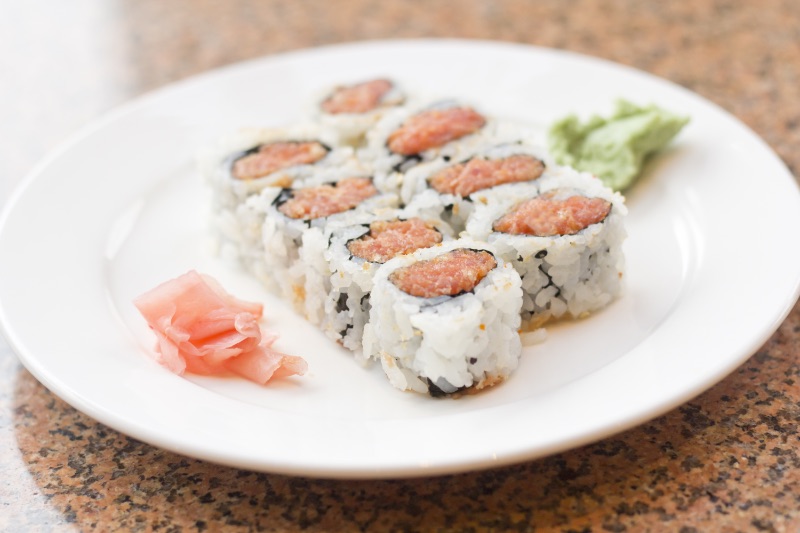 Spicy Tuna Roll, Spicy Salmon Roll, and Spicy Crab Roll
It doesn't really matter what seafood you choose. The method behind these creamy, lip-tingling rolls is the same – combining finely diced fish with a mayo and sriracha-based sauce.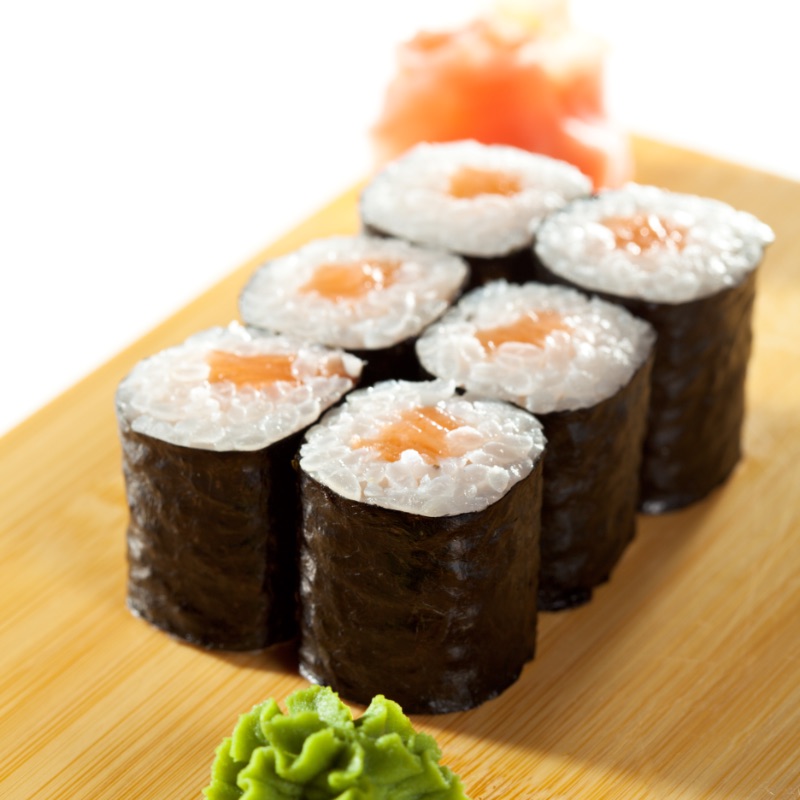 Salmon Roll
The lusciously fatty and cheerfully pink fish can be rolled on its own, or combined with cucumber and avocado. Or why not try a salmon skin roll, which contributes tons of texture and crunch – not to mention an extra dose of omega-3's?
Avocado Roll
Not into fish? No problem. This simple maki roll is perfect for vegetarians, since it contains nothing more than strips of perfectly ripe avocado, rolled in seasoned rice and wrapped with nori. 
Looking for tips on becoming a skilled at-home sushi chef? Check out our guide on How to Make Sushi! 
Japanese Recipes To Try 
Learn More About Japanese Cuisine 
Save your favorite Japanese recipes and organize your ingredients with our online meal planner.  You can also make meal prep simple by creating a Flavor Profile, so you can store your favorite recipes and create grocery lists for easy shopping.