'Tis the season for gifting. And while we love us some edible Christmas gifts we love homemade presents that aren't of the edible variety, too - like slime.
Not only is it easy to make with just a few ingredients, but you can customize your slime to make a range of gift-worthy Christmas creations. Best of all, it'll keep the kids entertained while you're busy feast-prepping.
Need inspo? No problem. Read on for your go-to guide on how to make festive holiday slime, a guaranteed holiday hit at your next Christmas party!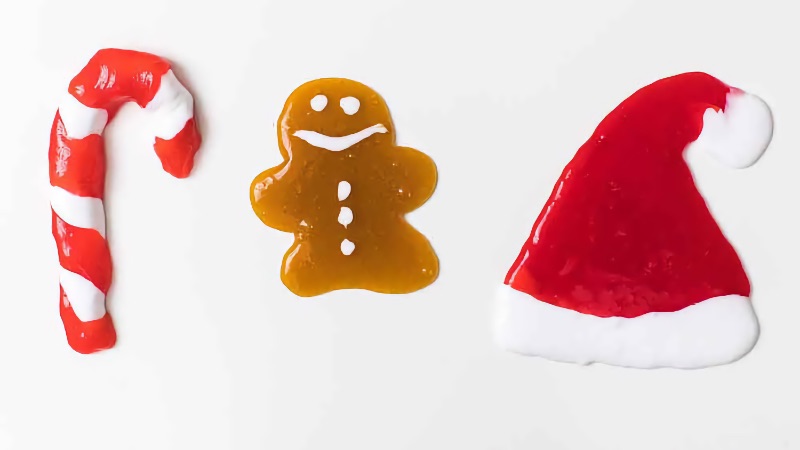 How to Make Christmas Slime
Holiday slime is a super-simple gift to make. It takes 10 minutes of prep time and uses ingredients you probably already have in your home:
• 1 bottle (4 to 5 ounces) washable school glue
• 1 teaspoon baking soda
• 1 Tablespoon water
• 1-2 teaspoons contact lens solution
• Extracts and food coloring
To make Christmas slime, simply:
1. Mix the glue – clear glue for translucent slime, or white glue for opaque slime – and baking soda in a mixing bowl.
2. Stir in the water, food color and extracts.
3. Add the contact lens solution and stir until the mixture is no longer sticky, then knead the "dough" until it no longer sticks to your hands.

Now comes the fun part: customizing!
Customize Your Christmas Slime
Food coloring and extracts make it easy to customize holiday slime. Add-ins like glitter or tiny floam balls create texture and festive fun.
Try one of these seven simple Christmas slime ideas (or create your own!):
1. Christmas Tree Slime
Gather 'round the Christmas ... slime. Make tree-inspired slime with green food coloring, adding a drop or two of black food coloring until it looks perfectly pine-ey. Then stir in cinnamon extract so it smells festive. "Trim" your Christmas tree slime with multicolored glitter or floam balls.
2. Gingerbread Slime
The perfect treat for your gingerbread-obsessed niece? Gingerbread slime, of course!

Use a mix of pumpkin pie spice extract and cinnamon extract to add that signature spicy scent, then add green, red and yellow food coloring to get a gingery hue. See our guide here for the right ratios.
3. Santa Claus Slime
It's not Christmas without Santa, so why not gift Santa-inspired slime – scented like a plate of cookies, of course!

Adding a few drops of almond flavoring, butter extract and orange extract give this slime a delectable holiday cookie aroma, while red coloring gives it the cheery color of Santa's suit.
4. Snow Slime
If your family loves cranberry sauce (and who doesn't?) why not gift a winter berry slime? Use clear glue in your slime recipe to create a translucent base.

Then mix in strawberry and raspberry extracts to give slime a pleasant berry scent – plus a drop or two of peppermint extract for iciness.

Create a bright berry color with neon pink and blue food coloring, then stir in some silver glitter for the "snowflakes."
5. Birthday Cake Slime
Even if traditional fruitcake isn't a favorite in your house, there's no reason Christmas cake-inspired slime won't be!

Use our cake batter flavor to give your slime a birthday cake scent, and use red and blue food colorings to create a deep plummy purple. Finish off your birthday cake slime by adding multicolored floam balls and voilá, a non-edible fruitcake the kids will love.
6. Peppermint Slime
Peppermint bark is one of the best Christmas gifts – second only to peppermint slime, of course! And creating this delightful slime is easy.

Simply make up a batch of opaque white slime using white glue, then add pure peppermint extract and clear vanilla flavor until it smells minty and utterly delicious.

Complete the candy cane look by adding red and white floam balls.
7. Christmas Lights Slime
Trimming the tree is one of the most fun parts of the holiday – so why not make slime inspired by Christmas lights?

To start, make a clear slime base scented with cinnamon and vanilla extracts.

Then stir in gold glitter until there's just enough sparkle and add multicolored floam balls for the "lights."