As evidenced by its popular presence on restaurant appetizer menus, a crock of bubbling spinach and artichoke dip -- the savior of many a happy hour -- is one of the most comforting and crowd-pleasing dips out there. It isn't hard to make a tasty version of this dip, but with a few tips you can make the ultimate spinach and artichoke dip -- one so delicious you just might eat so much you spoil your appetite for dinner. We promise we won't tell.
The nice thing about spinach and artichoke dip is that you can use shortcuts with the vegetables. Thaw out some frozen spinach in the microwave and pop open a jar of artichoke hearts and you're ready to go (although those feeling more ambitious can certainly blanch some fresh baby spinach instead). The key to the veggies, though, is chopping them into bite-sized pieces so that they're easily scoopable. Chop up some garlic and some scallions while you're at it for extra flavor.
Don't be skimpy with the dairy
Dairy is the name of the game when making great spinach and artichoke dip, and we use four different kinds here for the perfect balance. Parmesan adds salty nuttiness, mozzarella cheese adds mild creaminess, sour cream adds tang, and cream cheese helps to thicken and bind everything together. Mix those together with some mayonnaise and you have the ultimate base that will bake up bubbling and comforting. Stirring in a little lemon zest will help cut through some of that richness.
Heat first, then broil
Many spinach and artichoke dip recipes call for softening cream cheese first and then mixing it with the other ingredients before it goes in the oven. Instead of having to remember to take out the cream cheese an hour or two before you need it, or struggling to blend the chunks of cream cheese into everything else, skip using a mixing bowl and heat everything up together on the stove first. A quick stint on the stove means that you can start with cream cheese straight out of the refrigerator, and the heat guarantees that everything is perfectly melted and combined. Since the dip is already warmed up, it just needs to spend a few minutes under the broiler to get the top golden-brown before you're ready to serve.
How to serve
Feel free to serve this dip with crackers, French bread, or tortilla chips. We also like a mix of fresh vegetables like cucumber or carrot sticks, or even some wedges of peppery radishes for scooping the dip. If you find yourself with leftover dip, which, let's face it, will probably not happen, you can also toss it with some hot pasta for a super-easy dinner.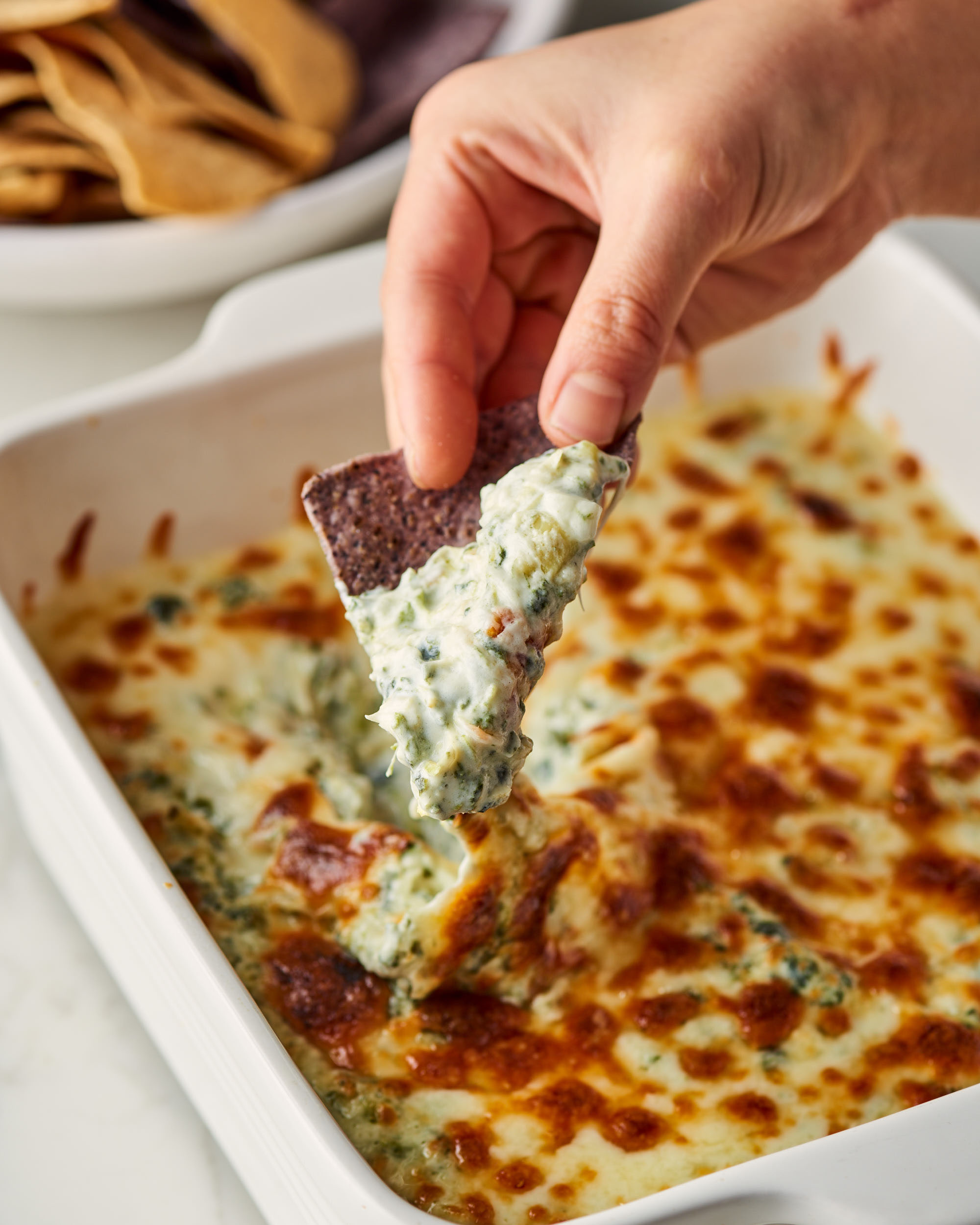 Spinach Artichoke Dip
Makes about 1 quart; serves 12
Cooking spray
1 (10-ounce) package frozen chopped spinach, or 12 ounces fresh baby spinach
1 (14-ounce) can or jar artichoke hearts packed in water
3 medium scallions
2 cloves garlic
4 ounces low-moisture mozzarella cheese, shredded (1 cup) and divided
1 ounce Parmesan cheese, grated (1/4 cup)
8 ounces cream cheese
1 cup sour cream (8 ounces)
1/2 cup mayonnaise
1/2 teaspoon kosher salt, plus more as needed
1/4 teaspoon freshly ground black pepper
Finely grated zest of 1 medium lemon
Crackers, tortilla chips, baguette slices, crostini or crudites, for serving
1. Arrange a rack 5 to 6 inches from the broiler element. Heat the oven to broil. Coat an 8-by-8-inch broiler-safe baking dish with cooking spray.
2. Prepare the spinach. If using frozen spinach, place 10 ounces in a microwave-safe bowl and microwave in 1-minute bursts until defrosted. If using fresh spinach, blanch 12 ounces in a large pot of boiling water until wilted, then drain and rinse with cold water.
3. When cool enough to handle, squeeze all the excess moisture from the spinach. If using fresh spinach, coarsely chop it. Place the spinach in a large saucepan.
4. Drain the artichokes and chop into bite-sized pieces. Thinly slice 3 scallions and mince 2 garlic cloves. Add everything to the saucepan.
5. Shred 4 ounces mozzarella cheese (1 cup) and grate 1 ounce Parmesan cheese (1/4 cup). Add the Parmesan and 1/2 cup of the mozzarella to the saucepan.
6. Add the creamy ingredients and seasoning. Cut 8 ounces cream cheese into 8 pieces. Add the cream cheese, 1 cup sour cream, 1/2 cup mayonnaise, 1/2 teaspoon kosher salt and 1/4 teaspoon black pepper to the saucepan.
7. Heat until melted and smooth. Cook the dip over medium heat, stirring frequently, until the cream cheese melts and the dip is evenly combined and steaming, about 8 to 10 minutes. Meanwhile, finely grate the zest of 1 lemon.
8. Remove the dip from the heat and stir in the lemon zest.
9. Transfer the dip to the baking dish and spread into an even layer. Sprinkle with the remaining 1/2 cup mozzarella cheese. Broil until the cheese on top is melted golden brown, 3 to 5 minutes. Serve warm with crackers, tortilla chips, baguette slices, crostini or crudites.
Recipe notes: The dip can be assembled without the mozzarella cheese on top, covered with aluminum foil, and refrigerated up to one day ahead. Sprinkle with the mozzarella before baking uncovered at 375 F until bubbling, about 30 minutes. Broil until the cheese on top is melted golden brown, 3 to 5 minutes. Leftovers can be stored in an airtight container in the refrigerator for up to four days.
This article is written by Christine Gallary from The Kitchn and was legally licensed via the Tribune Content Agency through the NewsCred publisher network. Please direct all licensing questions to legal@newscred.com.