Flavor Profile
Meet oregano, a robust herb with a peppery bite and a sweet, almost minty aroma. It stands with red pepper flakes and Parmesan cheese as one of America's favorite "shake-on" pizza toppings. But look beyond pizza, and you'll find that oregano brings a world of flavor to a wide variety of foods. An assertive cousin to marjoram, oregano livens up classic Italian tomato sauce, Greek meats and fish dishes. We love it as a zippy counterpoint to cooked and raw vegetables. Your nose will tell you if your bottle of oregano is fresh. One whiff should transport you to your imaginary Italian grandmother's kitchen. Buon appetito!
Usage
Oregano has a natural affinity for all things tomato. That's why it's a staple of the southern Italian kitchen, where tomato dishes grace the table year-round. From slow-cooked tomato sauce to spiced tomato juice to fresh tomato salad, oregano never met a tomato it didn't like.
Greek cuisine makes good use of oregano's minty flavor and aroma. We like sprinkling oregano in dressing for a classic Greek salad and marinade for lamb and chicken kebabs. You can also use it to help season roasted potatoes and deliver herby richness to pork and lemon stew.
Our oregano brings depth and character to any pot of beans. We find it can enhance traditional Italian cannellini beans and varieties like pinto, black and garbanzo. When cooking beans from scratch, add oregano to the water with a bay leaf and an onion. Or flavor your beans with olive oil, oregano, salt, black pepper and a pinch of cayenne pepper.
Perfect Partners
A little char from the grill is the perfect match for the peppery bite of oregano. Whether in a marinade, vinaigrette dressing or rub, oregano lends bold character to grilled poultry, pork and fish.
Our oregano plays well with other Mediterranean herbs. Try making your own blend of oregano, basil and thyme, and then add a touch of salt and pepper and a good pinch of paprika for color. Baked chicken never tasted so good!
Eggs and cheese are also great mates for oregano. Want to liven up a frittata or make a super-savory omelet? Oregano to the rescue! Add a few shakes of oregano when you scramble the eggs, along with a handful of grated Parmesan or Romano cheese. Soon you'll be craving breakfast for dinner.
Summer vegetables like zucchini, eggplant and tomatoes have a longstanding love affair with oregano. Turn zucchini and corn into a scrumptious salad with a simple dressing of lemon, olive oil, oregano and garlic, together with a crumble of feta cheese. We've found this same vinaigrette makes an excellent dressing for cooked eggplant. Add a few red pepper flakes and fresh or dried basil for extra flavor.
Substitutes
Q: If I don't have oregano on hand, what makes a good substitute?
A: The Mediterranean clan of herbs offers several good substitutes for oregano. Marjoram, a relative in the mint family, is perhaps the closest match. Oregano is a bit more pungent, but both share an herby, peppery flavor and aroma. Thyme and basil will also work well. You can substitute an equal measure of any of these herbs for the other. Fresh oregano is also a possibility. One tablespoon of chopped fresh herb equals one teaspoon of dried. Mexican oregano? Not a match. It's related to lemon verbena and brings citrus and anise flavors that might change the character of your dish.
History/Fun Facts
Oregano wasn't widely used in the U.S. until G.I.s returned home from Italy after World War II, bringing a taste for the herb with them. It's been enjoyed on the American table ever since. But oregano has long been a favorite in the Mediterranean kitchen. In the Greek language, the word oregano means "joy of the mountain" and it was said to be a favorite of Aphrodite, the goddess of love.
Popular Recipe Recommendations
Corn and Potato Chowder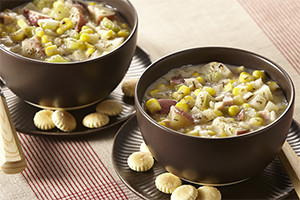 Broccoli and Potato Frittata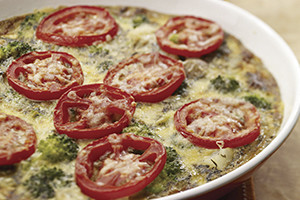 Garlic and Herb Roasted Potatoes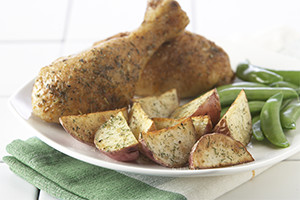 Herbed Turkey Meatballs