Flavor Profile
Mexican oregano brings robust flavor to Mexican, Tex-Mex and South American cooking. We love its peppery, citrusy flavor in salsa, chili, burritos, enchiladas and tacos. It's entirely different from its Mediterranean counterpart. Unlike the ground oregano we love so much in Italian tomato sauce and Greek marinades, Mexican oregano is a member of the verbena family, the flamboyant cousin of the lemon verbena. Rub a pinch of Mexican oregano between your fingertips to release the herb's fragrant oils before dropping it into a bowl of tortilla soup. Your nose—and your taste buds—will thank you. You'll know it's Mexican oregano if it smells like a super-intense version of Mediterranean oregano, with bright notes of pepper and lemon.
Usage
Mexican cooks rely on the strong flavor of Mexican oregano for a wide variety of traditional dishes. We use it in fresh or cooked salsa, meat mixtures for burritos and tacos, enchilada sauce, and classic braised pork.
Cuban cuisine makes delicious use of this peppery herb. Mexican oregano is the key flavor in that country's famous slow-cooked ropa vieja, or braised and shredded beef. You'll also find Mexican oregano in Cuban-braised pork and as a seasoning for black beans.
In the home kitchens of Central and South America, you'll find as many recipes for arroz con pollo (chicken and rice) as there are cooks. But all will feature Mexican oregano for its enticing flavor and aroma.
Perfect Partners
Mexican oregano has a strong bond with all members of the traditional Mexican pantry. It partners well with chilies, avocado, beef, tomatoes, beans and fresh cheese. We enjoy it as an all-purpose seasoning, together with salt and pepper.
Let's talk about chili. We can argue about whether to add kidney beans and beef or reinvent it as white chili with turkey and cannellini beans. But there's one thing we can all agree on: Mexican oregano. It's a natural partner for chili seasonings. Try it with chipotle chili pepper, ground cumin, cayenne red pepper and black pepper.
Scrambled eggs partner well with this fragrant herb. Take your breakfast south-of-the-border by scrambling eggs with browned onions, chopped tomatoes, chilies and a sprinkling of Mexican oregano. Serve the eggs wrapped in tortillas or—our favorite—with a side of spicy corn bread.
Substitutes
Q: If I don't have Mexican oregano on hand, what makes a good substitute?
A: You can always substitute regular oregano leaves for Mexican oregano leaves. It won't be quite as pungent, but it'll do the trick. Substitute one for the other in equal measure. Mexican oregano does add a citrus note to recipes as well, so you may wish to introduce that flavor by including a few pinches of ground coriander.
History/Fun Facts
Mexican oregano is known by a number of different names. Some call it Mexican marjoram and others Mexican wild sage. It's also referred to as té de pais or country tea in Mexico, where it's prepared as an herbal tea. Whatever you call it, Mexican oregano is not the same as the more common Mediterranean oregano of Italy and Greece. Mediterranean oregano is a member of the mint family, while Mexican oregano is related to the Verbenaceae family, which includes lemon verbena. That accounts for the lemony finish that lends complexity to its robust, peppery flavor. Sniff the two oreganos side by side and you'll smell the difference right away!
Popular Recipe Recommendations
Mexican Slow-Roasted Pork (Cochinita Pibil)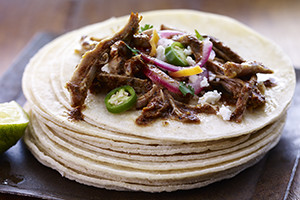 Red Pozole