How do you make chicken and dumplings the best they can be? We'll show the simple secrets to perfecting this ultimate comfort food recipe.
If you're wondering how to make dumplings for chicken and dumplings, you've come to the right place. We've been telling people how to make dumplings for decades. In fact, a go-to recipe for dumplings appears in just about every edition of our famous Better Homes & Gardens New Cook Book, including, of course, the most recent edition. Although the midcentury recipe made with oil and regular milk was mighty good, our Test Kitchen has improved the formula over the years. Here, we'll show you how to make chicken and dumplings even better than ever. (Spoiler alert: Shortening works better than oil, but the true secret is buttermilk.)
How to Make Chicken and Dumplings with Noodle-Like Dumplings
The first question to answer as you learn how to make chicken and dumplings is which kind of dumplings you want to make. Speaking broadly, there are two basic categories of dumplings for chicken and dumplings: puffy, biscuit-like dumplings and flat, noodle-like dumplings.
Here we'll show you how to make chicken dumplings that are puffy and biscuit-like. If you want to learn how to make chicken dumplings with the noodle-like variety, follow our recipe for Classic Chicken and Dumplings.
Test Kitchen Tip: Wondering how to make chicken and dumplings with biscuits? Biscuits won't cook up quite the same as dumplings in a stew; however, this easy and warming Chicken Pot Pie with Biscuits recipe will offer everything you're looking for in a chicken-and-biscuit recipe.
How to Make Chicken and Dumplings with Cornmeal Dumplings
Here's another choice you need to make as you learn how to make homemade chicken and dumplings: Do you want flour or cornmeal dumplings? Heartier than flour dumplings, cornmeal dumplings are a great choice if you love corn bread (they resemble dense corn bread), and they're a wonderfully filling choice when you're looking for warming winter chicken dinners. Try them in our Chicken Stew with Cornmeal Dumplings pictured above.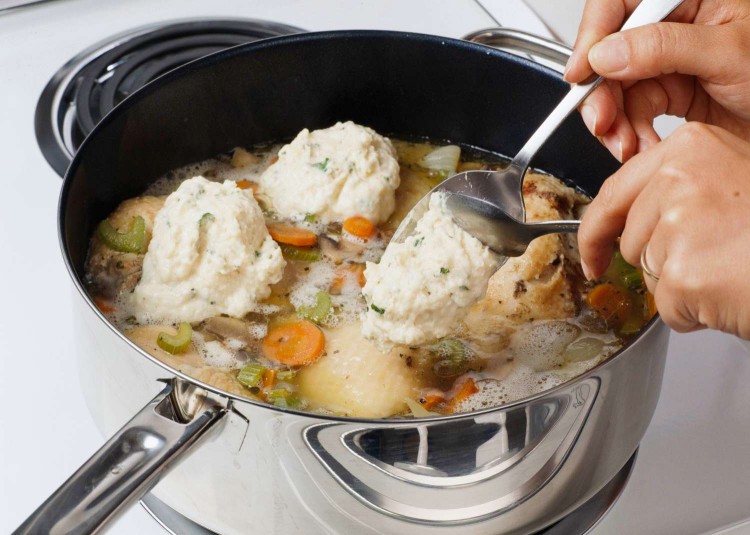 Mike Dieter
How to Make Chicken and Dumplings with Flour Dumplings
If you want to learn how to make chicken and dumplings from scratch, start with our most traditional Chicken and Dumplings recipe. You'll note that this recipe calls for buttermilk, which adds great body and texture to the dumplings. If you don't have buttermilk, try these buttermilk substitutions.
Here are a few tips to keep in mind when making chicken and dumplings:
Cut the shortening into the flour just until the mixture resembles coarse crumbs. The best way to do this is with a pastry blender, though using two knives in a crisscross fashion will also work.
Dumplings for chicken and dumplings can be flavored with herbs and other tasty ingredients. For some inspiration, try our Chicken Soup with Chive Dumplings, Chicken and Spinach Dumplings, or Sage Chicken-Dumpling Soup.
Be sure to spoon the dumpling mixture on top of the chicken in the pot. (Do not spoon the dumpling mixture into the liquid.) Remember: You are steaming the dumplings, so it is key that the air in the pot is hot and steamy. Therefore, do not lift the lid while the dumplings are cooking.
Dumplings are done when a wooden toothpick inserted into the dumplings comes out clean.
Test Kitchen Tip: How do you make dumplings with Bisquick? The two-ingredient recipe is on the back of the product box – just add milk to the mix as directed. Another time, try our delicious Chicken and Biscuits, which also calls for packaged biscuit mix.
Ta-da! Now you know how to make chicken and dumplings. Of course, these aren't the only kinds of dumplings in the dumpling universe. Now that you have a handle on these all-American dumplings, go global and give Asian-Style Dumplings a try. And remember, dumplings swing sweet too. There are all kinds of dessert dumplings that are worth keeping in mind, especially in summer and fall when fruits are at their in-season best. How about some Country-Style Pear Dumplings or classic Apple Dumplings Deluxe? Sweet or savory, dumplings are one of our favorite ways to book a trip to comfort-food city.
This article was written by Wini Moranville from Better Homes and Gardens and was legally licensed through the Industry Dive Content Marketplace. Please direct all licensing questions to legal@industrydive.com.