If you're a fan of Starbucks, there's a pretty good chance you've enjoyed a caramel macchiato at least once in your lifetime. Steamed milk, vanilla syrup, espresso and a drizzle of caramel sauce come together to create something seriously delicious. And it's available year-round!
As a fan of this drink, it only felt natural to recreate those flavors in an unexpected way. Enter this caramel macchiato French toast. The breakfast equivalent to the beloved coffee drink. Thick slices of challah bread are dipped in homemade custard spiked with caramel and espresso powder, then fried in butter until golden. Enjoy a stack with a cup of hot coffee, and you'll be ready to take on the day.
While this recipe uses store-bought caramel sauce to keep things simple, you're more than welcome to make your own. We're partial to this recipe -- which only takes a few ingredients to make and is very rich and buttery -- but any homemade caramel sauce will work. If you're going the store-bought route, we recommend Ghirardelli. It's specifically developed for use in coffee drinks, so it's the perfect thing to replicate the classic macchiato flavor we were after. If you really want to step up your breakfast game, warm up the caramel before drizzling it over your French toast. You can thank us later.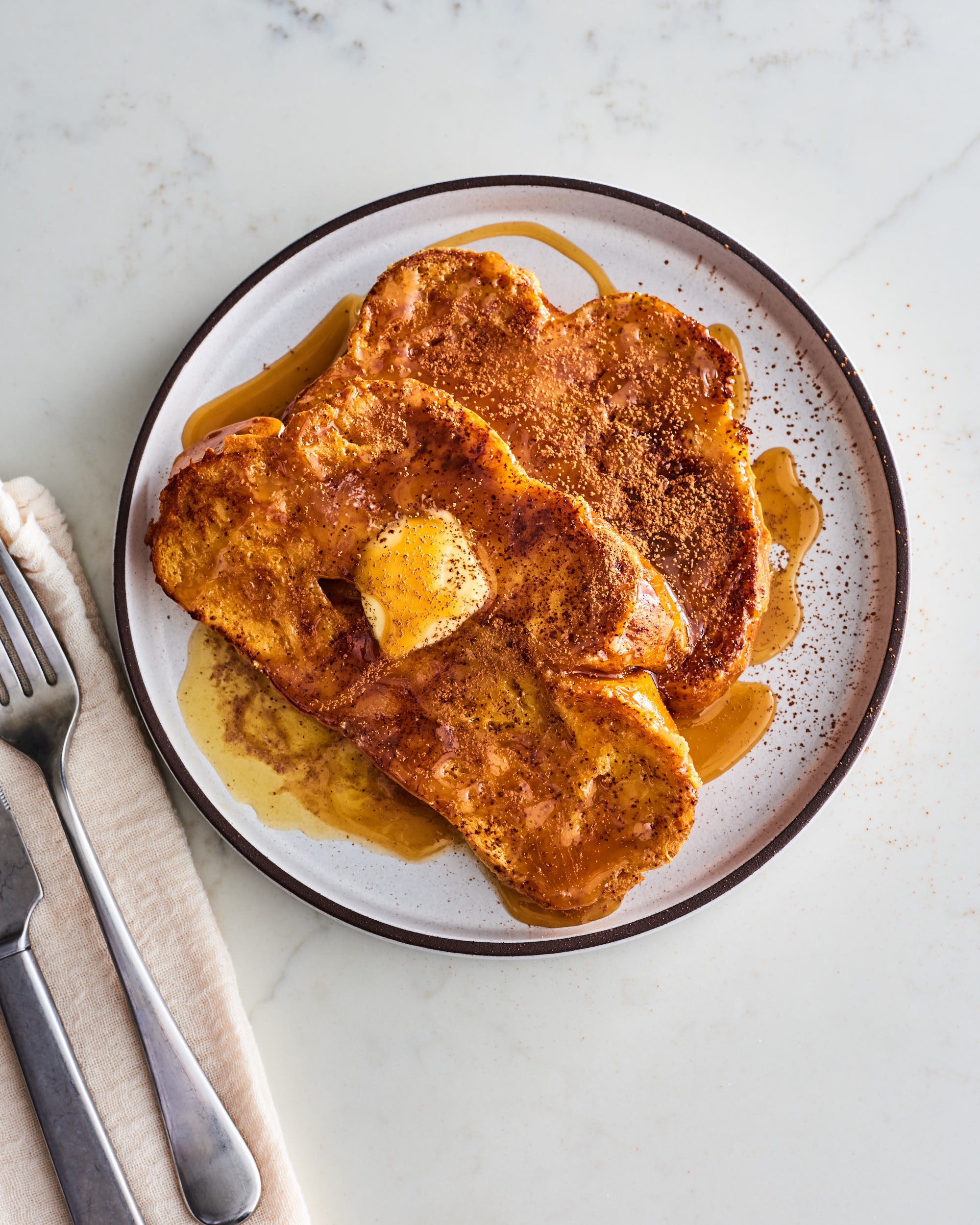 Caramel Macchiato French Toast
Serves 4
For the custard:
1 1/2 cups whole milk, heavy cream, or a combination
6 large eggs
1 cup caramel sauce, plus more for serving
2 tablespoons maple syrup
1 tablespoon espresso powder, plus more for serving
1/4 teaspoon kosher salt
For the French toast:
8 (1-inch thick) slices challah bread
2 tablespoons unsalted butter, divided, plus more for serving
1. Make the custard: Place 1 1/2 cups whole milk or heavy cream (or a combination), 6 large eggs, 1 cup caramel sauce, 2 tablespoons maple syrup, 1 tablespoon espresso powder and 1/4 teaspoon kosher salt in a large bowl. Whisk until fully combined and no streaks of unbeaten egg remain. Pour into a 9-by-13-inch baking dish.
2. Make the French toast: Cut 8 (1-inch) thick slices challah bread.
3. Place 4 slices in a single layer in the custard. Soak, flipping once, until moistened but not falling apart, 1 to 2 minutes per side. Transfer the soaked slices to a wire rack set over a baking sheet. Repeat with the remaining 4 slices.
4. Melt 1 tablespoon of the unsalted butter in a large nonstick skillet over medium heat until sizzling but not browned. Add 4 challah slices in a single layer and cook until the bottoms are golden-brown and crispy, 3 to 4 minutes. Flip and cook until the second side is browned, 2 to 3 minutes more. Transfer to a serving plate. Add the remaining 1 tablespoon unsalted butter to the skillet and repeat cooking the remaining challah slices. Serve with more caramel sauce, a dusting of espresso powder, and butter.
Recipe notes
The bread: We suggest using sliced challah bread for this recipe, but you can use just about any thickly sliced bread you have on hand.
Espresso powder: This recipe calls for espresso powder, which can be found in the coffee or baking section of most well-stocked grocery stores. If unavailable, instant coffee granules can be used instead.
Storage: Leftovers can be refrigerated in an airtight container up to five days or frozen up to two months.
This article is written by Jesse Szewczyk from The Kitchn and was legally licensed via the Tribune Content Agency through the NewsCred publisher network. Please direct all licensing questions to legal@newscred.com.