Dustin Gardner has mentored scores of young cooks in the 16 years he's served as executive chef of Casbah, an upscale Mediterranean restaurant in Shadyside. But it's safe to say the budding chef who tugs tightest on his heartstrings is his pint-sized daughter.
Gardner, of White Oak, and his wife, Lindsay – the two met while students at the former Pennsylvania Culinary Institute – have been cooking with 3-year-old Ellie for as long as she's been able to crawl up onto a step stool at the kitchen counter. Which is to say before the youngster even celebrated her first birthday.
He knows what you're thinking: Of course the child of two chefs would have a natural interest in cooking.
"It's what we do as a family," he says, "so we wanted her to be a part of it."
Yet the truth is, you don't have to be a pro to have fun with your kids in the kitchen, says Gardner, and the experts agree. Even something as simple as stirring together a brownie mix or helping mom or dad tear lettuce leaves for salad will give them a sense of accomplishment. It will also lay the foundation for a lifetime of healthy eating, and help create a positive relationship with food.
"Like with anything, when kids are involved, they'll want to do it," Lindsay notes.
You will, however, need to be patient with the process, put your kids in clothes you don't mind getting dirty, and be OK with some (inevitable) messy moments.
While Ellie was helping her mom stir together chocolate chip cookie batter on a recent Monday, for example, more than a little flour ended up on the counter instead of in the mixing bowl, as she filled and leveled off a measuring cup with a bench scraper. The pair also had to carefully fish a few bits of eggshell out of the bowl with their fingertips, because the toddler is still learning – with unbridled excitement – how to successfully crack an egg without getting tiny fragments of shell in the yolks and whites.
"Ooohhh!," Ellie exclaimed with glee as pulled the crushed egg apart with her thumbs.
"Kids have great instincts," says Lindsay, who worked as a pastry chef at Tender Bar + Restaurant, Sonoma Grill and Ceviche before embarking on a career in social media and web design.
They also can learn in the simplest ways, whether it's spooning sugar into a measuring cup, rinsing veggies in the sink, sprinkling sanding sugar onto a cookie or stirring chopped herbs into yogurt or sour cream for a dip. Just be age-appropriate in your approach (i.e., no sharp blades or hot ovens for little ones), start small and keep it simple with a handful of familiar ingredients.
While a 3-year-old shouldn't be chopping onions, she or he can spread sauce or shredded cheese on a pizza, spin greens for a salad, stir together room-temperature ingredients or help mash boiled (and cooled) potatoes. Elementary-aged kids will have fun scrambling eggs, icing cupcakes, rolling cocktail hot dogs into pastry dough for pigs in a blanket or, as they hone their knife skills, slicing cucumbers or tomatoes for a salad.
Because her tiny hands are still not strong enough to use a child-safe knife independently, Ellie has learned to cut a loaf of bread and other soft items with a plastic knife, with her mother's hands guiding her from behind.
There's good reason to let kids help you out in the kitchen.
Kitchen work helps with hand-eye coordination and fine-motor skills, and it also allows children to practice their number skills in a fun way by counting out the various ingredients.
Reading recipes aloud together can also help build a kid's vocabulary, and learning to follow a set of instructions will certainly come in handy once they're in school.
If you allow your child to have a hand in choosing what goes on the plate, while also gently encouraging them to at least try new ingredients an unfamiliar recipe might bring, you'll also make them a happier, less picky eater because they will have a positive experience with all different types of food.
Try dishes from other parts of the world – say, tacos or an Asian stir-fry – and you'll also build cultural awareness.
Perhaps most important of all, pairing up in the kitchen is a great way for parent and child to spend meaningful time together while building lifelong memories and traditions. As Dustin Gardner puts it, "One of the best parts [of cooking with Ellie] is it's really fun to watch the people who mean the most to me share a common passion."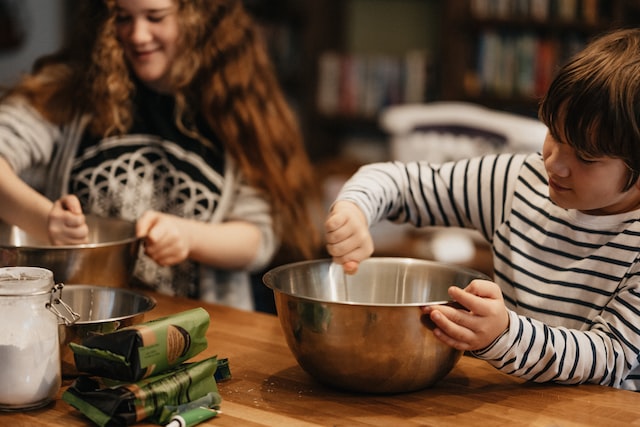 Photo by Annie Spratt
The New Year is a great time to set goals. Make cooking with your kids one of them. Here are some tips to help make it easier:
Start small – maybe really small, depending on your child's age and abilities – and set aside plenty of time. Everything will probably take longer than you expect.
Kids are bound to mess up a recipe here and there, and tiny hands won't always get every bit of an ingredient into a bowl or measuring cup. So acknowledge there may be some food waste along the way, says Lindsay. Do some damage control by putting a plastic cloth on the floor or a dish towel underneath their work station.
Little ones will do their best work if they're at the right height at the counter. Invest in an adjustable-height step stool with safety rails.
Think safety! Nothing hot or sharp within reach!
Kids are notorious for having short attention spans, and you don't want to turn your back for even a second, leaving them to their own devices to get in trouble. So have your recipe at the ready, and read through it so all the ingredients and equipment are handy. You don't want to be rummaging through the silverware drawer in search of measuring spoons while your child is elbow-deep in a bag of flour.
Standard kitchen tools are often too heavy, large or dangerous for little fingers to use. Consider a set of functional, child-friendly cooking and baking tools that actually fits a youngster's hand. For ages 7 and up, Uncommon Goods' Little Kitchen Helper Knife Set includes a four-inch stainless-steel knife and vegetable peeler along with a finger guard that supports the food being cut and teaches proper finger placement.
Relax, and have fun! Create happy memories in the kitchen, and you're bound to promote healthy eating habits. A positive experience can also make them a more adventurous eater.
And if you need some age-appropriate ideas? There are any number of cookbooks to help you, including the just-released "The Official Daniel Tiger Cookbook" based on the popular TV show on PBS Kids. Geared to ages 4 and up, it includes 45 easy-to-follow, "grr-ific" recipes for kid-friendly dishes both sweet and savory, along with kitchen safety rules, a guide to handwashing and food allergies.
Good Housekeeping's "1,2,3 Cook! My First Cookbook" is another great place for the youngest cooks to start, with 50 easy-to-read recipes that speak directly to kids. Test kitchen "avatars" offer helpful hints and explanations, and it also includes a pictorial guide to kitchen tools and common cooking techniques such as cracking eggs, spreading frosting on cookies and measuring dry ingredients.
This article is written by Gretchen McKay from Pittsburgh Post-Gazette and was legally licensed via the Tribune Content Agency through the Industry Dive Content Marketplace. Please direct all licensing questions to legal@industrydive.com.