One of the most valuable things I learned during a round of Whole30 is to seek out the foods and recipes you want to eat, and then find a way to make them Whole30-compliant. For me, herb-flecked Italian meatballs were at the top of the list. As it turns out, making a grain-free, dairy-free version is surprisingly easy, and they're just as irresistibly tender and delicious as the classic.
Served over a pile of zucchini noodles, roasted veggies or sauteed greens, they're sure to satisfy a craving for a saucy Italian-style dinner. Trust me -- you'll never even miss the spaghetti.
Whole30 meatballs are a big-batch favorite
I'm a firm believer in batch cooking, especially when following a plan like Whole30 that requires a lot of cooking. If you put in the work during a single prep session upfront, weeknight cooking becomes a whole lot easier. And meatballs are a prime candidate for batch cooking. This recipe makes two-dozen meatballs -- and can be easily scaled up if you want to make even more -- meaning you've got a few nights of easy dinners that just need to be reheated. That's a definite win when you don't feel like cooking.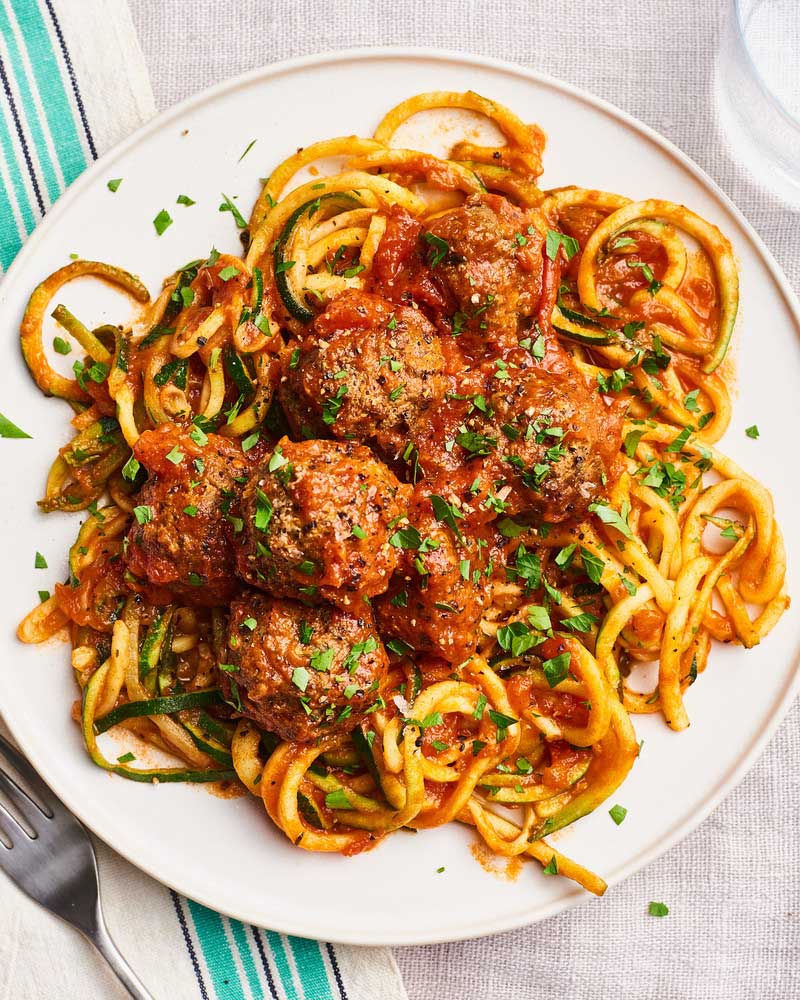 Whole30 Italian Meatballs with Marinara
Makes 24 (1 1/2-inch) meatballs
Serves 4 to 6
2 pounds lean ground beef
1 small yellow onion, finely chopped
1/3 cup coarsely chopped fresh parsley leaves
3 cloves garlic, minced
1 tablespoon salt-free Italian seasoning
1 1/2 teaspoons kosher salt
1/2 teaspoon freshly ground black pepper
1/4 teaspoon red pepper flakes
1 large egg, beaten
2 tablespoons olive oil
1 (24- to 26-ounce) jar no sugar-added marinara sauce, such as Rao's
1. Place the ground beef, onion, parsley, garlic, Italian seasoning, salt, pepper, red pepper flakes and egg in a large bowl. Use your fingers to work the mixture together just until all the ingredients are evenly combined. Do not overwork.
2. Form the mixture into 1 1/2-inch meatballs (about 2 tablespoons each), and place the formed meatballs on a rimmed baking sheet.
3. Heat the oil in a large high-sided skillet or Dutch oven over medium until shimmering. Working in batches if needed to make sure the pan is not crowded, add the meatballs, and cook, turning every minute, until browned all over, 3 to 5 minutes.
4. Return all the meatballs to the pan, and add the sauce. Stir to combine, and bring to a simmer over medium heat. Simmer until cooked through and an instant-read thermometer registers 165 F, 8 to 10 minutes.
Recipe notes: To make ahead, make meat mixture the day before, form into meatballs, and place on the parchment-lined baking sheet. Cover and refrigerate until ready to cook. Alternatively, freeze until solid, then transfer to a resealable freezer bag and freeze for up to two months. You do not need to thaw before cooking, but the meatballs will need additional cooking time. Leftovers can be stored in a covered container in the refrigerator for up to four days.
This article is written by Kelli Foster from The Kitchn and was legally licensed via the Tribune Content Agency through the NewsCred publisher network. Please direct all licensing questions to legal@newscred.com.