Few weeks go by during the summertime months that I don't have a big bowl of pasta salad in my fridge. This saucy pesto number (my family's current favorite) is as verdant and vibrant as they come — corkscrew noodles are dressed with a vibrant basil pesto sauce, then tossed with sweet, juicy cherry tomatoes, crunchy cucumbers, and pearls of fresh mozzarella.
Pasta salad lasts for days in the fridge, making it great for potlucks and picnics. But this year, with large gatherings off the table, you can still take advantage of its make-ahead qualities by serving a batch for Sunday dinner and again for lunches throughout the week. It's the tastiest form of meal prep there is.
While other pasta salads span the spectrum of overly oily to dry and flavorless, this version is dressed to perfection, thanks to a flavorful jazzed-up pesto sauce. If your patio garden is quickly turning into a jungle of basil stalks, make your own pesto with a shower of Parmesan and pine nuts, and a glug of good olive oil. There's also no shame in leaving the pesto-making to the pros and buying a bottle from the store instead.
Before tossing the pesto with the pasta, you'll add three simple upgrades: lemon juice, mayo and spinach. A squeeze of fresh lemon juice brightens the pesto's flavor, a spoonful of mayo adds body to the sauce without weighing it down, and blending in a few handfuls of baby spinach is an easy way to work in veggies — and keeps it green for days.
This pasta salad is best served at room temperature, but the lemony basil flavor is still strong straight from the fridge.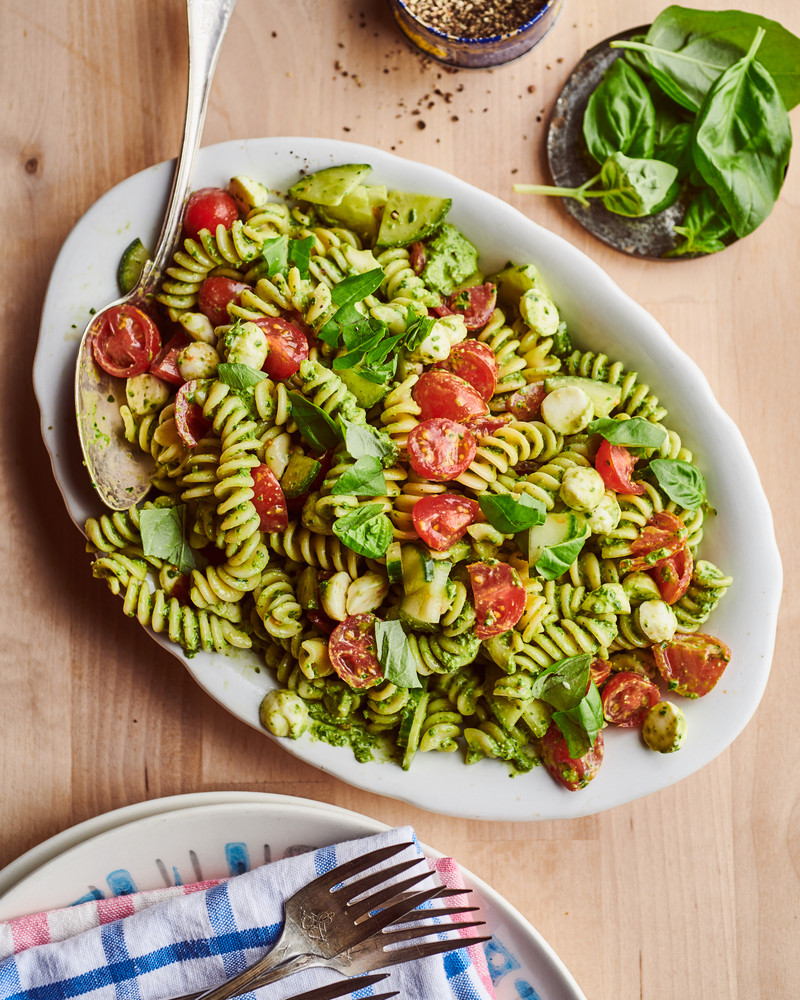 Pesto Pasta Salad
Serves 8; makes 9 cups
1/2 medium lemon
5 ounces baby spinach (about 5 cups)
1/2 cup basil pesto
1/4 cup mayonnaise
1/2 teaspoon kosher salt, plus more for cooking pasta
1/4 teaspoon freshly ground black pepper
1 pound dried short pasta, such as fusilli, rotini, or cavatappi
1/2 medium English cucumber
1 pint cherry or grape tomatoes (10 ounces)
8 ounces mini mozzarella cheese balls
Torn fresh basil leaves, for serving
1. Bring 2 quarts heavily salted water to a boil in a large pot over medium-high heat. Meanwhile, juice 1/2 medium lemon until you get 1 tablespoon juice; add the juice to a food processor fitted with the blade attachment. Add 5 ounces baby spinach (about 5 cups), 1/2 cup basil pesto, 1/4 cup mayonnaise, 1/2 teaspoon kosher salt, and 1/4 teaspoon black pepper. Process until smooth, about 20 seconds.
2. When the water is boiling, add 1 pound dry short pasta and cook until al dente — soft with just a bit of chew — about 8 minutes or according to package directions. Meanwhile, prepare an ice bath in a large bowl.
3. Drain the pasta in a colander and run under cold water until no longer steaming. Dunk the colander in the ice bath and set aside to cool for 5 minutes. Meanwhile, quarter 1/2 English cucumber lengthwise, then thinly slice crosswise (1 cup). Halve (or quarter if large) 1 pint cherry or grape tomatoes. Drain and halve 8 ounces mini mozzarella cheese balls.
4. Drain the pasta well and transfer to a large bowl. Add the spinach pesto and toss to coat. Stir in the cucumber, tomatoes and mozzarella. Garnish with torn basil leaves.
Recipe notes: The pasta salad can be made up to one day in advance and refrigerated. Stir in all but 1/2 cup of the spinach pesto before storing. Stir in the reserved pesto just before serving. Refrigerate leftovers in an airtight container for up to four days.
This article is written by Patty Catalano, TheKitchn.com from The Kitchn and was legally licensed via the Tribune Content Agency through the NewsCred publisher network. Please direct all licensing questions to legal@newscred.com.