Making a big pot of simmering sauce on the weekend always leaves me with a sense of triumph. I love that it's going to feed my family tonight and make loads of leftovers for the week ahead. This turkey Bolognese is no exception, except that it doesn't require hours of cooking and it makes intentional leftovers for eating a completely different dinner another night.
Turkey Bolognese isn't a classic Bolognese, but it does deliver the rich, meaty flavor of a sauce that's simmered all day — and it's much more economical for feeding a hungry family. This month's Rollover Dinners transforms the comfort of that slow-cooked Sunday sauce into delicious stuffed peppers, so you can cook once and eat twice off of one pot.
Big-batch Bolognese, small-batch efforts
In addition to swapping the traditional lamb or beef for turkey to make this sauce easier on your grocery budget, this rich sauce also shortcuts the prep. Instead of finely chopping all the vegetables by hand (or leaving them in big chunks to the disdain of picky eaters), you'll break out the food processor, which gets the base of this sauce ready in less than 10 minutes.
You'll want to build the sauce in the largest pot you've got. A large pot will help cook the turkey without steaming it and keeps splatter to a minimum. We've included cooking directions for fresh linguine, but you can use your favorite dried pasta too, or serve this sauce over polenta or garlic bread.
Roll over leftovers into another easy meal
Before adding your pasta to the pot, be sure to reserve two cups of the Bolognese for creamy turkey and rice stuffed peppers.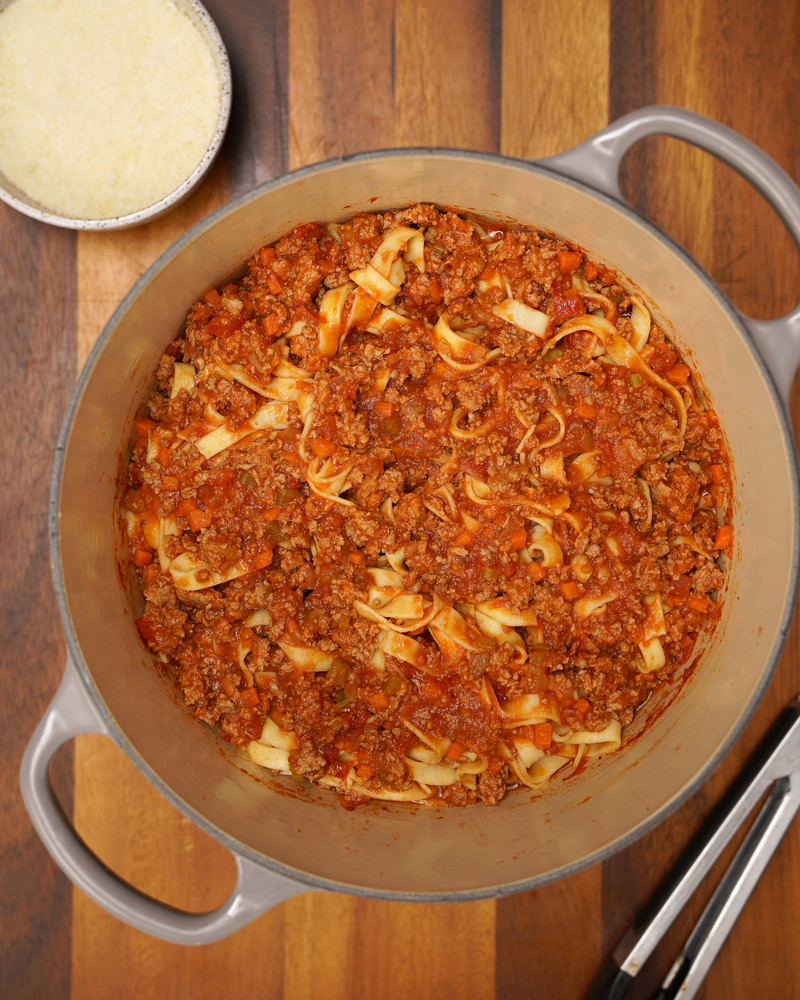 Big-Batch Turkey Bolognese with Linguine
Serves 4 to 6, Makes About 2 quarts sauce
3 medium carrots
1 large yellow onion
2 stalks celery
4 cloves garlic
2 tablespoons olive oil
3 pounds ground turkey, preferably 85% lean
1 teaspoon dried oregano
1/2 teaspoon kosher salt, plus more as needed
1 (28-ounce) can crushed tomatoes
1/2 cup dry red wine
1/2 cup whole milk
1/4 cup tomato paste
18 ounces fresh linguine pasta
Parmesan cheese, for serving
1. Peel and coarsely chop 3 medium carrots and 1 large yellow onion. Coarsely chop 2 celery stalks. Mince 4 garlic cloves. Place the carrots, onion and celery to a food processor fitted with the blade attachment and pulse until finely chopped, 6 to 8 pulses.
2. Heat 2 tablespoons olive oil in a large Dutch oven over medium heat until shimmering. Add the chopped vegetables and garlic and cook, stirring frequently, until the vegetables are softened, about 10 minutes.
3. Add 3 pounds ground turkey and break it up into large pieces with a wooden spoon. Add 1 teaspoon dried oregano and 1/2 teaspoon kosher salt. Cook, breaking the turkey up with the spoon as much as possible, until cooked through, about 10 minutes.
4. Add 1 (28-ounce) can crushed tomatoes, 1/2 cup red wine, 1/2 cup whole milk and 1/4 cup tomato paste, and stir to combine. Reduce the heat to maintain a simmer and cook uncovered until slightly thickened and lightened in color, 20 to 25 minutes. Meanwhile, bring a large pot of salted water to a boil over high heat.
5. When the Bolognese is ready, taste and season with kosher salt as needed. Reduce the heat for the pasta water to medium. Add 18 ounces fresh linguine and cook according to the package directions. Reserve 1 cup of the pasta water. Drain the pasta and return it to the pot.
6. Reserve 2 cups of the Bolognese for a leftover meal. Add the remaining cooked Bolognese to the pasta as desired and toss to combine. Thin the sauce as needed with the reserved pasta water. Serve immediately with a generous grating of Parmesan cheese.
Recipe notes: Leftovers can be refrigerated in an airtight container for up to four days. The Bolognese can also be frozen up to two months. If using dried pasta, cook 1 pound dried pasta according to pasta directions. Save the same amount of pasta cooking water and proceed with the recipe.
This article is written by Meghan Splawn, TheKitchn.com from The Kitchn and was legally licensed via the Tribune Content Agency through the Industry Dive publisher network. Please direct all licensing questions to legal@industrydive.com.