My meal mantra as of late, due to fatigue from almost a year of nonstop cooking, has been simple: Put an egg on it. This is hardly a new notion, but it has provided me with great comfort throughout these unsettled months where I find myself staring into the fridge at a total loss of what to cook.
There are so many ways to put an egg on it (like pasta, or avocado toast) but it's these crispy fried eggs over creamy, lemon-zested Greek yogurt and garlicky greens, all topped with smoky, spicy sage butter that I've been turning to on repeat for breakfast, lunch, and dinner. It hits all the high flavor and textural notes of a fancy restaurant meal, and yet it's humble and wholesome, and so easy to pull together.
This any-time-of-day recipe is a complete meal
This recipe is inspired by a traditional Turkish dish called cilbir, which involves poached eggs served over garlicky yogurt and drizzled with melted, spice-infused butter. But as much as I enjoy a perfect poached egg, nothing beats the crispy, lacy edges that can only come from cracking an egg into a hot, oily skillet and frying it — which is why fried eggs star in my twist on the classic.
A generous serving of sauteed kale is sandwiched between the yogurt and eggs to turn the bowl into a balanced meal, and the melted butter is infused with sage leaves, smoked paprika and red pepper flakes. The sage leaves are my favorite part — in addition to lending an earthy, sweet flavor to the butter, they become a crunchy, chip-like garnish for each bowl.
The flexibility here is intentional. Top your bowl with one or two fried eggs, depending on how hungry you are, and serve it whenever you need a satisfying meal, whether morning, noon, or night. Be sure to serve with pita or another type of flatbread if you've got it, since you'll have a marvelous mix of yogurt, runny egg yolks and melted butter to sop up.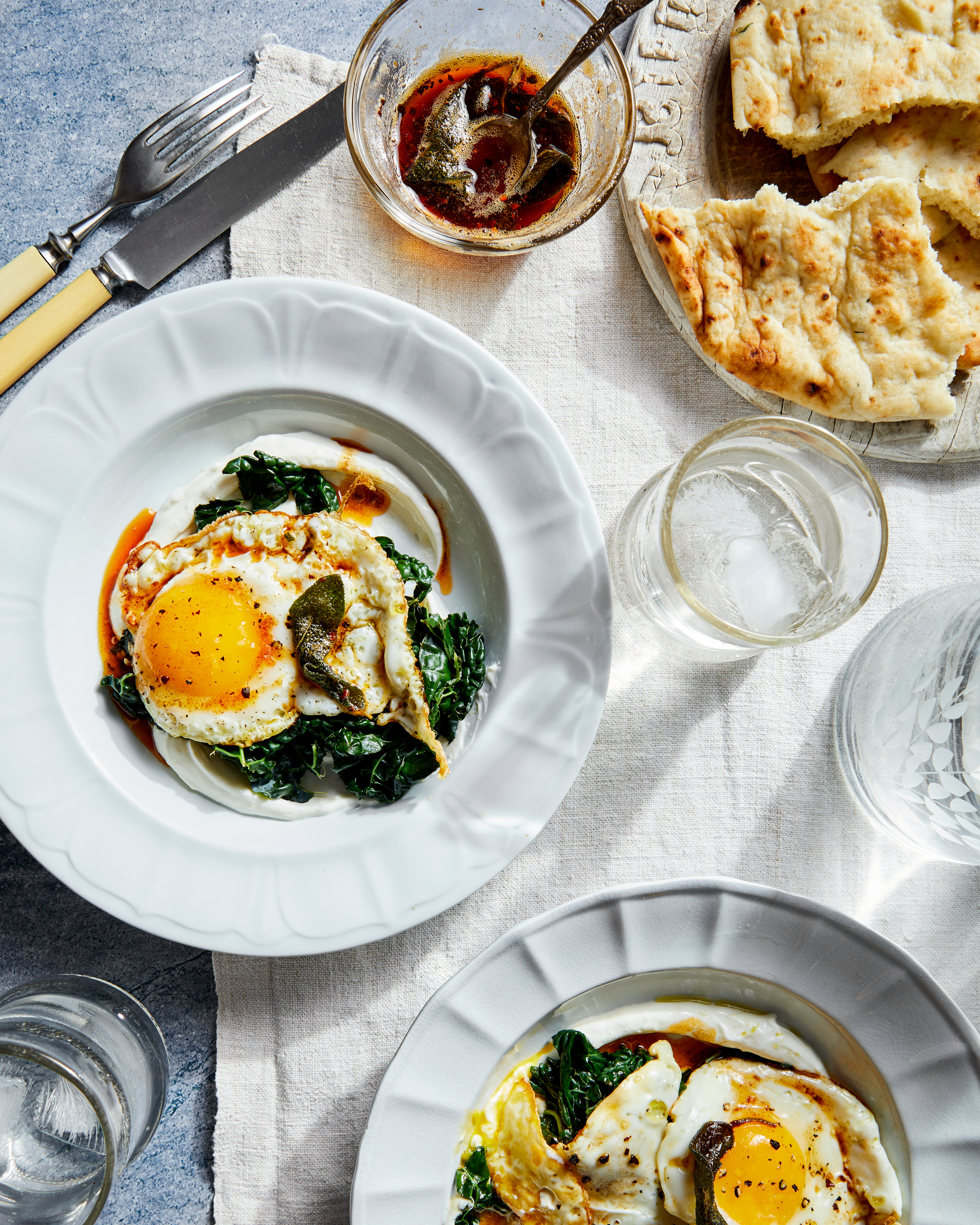 Crispy Fried Eggs with Yogurt, Greens and Smoked Herb Butter
Serves 4
2 small bunches flat-leaf (lacinato) kale (about 1 pound total)
1 small lemon
2 cloves garlic, divided
1 cup plain whole-milk Greek yogurt
1/2 teaspoon kosher salt, divided, plus more as needed
4 tablespoons unsalted butter
8 fresh sage leaves
1/2 teaspoon smoked paprika
1/4 teaspoon red pepper flakes
Freshly ground black pepper
2 to 4 tablespoons olive oil
4 to 8 large eggs
Pita or flatbread, for serving (optional)
1. Use your hands to pull the leaves from the stems of 2 small bunches flat-leaf (lacinato) kale. Tear the leaves into bite-sized pieces and place in a colander. Rinse them, but do not dry.
2. Use a Microplane to finely grate the zest of 1 small lemon and 1 garlic clove into a small bowl. Add 1 cup Greek yogurt and 1/4 teaspoon of the kosher salt, and stir to combine. Divide the yogurt among 4 shallow bowls and spread it out in a large, even circle with the back of a spoon. Halve the lemon and set aside.
3. Melt 4 tablespoons unsalted butter in a large nonstick skillet over medium heat. Stir in 8 fresh sage leaves, 1/2 teaspoon smoked paprika, 1/4 teaspoon red pepper flakes and a pinch of kosher salt. Cook, stirring occasionally, until the sage leaves begin to curl at the edges and crisp, and the mixture is very fragrant, 1 to 2 minutes. Scrape the mixture, with the sage leaves, into a small bowl.
4. Return the skillet to medium heat (no need to wipe out). Add the kale a few handfuls at a time, stirring after each addition so that it starts to wilt, until all of the kale is added. Finely grate the remaining garlic clove into the skillet, add the remaining 1/4 teaspoon kosher salt and a few grinds of black pepper, and stir to combine. Cover and cook, stirring occasionally, until the kale is just tender, about 5 minutes.
5. Remove from the heat, squeeze in the juice from both lemon halves, and stir to combine. Divide the kale among the 4 bowls, piling it on top of the yogurt but keeping the edges of the yogurt exposed.
6. Return the skillet to the stove (no need to wipe out). Drizzle 2 tablespoons olive oil into the skillet and heat over medium-high heat until shimmering. Crack 4 large eggs into the skillet, season with salt and pepper, and let cook undisturbed until the whites are crispy and golden-brown on the edges and set, and the yolks are runny, 2 to 4 minutes. If cooking 2 eggs per person, transfer the cooked eggs to a plate and repeat with the remaining 2 tablespoons olive oil and 4 eggs.
7. Place 1 or 2 fried eggs on top of the kale in each bowl. Drizzle with the smoked sage butter and serve immediately with pita or flatbread, if desired.
Recipe notes: While this dish is best served immediately, leftovers can be stored in an airtight container in the refrigerator for up to a day.
This article is written by Sheela Prakash, The Kitchn.com from The Kitchn and was legally licensed via the Tribune Content Agency through the Industry Dive publisher network. Please direct all licensing questions to legal@industrydive.com.