If I had a summer cooking motto it might be "frittatas forever" because frittatas are the real sweethearts of the kitchen. You always have the main ingredient -- eggs -- on hand, you can throw any vegetables and cheese you want into frittatas, and they cook up in a flash to be served hot and bubbly from the oven or at room temp with good bread and a salad.
This one is particularly great at using up all those farmers' market vegetables that you bought with the best of intentions. Frittatas forgive you for forgetting about basil and onions in the fridge and welcome your half a bell pepper and zucchini (that's going soft) with enthusiasm, all while helping you make a summer supper that can do double duty as breakfast or lunch too.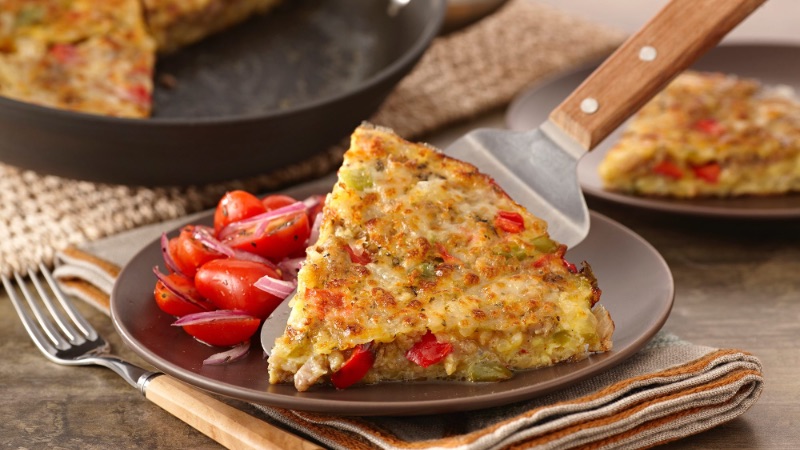 Here's the magic formula to this fridge-clearing wunderkind: 6 eggs + 2 cups chopped vegetables + 3 cups chopped greens.
A frittata is like the acoustic version of quiche: It's stripped down, with no crust or cream, and baked in the same pan that the vegetables are cooked in. This is good news for those of us who dislike dishwashing and need a quick dinner. You'll want to saute heartier vegetable like onions, peppers, or zucchini before building the frittata, so a cast iron pan is the best choice, as it can go from stovetop to oven like a pro.
Cheese folded into the frittata is highly recommended, but optional; just make sure it goes on top just before baking.
We've been there and we know you're going to be there too: a fridge full of summer produce just waiting for the perfect cooking situation. Whether you're heading out the door for a road trip, avoiding the stove during a heatwave, or having friends over on short notice, these simple, thoughtful meals have been designed to help you -- and your cooking -- thrive this summer.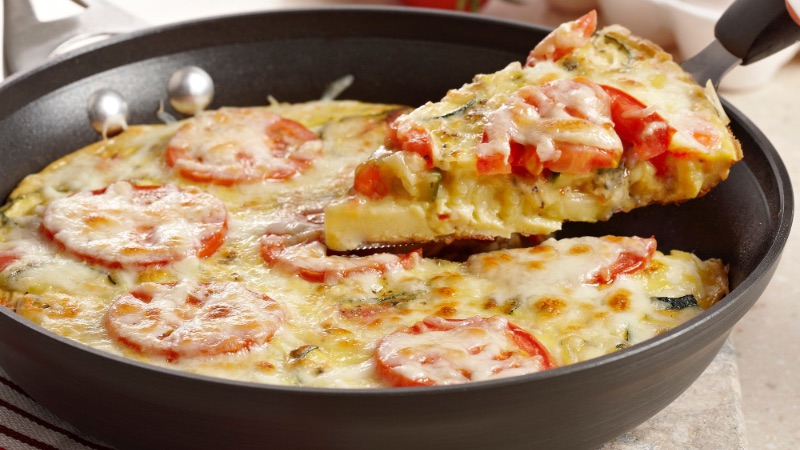 Cheese and Vegetable Frittata
Serves 6
1 tablespoon olive oil
1 small red bell pepper, diced
1/2 small sweet onion, chopped
1/2 teaspoon kosher salt
1 small zucchini, quartered lengthwise and sliced crosswise 1/4-inch thick
3 cups baby spinach, kale, or arugula
6 fresh basil leaves, coarsely chopped
6 large eggs
1/2 cup finely grated Parmesan cheese (1/2 ounce)
1/2 teaspoon freshly ground black pepper
2 medium scallions, thinly sliced
3 ounces fresh goat cheese, crumbled
Arrange a rack in the middle of the oven and heat to 400 F.
Heat the oil in a 10-inch cast iron or oven-safe nonstick skillet over medium-high heat until shimmering. Add the bell pepper, onion, and salt, and saute until slightly softened, about 5 minutes. Add the zucchini, spinach and basil, and cook until wilted, about 3 minutes. Remove from the heat.
Whisk the eggs, Parmesan and pepper together in a medium bowl until the eggs are broken up. Pour into the skillet over the vegetables. Sprinkle with the scallions and goat cheese.
Bake until the eggs are almost set, about 8 minutes. Turn the oven on to broil on high and broil until the top is set and light golden-brown, about 2 minutes more. Let cool 5 minutes before slicing and serving.
Recipe notes: Leftover frittata keeps well in the fridge for up to three days. Enjoy cold or reheat in a low oven.
This article is written by Meghan Splawn from The Kitchn and was legally licensed via the Tribune Content Agency through the NewsCred publisher network. Please direct all licensing questions to legal@newscred.com.