This recipe makes a crinkle cookie just like the ones I spent my childhood baking and eating. They're soft, tender and just a little bit chewy, with a delicate exterior that's coated with a thick layer of powdered sugar.
Crinkle cookies get their well-deserved name from the way the cookie splits and cracks along the sugar-covered top and sides as it bakes. And while they look pretty, what makes these cookies stand out is their robust chocolate flavor. With one bite you'll discover a rich and indulgent flavor that's more reminiscent of a truffle than a cookie.
While most crinkle cookies get only a single coating of sugar, this recipe goes further. Before being rolled in powdered sugar, the cookie dough balls are first rolled in granulated sugar. The texture helps the powdered sugar better adhere to the dough, and it adds a delicate crisp bite that coats the whole cookie.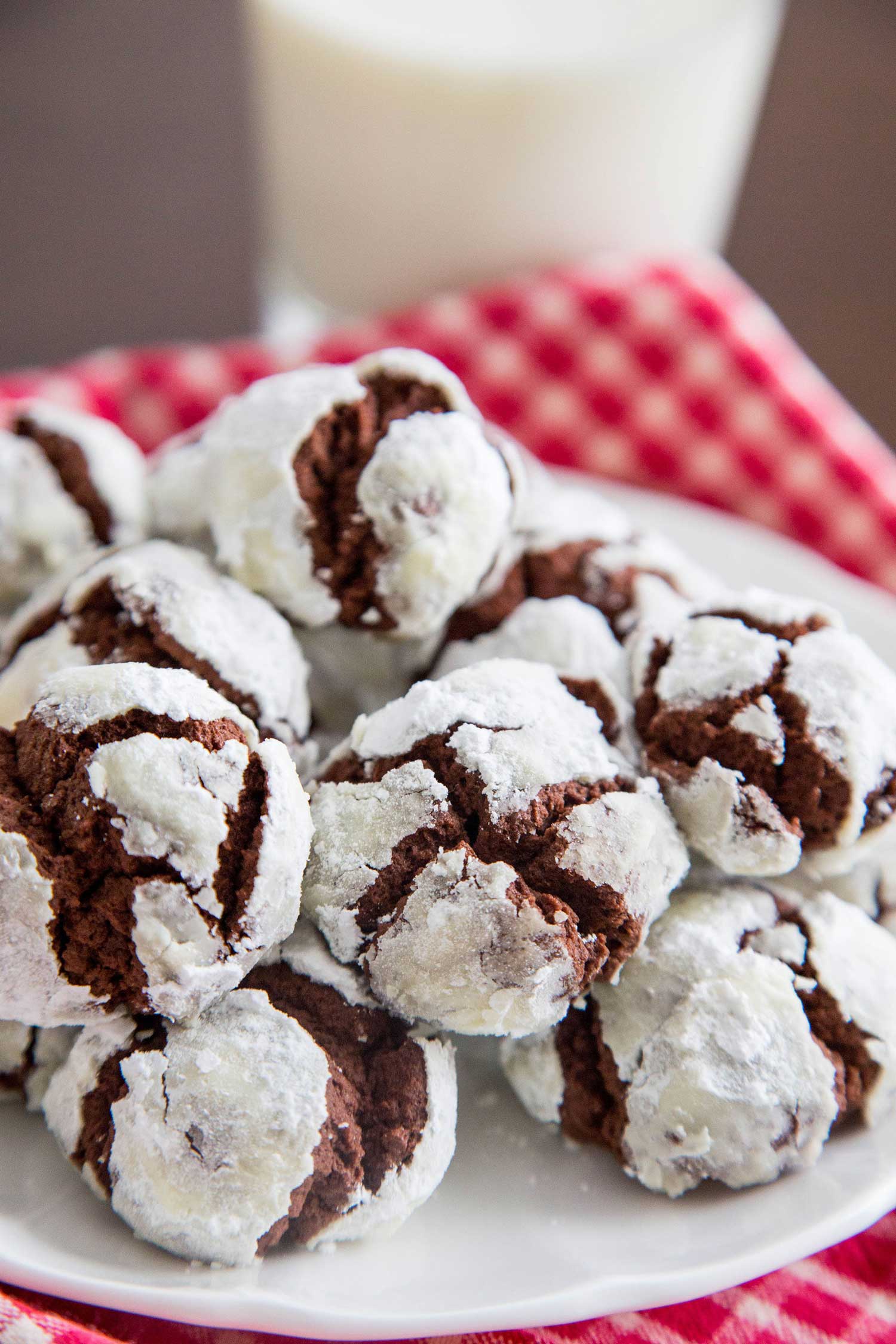 Chocolate Crinkle Cookies
Makes about 36 cookies
1 1/2 cups all-purpose flour
1/2 cup unsweetened cocoa powder
2 teaspoons baking powder
1/2 teaspoon salt
8 tablespoons (1 stick) unsalted butter, at room temperature
1 cup packed light brown sugar
2 large eggs
1 teaspoon vanilla extract
8 ounces bittersweet chocolate, melted and cooled
1/2 cup granulated sugar
1 cup powdered sugar
Whisk the flour, cocoa powder, baking powder and salt together in a medium bowl; set aside. Place the butter and brown sugar in the bowl of a stand mixer fitted with the paddle attachment. (Alternatively, use an electric hand mixer and large bowl.) Beat on medium speed until light and fluffy, about 3 minutes. Add the eggs and vanilla, and beat until completely incorporated. Add the melted chocolate, and beat until completely incorporated. Gradually fold in the flour mixture until just combined.
Cover and refrigerate the dough until firm, at least 2 hours or up to overnight.
Remove the dough from the refrigerator. Arrange a rack in the middle of the oven and heat to 350 F. Line a baking sheet with parchment paper or a silicone baking mat.
Place the granulated sugar and powdered sugar in separate small bowls. Scoop 1 tablespoon of the dough, form into a ball, and place on a plate. Repeat with the remaining dough.
Roll each ball in granulated sugar and then in powdered sugar to coat. Place on the baking sheet 2 inches apart. Bake for 10 to 12 minutes, until the cookies begin to spread and the tops split. Remove from the oven, and cool for a few minutes on the baking sheet; then transfer the cookies to wire cooling racks. Let the baking sheet cool, and then repeat with the remaining dough.
Recipe note: The cookies will keep in an airtight container for about one week.
This article is written by Kelli Foster from The Kitchn and was legally licensed via the Tribune Content Agency through the NewsCred publisher network. Please direct all licensing questions to legal@newscred.com.