When making cookies, you are not beholden to cinnamon, chocolate, or any of the usual "baking spices." There's a whole cabinet of seasonings at your disposal, so get a little quirky. It's easy to think that if your spices aren't sweet, they'll taste "off" in a cookie recipe. The fact is that none of them are sweet. Cinnamon and chocolate are devoid of natural sweetness, and both can be used in loads of sweet or savory recipes. That doesn't necessarily mean you should twist off the garlic powder cap at this time, but you can certainly explore other shakers.
When choosing a spice, consider the flavor of your base recipe. If you really want the spice to shine, use a neutral cookie dough, or vanilla. Consider ginger powder, ground cardamom, turmeric, ground cloves, finely ground black or white pepper, or cayenne pepper. Try a spice blend like za'atar or herbs de provence, or combine a couple loud flavors like dark chocolate and black pepper. Once you've chosen your flavor(s), add a teaspoon or two of the spice into the dry ingredient mixture of your cookie recipe, and proceed as instructed. That takes care of the cookie dough, now let's consider the outside.
Mexican wedding cookies, crinkle cookies, amaretti, and snowball cookies all get a thick outer coating of confectioner's sugar, which gives the cookie a melty, velvety feeling. Sadly, sugar doesn't really taste like anything, other than sweet. It has no aroma. Instead of leaving it as-is, add flavor to it. It's the same concept as seasoning the flour and bread crumb mixture for chicken cutlets. Your chicken needs flavor on the outside, and so does your cookie. The easiest way to do this is to add a couple teaspoons of the same spice you put inside the cookie dough to the powdered sugar you'll be using to coat the outside. For my crinkle cookies, I put a half cup of powdered sugar into a bowl and added two teaspoons of cardamom and a teaspoon of za'atar. I blended it together with a fork until it was evenly mixed, then rolled the cookie dough in the sugar-spice mixture. Make sure the layer is thick, there's no need to shake off excess. Bake as usual.
You may have noticed that I haven't been too specific about amounts, and that's because both spices and people vary a great deal. While I can recommend exploring different spices for your cookies, there is no universal amount, since some spices are more powerful than others. My guidelines would be to start small with spices like ground cloves, black pepper, and cayenne. If you're using my cookie base recipe below, you could start on the low end and add a ½ teaspoon to the dough. Generally cinnamon and cardamom are welcome in higher quantities, so you could use a full teaspoon. I have a friend who is obsessed with cinnamon, so he might add a full tablespoon. The powdered sugar coating is more subtle than it might appear, since each cookie only picks up a little on the outside, which is why the measurement is higher.
You can do this spice switch-up with any cookie recipe you like, but recipes that incorporate an outer sugar coating will give you double the flavoring opportunity. Try this with recipes that already include a dry spice measurement, and even ones that don't. The small measurement of spice powder won't throw off the texture of most doughs. Pick a spice you'd like to try and enjoy a punchy new cookie.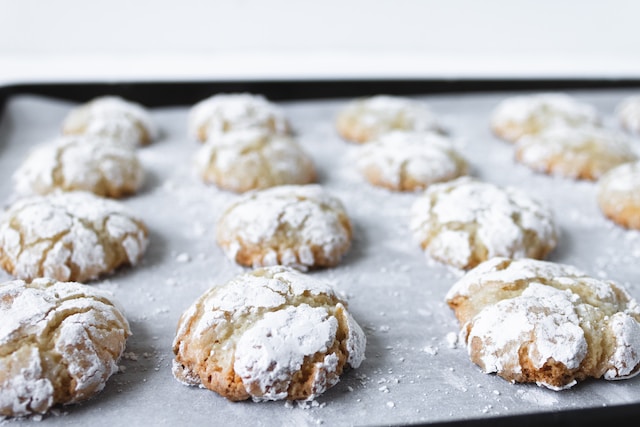 Crinkle Cookie Base
Ingredients:
1 stick butter, softened
¾ cup sugar
2 eggs, room temperature
1 teaspoon vanilla extract
½ teaspoon salt
2 cups flour
1 teaspoon baking powder
½-2 teaspoons ground spice (cinnamon, ginger, clove, za'atar, black pepper, cardamom)
1-3 teaspoons ground spice + ½ cup powdered sugar (for rolling)
Prepare a baking sheet with parchment paper.
Cream the butter and sugar together until blended. Add the eggs, one at a time, and stir them into the sugar mixture. Stir in the vanilla and salt. In a separate bowl, blend the flour, baking powder, and your spice of choice. Add the dry mixture to the butter mixture and stir until the dough is well combined.
Scoop tablespoon-sized dough balls onto the baking sheet. No need to roll them into perfect balls, they crinkle better when they're not smoothed out. Put the sheet tray into the fridge for 15 minutes while you preheat the oven to 350°F. In a small bowl, stir together powdered sugar and the second portion of spices.
Roll the cookies in this spice mixture. Don't shake off the excess. Arrange them back in their place on the baking sheet. Bake at 350°F for 15 minutes. Cool the cookies and serve. These will keep in an airtight container at room temperature for about five days.
This article was written by Allie Chanthorn Reinmann from Lifehacker and was legally licensed through the Industry Dive Content Marketplace. Please direct all licensing questions to legal@industrydive.com.