If you're looking for a sweet breakfast bake to build a tradition around, this French toast casserole is it. Custard-soaked bread is flavored with sweet cinnamon and nutmeg, topped with a nutty crumble topping, and baked until golden and steaming. The best part is, it's as versatile as you need it to be -- you can make it ahead or assemble at the last minute.
After extensive research (and a very full belly), I have a lot of opinions on what it takes to make the very best French toast casserole. Here's how to do it.
The best bread
Many French toast casseroles (including some I've written about!) begin with a loaf of rich and eggy brioche or challah bread. Although sturdy enough to be cubed or torn to pieces, they're too soft to absorb the sweetened custard without falling apart unless they're dried or toasted first. To avoid that step altogether, I like to use a crusty sourdough loaf, which has a hearty, chewy texture that stands up well to soaking -- and doesn't have to be dried or stale (although if you've got day-old bread, use it!). Sourdough bread also has a subtle sour tang, which balances the sweetness of the custard and crumble topping. If there's no unsliced sourdough available, make your next choice a hearty Italian or French loaf (although not a baguette!).
With the crusty loaf of bread settled on the cutting board, it's time to prepare it for the casserole. There are three options: tear, cube or slice. Cubed bread pieces remain distinct and separate, tumbling off one another even after a long soak and gentle bake. Although slices of bread give off a nice visual (very clear that this is a baked French toast), the top half of the bread never fully absorbs the custard, even with an overnight soak. The best way to prepare the bread is by tearing it into bite-sized pieces. The irregularly shaped pieces have a greater surface area for absorbing the custard and nestle into one another so the interior bakes up rich and tender while the jagged edges brown and crisp.
A ratio to remember
Commit just three ingredients to memory -- 3 cups dairy, 8 large eggs, 1 pound bread -- for the best (and easiest!) French toast casserole. Whisk the dairy and eggs together, then sweeten with brown sugar and add spices like vanilla, cinnamon, nutmeg and salt for a classic French toast flavor. You can also make it your own by swapping in honey, citrus zest and other sweet spices. Use half-and-half in the custard or combine equal parts heavy cream and whole milk. Avoid using fat-free milk, which won't lend enough richness.
The finishing touch
French toast is all about contrasting textures -- soft, custardy bread snuggled beneath a crispy, toasted exterior -- and this breakfast bake is no exception. You can bake the casserole as is, bread and custard alone, but to make this the very best make-ahead breakfast, add a sweet and nutty crumble topping. Serve with a drizzle of warm maple syrup and a dusting of powdered sugar to turn your kitchen into the hottest brunch spot in town.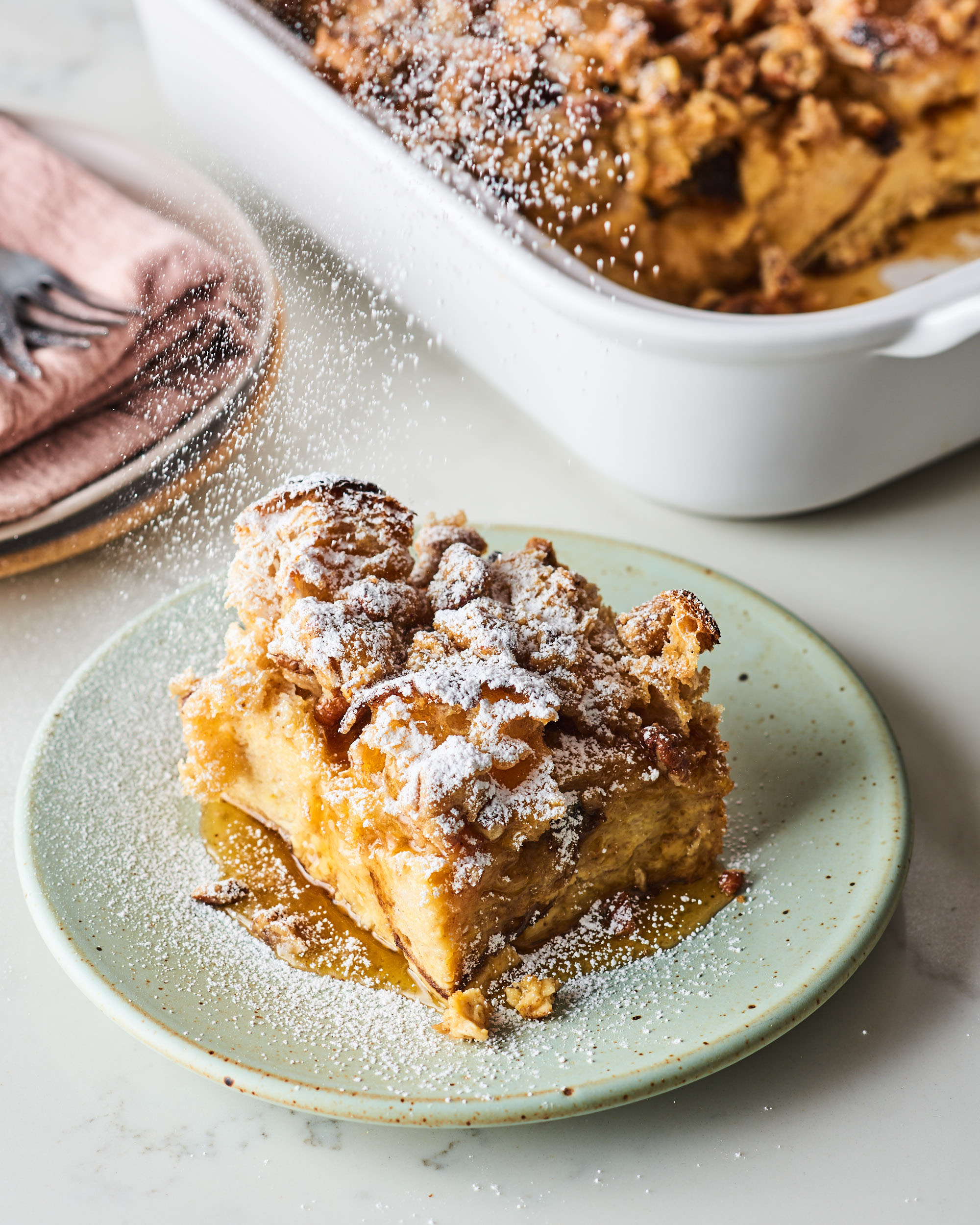 French Toast Casserole
Serves 10 to 12
4 tablespoons (1/2 stick) unsalted butter
Cooking spray
1 (1-pound) loaf unsliced sourdough, Italian, or French (not baguette) bread
8 large eggs
3 cups half-and-half, or 1 1/2 cups each whole milk and heavy cream
3/4 cup packed light brown sugar, divided
1 tablespoon vanilla extract
1 teaspoon ground cinnamon
3/4 teaspoon kosher salt, divided
1/2 teaspoon ground nutmeg, divided
2 ounces chopped nuts (about 1/2 cup), such as pecans or walnuts
1/4 cup all-purpose flour
Warm maple syrup or powdered sugar, for serving
Fresh berries, for serving
1. Place 4 tablespoons unsalted butter on the counter to soften slightly.
2. Coat a 9-by-13-inch baking dish or other 3-quart baking dish with cooking spray; set aside.
3. Tear 1 loaf sourdough bread into bite-sized (1 to 2-inch) chunks. Arrange bread in an even layer in the prepared baking dish.
4. Make the custard. Whisk 8 large eggs, 3 cups half-and-half (or 1 1/2 cups whole milk and 1 1/2 cups heavy cream), 1/2 cup packed light brown sugar, 1 tablespoon vanilla extract, 1 teaspoon ground cinnamon, 1/2 teaspoon of the kosher salt, and 1/4 teaspoon of the ground nutmeg together in a large bowl until smooth and combined.
5. Pour the custard evenly over the bread, then press the bread down slightly into the custard. Cover with plastic wrap and refrigerate overnight or up to 24 hours. Or to bake right away, let sit for 1 hour at room temperature to give the bread time to absorb the custard.
6. Mix the dry ingredients for the crumble topping. Toss 2 ounces chopped nuts (about 1/2 cup), 1/4 cup all-purpose flour, remaining 1/4 cup packed light brown sugar, remaining 1/4 teaspoon ground nutmeg, and remaining 1/4 teaspoon kosher salt together in a large bowl.
7. Add the softened butter, and pinch and squeeze to incorporate the butter into the mixture until it forms moist, small clumps. Cover the crumble topping with plastic wrap and refrigerate until ready to bake.
8. When ready to bake, arrange a rack in the middle of the oven and heat the oven to 350 F. Take the casserole out of the refrigerator, uncover, and set aside at room temperature for 30 minutes to take the chill off while the oven heats.
9. Sprinkle the crumble topping evenly over the casserole. Bake until the casserole is puffed, golden brown, and set, 45 to 50 minutes.
10. Remove from the oven and cool for 5 minutes before serving. Top with warm maple syrup or powdered sugar, and fresh berries.
Recipe notes: The casserole can be assembled and refrigerated up to 24 hours in advance. The casserole is best when served immediately after baking. Refrigerate leftovers in an airtight container for up to four days.
This article is written by Patty Catalno from The Kitchn and was legally licensed via the Tribune Content Agency through the NewsCred publisher network. Please direct all licensing questions to legal@newscred.com.